Father, Teen Son Die After Plane Crashes in Wilderness
A father and son died in a plane crash in a designated wilderness area in Valley County, Idaho, on Monday, according to local authorities.
The Valley County Sheriff's Office received a call on June 27 from the Idaho Division of Aeronautics about an "overdue" aircraft that had been expected to arrive at Johnson Creek Airstrip the night before. Dispatchers then learned that the single-engine PA-20 plane had taken off from the Lower Loon Airstrip on June 26 and never arrived at its destination, according to a statement from the sheriff's office posted on Facebook.
Forest service officials "reported they located a crash site" around 11:45 a.m. on Monday that included a small fire at the scene where "there did not appear to be any survivors," the sheriff's office stated, who added that "the location of the crash is a steep hillside that is a designated wilderness area."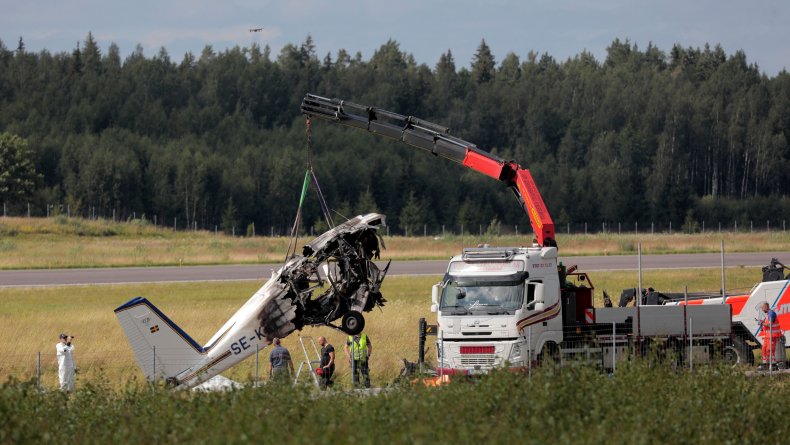 The sheriff's office then contacted "several partners equipped with air assets to retrieve the remains."
"Idaho Air National Guard allocated a hoist equipped Blackhawk helicopter and crew to assist deputies in the recovery," the office said in its statement.
On Tuesday, sheriff's deputies and the Idaho Air National Guard went to the crash site and retrieved the remains of the 48-year-old pilot and his 16-year-old son, who were the sole occupants of the aircraft. The crash is being investigated by the National Transportation Safety Board (NTSB).
"NTSB investigating the crash of a Piper PA-22 in Challis, Idaho. The airplane went missing on 6/26/2022 and was located on 6/28/2022," the agency tweeted Wednesday.
Valley County Coroner Scott Carver later identified the father and son as Neal and Cooper Humphrey, according to East Idaho News. Carver told the news outlet that the deaths were accidental and caused by blunt force trauma.
Newsweek has reached out to the Valley County Sheriff's Office for comment.
In a separate incident last month, five Marines died following a plane crash in Southern California. The crash of the MV-22B Osprey occurred due to an "aviation mishap," according to a statement from the 3rd Marine Aircraft Wing (MAW).
In May, a plane crash on a bridge in Miami that created a fiery wreck killed at least one person. The plane was carrying three passengers when it lost power and fell out of the air, landing on the Haulover Inlet Bridge, according to local news station WFLA. The plane struck an SUV, and a video that captured the incident went viral on social media following the crash.
Also in May, a plane crash in Florida killed two people and injured two others.