Father of Umpqua Community College Shooter Says Gun Laws Must Change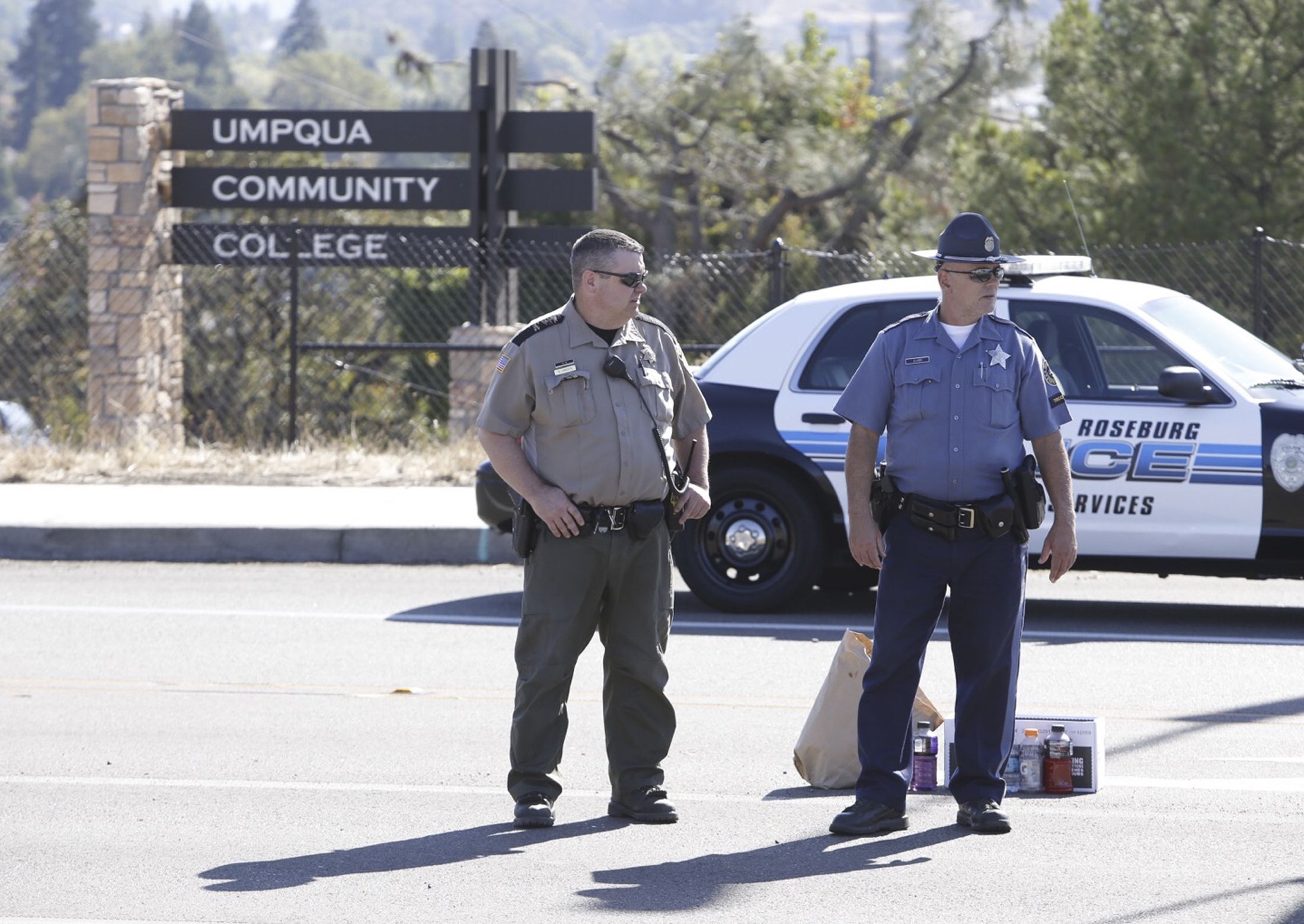 Christopher Harper-Mercer was armed with six guns, spare ammunition magazines and body armor when he opened fire at Umpqua Community College in Roseburg, Oregon, on October 1, killing nine people and seriously wounding nine others before turning a firearm on himself, according to the state medical examiner.
The massacre was the 45th school shooting in the U.S. this year alone and the 142nd since the December 2012 shooting at Sandy Hook Elementary School in Connecticut, according to advocacy group Everytown for Gun Safety. In its wake, the gunman's father, Ian Mercer, has expressed bewilderment at how his son could have acquired so many firearms and urged a change around gun laws.
"The only thing I would like to say, the only question I would like to ask, is how on earth could he compile 13 guns? How can that happen?" Mercer said in an interview with CNN on Saturday. The total number of weapons seized—including the six the shooter had on him October 1 and those found in his home—went up to 14 this weekend, according to The New York Times.
The gunman, a 26-year-old student at the community college who was enrolled in the writing class he opened fire in, left a note at the scene. "He comes across thinking of himself as a loser. He did not like his lot in life, and it seemed like nothing was going right for him," a senior law enforcement official told the Times. He "seems to be someone who was very anti-organized religion." Investigators are going through writings the shooter left behind online and on his computer.
In his interview with CNN, Mercer called for a change in gun regulations but did not specify what changes he would want to see made. At one point, he briefly contradicted himself, saying gun laws might not be the issue.
"We talk about gun laws. We talk about gun control. Every time something like this happens, they talk about it and nothing gets done. I'm not trying to say that that's to blame for what happened," Mercer said, before returning his focus to the guns as the problem. "If Chris had not been able to get hold of 13 guns, this wouldn't have happened."
The shooter lived with his mother after his parents divorced 10 years ago, the Times reports. When asked about their relationship, Mercer said simply: "He's my son. He was my son, you know? There isn't any kind of disharmony or bitterness or anything like that between him and I." Mercer said he last saw his son shortly before he and his mother moved to Oregon about two years ago. They went to dinner, talked and "did things that sons and dads do."
In the immediate aftermath of the shooting, Mercer asked reporters on October 1 to respect his family's privacy after a "devastating day," saying only that he was "shocked—shocked is all I can say," before walking away.
But speaking quietly as he stood with the CNN reporter outside of his home in California on Saturday, he said that "somebody has to ask the question: How is it so easy to get all these guns?" He added that he was not aware his son had "any guns whatsoever" and had never held a gun himself. Neighbors, however, recalled that the shooter collected guns and often went target shooting with his mother, the Times reports. Officials said Friday that all 13 weapons they'd recovered at that point were purchased legally, and the Timesreported Saturday that all the weapons had been purchased legally by the shooter or a relative.
"It has to change. It has to change," Mercer said when asked whether he wanted to see the country's gun laws modified. "How can it not? Even people that believe in the right to bear arms, you know, what right do you have to take people's lives? That's what guns are, the killers. Simple as that. It's simple as that. It's black and white. What do you want a gun for?"
As the brief interview drew to a close, the CNN reporter asked Mercer about his son's mental health. "I'm going to let the police follow through with all the investigations on that," Mercer said. "I don't have any comment to make on his mental state. Obviously, someone goes and kills nine people has to have some kind of issue."