Father Was Reading Bible When Mother Came Home to Find Infant Son Stabbed in the Trash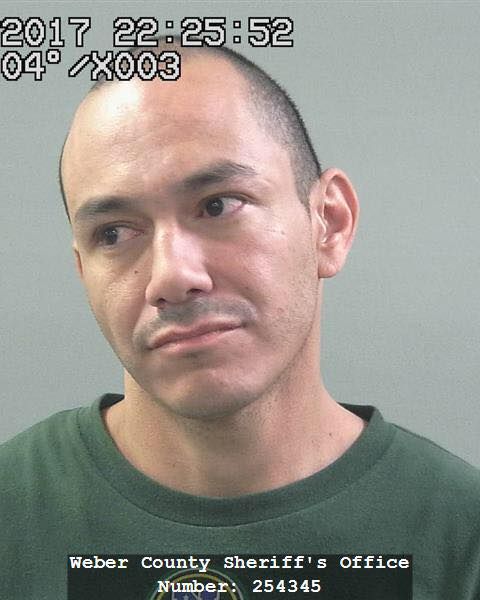 A 37-year-old Utah man was arrested early Sunday after allegedly stabbing his infant son multiple times and throwing him in the trash, police said. Alex Hidalgo is accused of killing the 10-month-old boy because he believed the child was possessed.
The baby's mother reportedly left Hidalgo to watch their son and another child at a Madison Manor Apartment in Ogden, Utah, while she ran some errands, an arrest report said. When the mother returned, she found Hidalgo reading a Bible and watching religious videos, KSL reported.
When asked about their son, Hidalgo told the boy's mother that he had built an altar "like they had talked about," the arrest report said. Hidalgo reportedly began talking about the baby "having 666 on him" and that he was dead.
The mother looked for the baby but could not immediately find him, so she picked up the phone to make a call, police said. Hidalgo asked her not to call or he would be sent "to prison," according to the Deseret News. Police said Alex Hidalgo Jr. was found by his mother stabbed inside a garbage can in a closet on Friday.
Newsweek subscription offers >
As the mother held her son, she reportedly saw Hidalgo leave the apartment. She then screamed, and a neighbor called 911 and began performing CPR on the boy with her, police said.
Officers responded to the scene and found the boy unresponsive and covered in blood, the Deseret News reported. Police found evidence of blood around the apartment and "what appeared to be efforts to clean in the area." They also found a paring knife that looked to be recently washed and a strainer "with what appeared to be human tissue," police said.
Ogden Police Captain Danielle Croyle told KSL the boy was taken to McKay Dee Hospital, where he was pronounced dead.
Police initially issued a release calling Hidalgo a person of interest in the case. He was located by authorities on Saturday night and brought into the police station for questioning, Croyle told Deseret News.
Newsweek subscription offers >
Hidalgo was arrested on Sunday on two counts of aggravated murder, two counts of obstructing justice, two counts of desecrating a dead human body and six counts of failure to appear on citation, the Weber County Sheriff's Office said. He is being held at Weber County Jail without bail, KSTU reported.
Father Was Reading Bible When Mother Came Home to Find Infant Son Stabbed in the Trash | U.S.