Fauci Accuses Tucker Carlson of Killing People by 'Weaponizing Lies'
Dr. Anthony Fauci on Tuesday brushed off attacks on him from Fox News' Tucker Carlson and former trade adviser Peter Navarro, characterizing their criticisms as "ridiculous."
Fauci, President Joe Biden's chief medical adviser, discussed being disparaged by right-wing figures during an appearance on MSNBC.
"I'm trying to save lives and the people who weaponize lies are killing people," he told host Ari Melber. "So the only question I have is that when you show Tucker Carlson and Peter Navarro criticizing me, I consider that a badge of honor."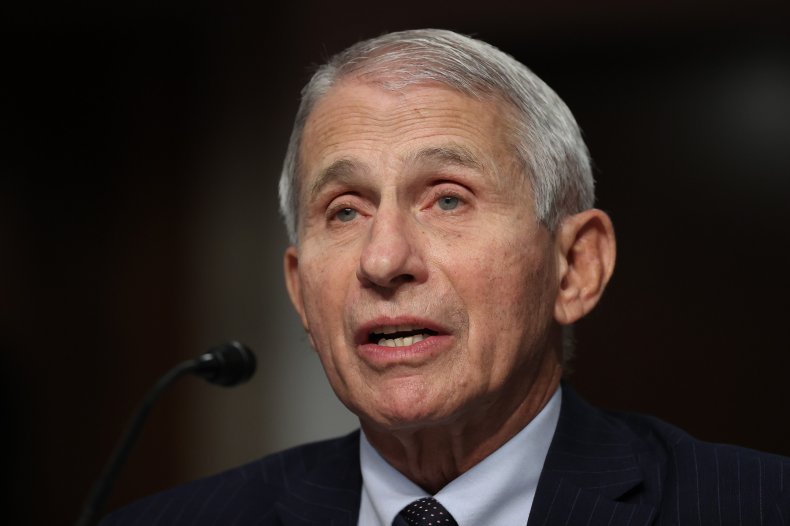 Carlson has often derided Fauci and his handling of the COVID-19 pandemic during segments on his show. Among many other critiques, Carlson has accused the doctor and other health officials of covering up certain aspects about the early days of the pandemic, and he has questioned Fauci's push for Americans to continue wearing masks after they are vaccinated.
Meanwhile, Navarro, who served as trade adviser to former President Donald Trump, has publicly ridiculed Fauci multiple times.
In July 2020, USA Today asked Navarro to write an opposing viewpoint of Fauci, and the paper ran a disclaimer about the op-ed it received from him, noting it did not meet its fact-checking standards. In it, Navarro wrote that "when you ask me whether I listen to Dr. Fauci's advice, my answer is: only with skepticism and caution."
More recently, Navarro called the infectious diseases expert "evil" during an October appearance on Jim Rantz's radio show and claimed he advised Trump on two occasions to fire Fauci.
Navarro's recently-released book, In Trump Time: A Journal of America's Plague Year, also takes multiple shots at the top immunologist at the National Institutes of Health.
Fauci brushed off such remarks when speaking with Melber on Tuesday.
"They always throw up those people that make those ridiculous statements, you know, they're telling people to do things that they're going to die from and they're telling me I should go to jail. As they say in my old neighborhood in Brooklyn, 'Give me a break will you?'" he said.
Fauci's appearance on MSNBC was to discuss the pandemic going into Thanksgiving. While he provided advice on how Americans can stay safe during the holidays, as well as answered questions about COVID-19 and the vaccine, he also addressed the regular attacks on his character and his recommendations.
"I'm not in it for a popularity contest," Fauci said. "I've devoted my entire professional career of 50 years to try and essentially safeguard and preserve the health and the lives of the American people and as an infectious disease doctor who deals with outbreak, that gets really extended to the rest of the world. That's what I do."