Fauci Admits Trump Has Been Saying Things About COVID That 'Obviously' Aren't True
In a Friday TV interview, national infectious diseases expert Dr. Anthony Fauci said that Republican President Donald Trump's repeated declarations that COVID-19 would just disappear were "obviously" untrue based on epidemic data.
MSNBC anchorperson Andrea Mitchell asked Fauci about his disbelief that Trump had distorted key findings from the White House's COVID-19 task force in daily coronavirus briefings.
Mitchell asked Fauci if he still felt the president hadn't distorted information in light of the president's recently revealed comments to journalist Bob Woodward in which he said, "I want to always play [COVID-19] down, I still like playing it down."
"After hearing that, hearing those tapes, with him acknowledging that, do you still believe he was not trying to distort the reality?" Mitchell asked Fauci.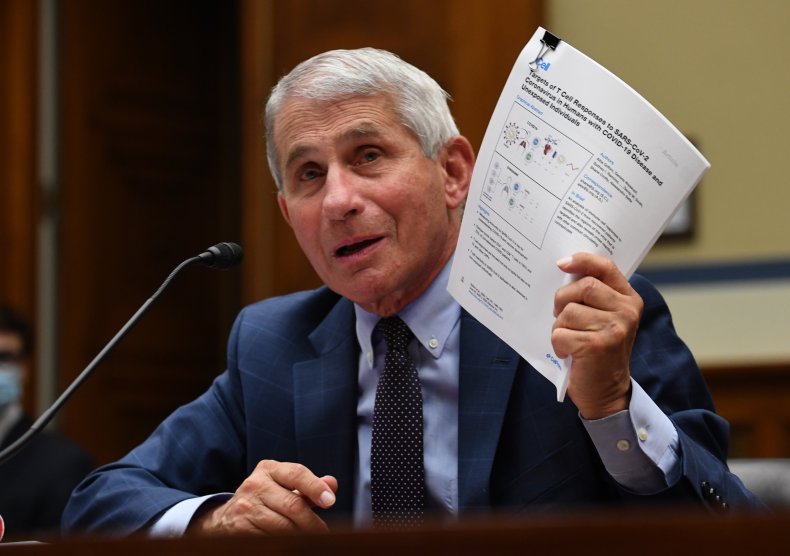 Fauci said that he's been asked the question before and said, "There were times when I was out there telling the American public how difficult this is, how we're having a really serious problem, you know, and the president was saying it's something that's going to disappear, which obviously is not the case."
Fauci called these discrepancies "disagreements in what we say and what comes out from the White House."
However, Fauci also told Mitchell that he disagreed with Trump's comments on Thursday that the epidemic had "rounded the final turn" in the United States.
Fauci disagreed with Trump's assessment, calling the current data "disturbing."
"We're plateauing at around 40,000 cases, a day," Fauci said, "and the deaths are around 1,000."
A White House spokesperson told Newsweek, "The President is making the point that our mortality rate is going down, case numbers are going down, and that we are in a better position now than we were in at the beginning of this pandemic as it relates to PPE, therapeutics, and vaccines."
Fauci expressed particular worry that case numbers had increased nationwide following Fourth of July and Labor Day gatherings, right before the colder fall and winter months force people indoors into closer proximity with one another, something that "absolutely" helps respiratory diseases spread.
Mitchell then asked Fauci his opinion of Trump's rallies where attendees largely don't wear masks nor social distance from one another.
"If you're outdoors and you're crowded together, and you don't have a mask, the chances of a respiratory transmission of a virus, clearly, are there," Fauci said.
Mitchell then cited a recent study from the U.S. Centers for Disease Control and Prevention (CDC) stating that people who tested positive for COVID were twice a likely to have dined at a restaurant in the weeks before becoming sick.
Fauci reiterated his belief that the U.S. may have a vaccine before the end of the year, but added that society won't get "back to a degree of normality" until "well into 2021, maybe even towards the end of 2021" seeing as it will take time to mobilize the distribution of the vaccinations and get the majority of the population vaccinated.
Update (9/11/2020, 6:22 p.m.): This article has been updated to include a statement from the White House.