Fauci Attempts to Clarify New Guidelines: CDC 'Did Not Explicitly Say Unvaccinated Should Abandon Masks'
Dr. Anthony Fauci said Wednesday that Americans should not take liberties with new face mask guidelines issued by the Centers for Disease Control and Prevention (CDC) this month, emphasizing that the unvaccinated should continue to wear masks.
Speaking at an Axios virtual event, Fauci said that people are misinterpreting the CDC's guidance allowing vaccinated people to go mask-free in most situations as an overall end to mask mandates.
"It did not explicitly say that unvaccinated people should abandon their masks," he told Axios' Mike Allen.
"People are misinterpreting thinking this is the removal of mask mandates for everyone. It's not — it's an assurance to those who are vaccinated that they can feel safe, be they outdoors or indoors."
The CDC announced the relaxed mask rules last Thursday stipulating that vaccinated Americans may forgo wearing masks provided there is adequate social distancing. The guidance does not apply to health care settings, prisons and jails, homeless shelters or public transportation.
The policy change comes amid the lifting of mask restrictions in 18 states that some health experts have characterized as premature. Big box retailers like Wal-Mart have also lifted restrictions in states where mandates have been relaxed.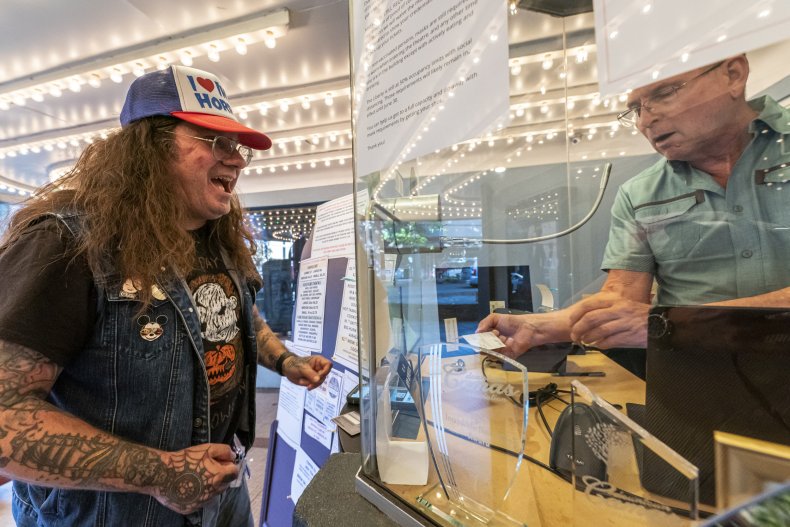 But in California, the state is keeping its mask requirements in place until June 15, state health officials announced Monday. In New York, most restaurants and businesses opened at full capacity on Wednesday, though the state still "strongly encourages" mask-wearing indoors.
Roughly 38 percent of the U.S. is now vaccinated, according to CDC data. Fauci added that those who fall under that percentage will most likely need a COVID-19 booster shot within a year, though health officials are not exactly sure about timelines yet.
"We know that the vaccine's durability and efficacy lasts at least six months, and likely considerably more. But I think we would almost certainly require a booster sometime within a year or so after getting the primary because the durability of protection against coronavirus is generally not lifelong."
Asked when people will be allowed to travel without masks, Fauci said that the answer is complicated, but vaccinated people could technically fly safely without a mask starting now.
However, without vaccine passports or some kind of proof of inoculation, there is no way for airlines to know who is vaccinated or not.
"The risk of putting someone in a closed space like an airline, where you don't have any choice that you can just get up and leave in the middle of what you're doing, since that's the case, one can understand quite clearly why the airline doesn't want to see spread in the airline," Fauci said.