Fauci Blames 'Anti-Science Bias' for People Not Following COVID-19 Rules
Leading infectious disease expert Dr. Anthony Fauci has suggested that a pervasive "anti-science bias" may be leading many Americans to disregard the advice of public health experts amid the COVID-19 pandemic.
Fauci made the remarks during a Wednesday interview on the Department of Health and Human Services (HHS) Learning Curve podcast. The doctor called the reasoning involved in choosing to willfully ignore science despite obvious risks to health "inconceivable."
"One of the problems we face in the United States is that unfortunately, there is a combination of an anti-science bias that people are—for reasons that sometimes are, you know, inconceivable and not understandable—they just don't believe science and they don't believe authority," Fauci said.
"So, when they see someone up in the White House, which has an air of authority to it, who's talking about science, that there are some people who just don't believe that," he added. "And that's unfortunate because, you know, science is truth."
Fauci described science as "the attempt, in good faith, to get to the facts," while noting that the scientific process is "self-correcting." He likened people who deny evidence-based health advice during the pandemic to those who speak against vaccination despite decades of research proving safety and efficacy.
"If you go by the evidence and by the data, you're speaking the truth and it's amazing sometimes, the denial there is," said Fauci. "It's the same thing that gets people who are anti-vaxxers—who don't want people to get vaccinated, even though the data clearly indicate the safety of vaccines. That's really a problem."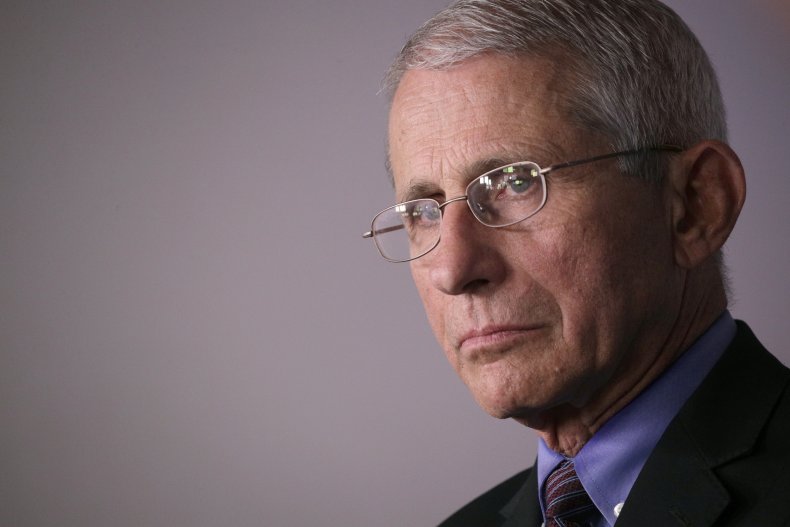 In the same interview, Fauci said that lockdown measures put in place around the world in response to the pandemic had saved "millions of lives" and "hundreds of millions of infections."
He also drew attention to the disproportionate impact of COVID-19 on black Americans, explaining that many could be exposed to the virus because they are forced to work in conditions where they are "unable to physically separate."
Fauci, who has been the director of the National Institute of Allergy and Infectious Diseases since 1984, was named to the White House Coronavirus Task Force by President Donald Trump in January.
Trump has personally ignored the advice of his own public health experts amid the pandemic, including refusing to wear a face mask and contradicting experts by repeatedly touting the anti-malaria drug hydroxychloroquine as a treatment. He also suggested that people could ingest disinfectant as another treatment, before later claiming he was being "sarcastic."
Last month, the White House shifted public focus away from the task force and onto reopening the economy. Fauci and the task force have continued their work regardless, with a heavy focus on developing a vaccine for the virus.
Fauci expressed cautious optimism about the ongoing vaccine development efforts. Multiple candidate vaccines are set to go into phase three clinical trials in the coming months, while Fauci said that "we'll know whether they work or not" by December. If at least one of the vaccines is found to be safe and effective, the public could receive doses "by the first quarter of 2021.
Newsweek reached out to HHS for comment. This article will be updated with any response.