Fauci Calls Push for Firing 'Preposterous,' Says He's Being Attacked for 'Following the Science'
Dr. Anthony Fauci, director of the National Institute of Allergy and Infectious Diseases (NIAID), pushed back on calls for him to be fired or even imprisoned because of the COVID-19 pandemic, calling it "preposterous."
Fauci has faced renewed criticism for his evolving stance on the COVID-19 response after thousands of pages of his emails were released. Much of the criticism lobbed at Fauci has been focused on his evolving stance on mask-wearing and some legislators have used it as ammunition to advocate for his termination.
The infectious disease expert, however, has made no apologies about the advice he's issued during the pandemic. He told MSNBC's Chuck Todd on Wednesday that it's "preposterous" that his early stance on mask-wearing and "following the science" is considered grounds for his firing or, as Georgia Representative Marjorie Taylor Greene has advocated for, his imprisonment.
"It wasn't only me," Fauci told Todd of the advice not to wear a mask. "I'm picked out as the villain. It was the surgeon general of the United States and the entire CDC (Centers for Disease Control and Prevention) was saying the same thing."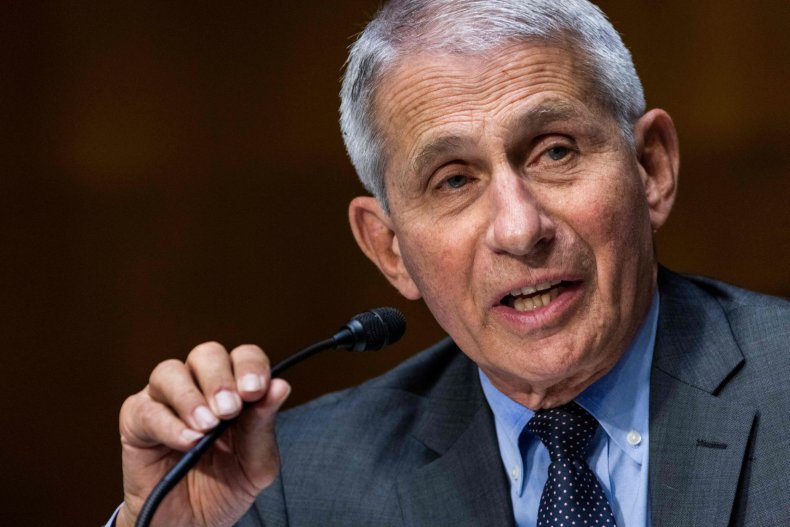 In the early months of the pandemic, Fauci and other public health officials advised Americans not to wear a mask unless they felt sick. Over time, however, a few months later, that advice changed to the belief that everyone should be wearing a mask.
Fauci told Todd there were four factors that went into changing that advice. Officials realized there wasn't the shortage they once believed there was and that cloth masks were acceptable, and that masks could be effective outside of hospital settings. Fauci added that officials became "painfully" aware that many cases involved people who were asymptomatic, making universal mask-wearing more important.
"That's what's called the scientific process," Fauci said. "As a scientist, as a health official, when those data change, when you get more information it's essential that you change your position because you have to be guided by the science and the current data."
The release of Fauci's emails prompted calls from Republicans to have him testify under oath, face an investigation, and a bill from Greene, titled the Fire Fauci Act, doubled its cosponsors. In a video posted on Twitter, Tennessee Senator Marsha Blackburn, who advocated for his termination, accused Fauci of "cherry-picking information" and collaborating with Facebook CEO Mark Zuckerberg so "you would only know what they wanted you to know." She also said Fauci wrote a check to the Wuhan Institute of Virology, where some believe the virus originated, to do this "coronavirus research."
Fauci told Todd he didn't want to be "pejorative" because Blackburn is a sitting U.S. senator, but called her comments "painfully ridiculous." He added that he has "no idea" what Blackburn is talking about in the video.
The infectious disease expert has denied there was anything nefarious about his emails or that he did anything during the pandemic but issue advice based on the knowledge he had at the time.