While news about the COVID-19 vaccine being distributed and administered has been much needed, it comes as hundreds of thousands of people have died and hospitals are stretched thin with patients—all of which is making for a "bittersweet" moment, Dr. Anthony Fauci, director of the National Institute of Allergy and Infectious Diseases (NIAID), said.
Health care workers across the country are receiving the Pfizer vaccine for the new coronavirus, and an FDA committee endorsed the approval of an emergency use authorization for a second vaccine from Moderna. But clouding the bright news this week about the vaccinations have been record-breaking numbers of daily cases and deaths.
"We're sitting here talking about vaccines, which is such a positive thing, but all of this is sort of bittersweet because ... as we're moving ahead with what will ultimately be the answer and the final solution to this, we're living through very, very difficult times," Fauci told the Today show on Friday.
On Wednesday, more than 3,600 people have died from coronavirus, and there were over 247,000 new infections, higher than any previous day in the pandemic.
As of Friday, America had reported more than 17 million COVID cases, vastly higher than any other country, with over 310,000 deaths.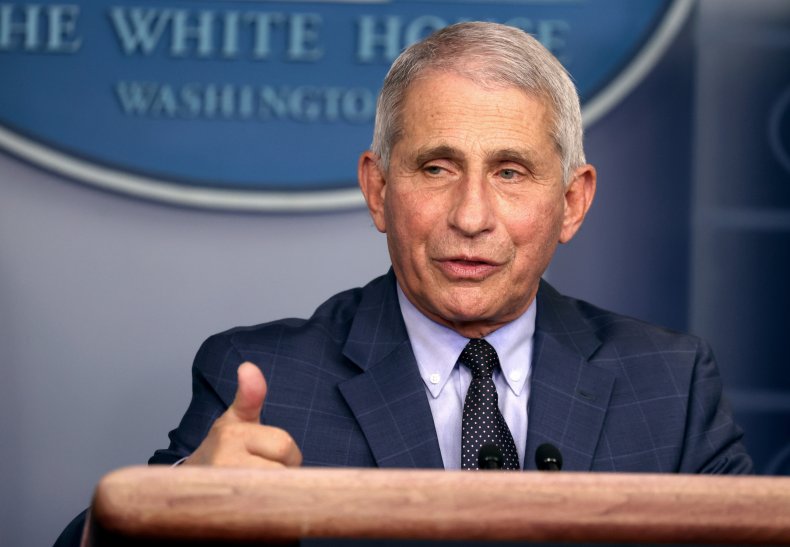 Despite the fatigue people may be feeling from living under pandemic-era restrictions and recommendations for the last nine months, Fauci stressed the importance of not allowing the vaccine to give them a false sense of security as the country remains in a "serious situation."
Since the vaccine alone isn't enough to protect people, the top infectious disease expert urged people to remain diligent in following public health practices that officials have been touting for months.
"We can't just say there's a vaccine on the horizon so let's forget about everything else," Fauci said. "We're in a difficult situation so we've got to do both."
A week after Pfizer received an emergency use authorization (EUA), the FDA is on its way to giving the go-ahead for the Moderna candidate. The National Institute of Health, which the NIAID falls under, oversaw Moderna's vaccine trials.
Fauci told Today that Americans would likely start to receive the inoculation in the "early part of next week." He has long hoped that multiple vaccine candidates would prove viable because the more vaccines there are, the broader the access.
Along with health care workers, prominent government officials are receiving their vaccines, starting with Vice President Mike Pence and second lady Karen Pence. The two were vaccinated on camera in the hopes of persuading the general public to get on board with inoculations.
About one-third of Americans aren't interested in being vaccinated against COVID-19, but public opinion appears to be shifting. In an August/September poll from the Kaiser Family Foundation, 63 percent of people said they would get a vaccine. That number increased to 71 percent in a late November/early December poll that was released on Tuesday.
"The FDA's review process means that all Americans can trust and be confident in vaccines—not just COVID-19 vaccines, but all vaccines reviewed by the FDA and available in the United States," Peter Marks, director of the FDA's Center for Biologics Evaluation and Research, said in a Saturday briefing.
Moderna's vaccine protects against both infection and clinical disease, meaning it can prevent a person from becoming ill, as well as passing it to another person. This is the "ultimate goal" of a vaccine, Fauci said.
The NIH hasn't received their supply of the vaccine yet, according to Fauci, but he hopes it'll be in the next couple of days.