Fauci Says He's 'Concerned' About Biden-Trump Transition After Serving Six Presidents
Top U.S. scientist Dr. Anthony Fauci said today he is "concerned" that the White House has not yet green-lit a transition to the incoming Biden administration, stressing the importance of the political process running smoothly.
Fauci, director of the National Institute of Allergy and Infectious Diseases (NIAID) and a public face of the White House coronavirus task force, said in an interview during NBC News' Today show this morning he hoped to see a handover approved soon.
Asked how concerned he was about the situation by host Savannah Guthrie, Fauci replied: "I've served in six administrations, so I've seen a number of transitions. And I know that transitions are very important to get a smooth, as I use the metaphor, [it's] essentially passing a baton without stopping running.
"You just want things to go very smoothly. So hopefully we'll see that soon... transitions are important."
Fauci noted in the interview that the transition period could prove critical in the ongoing fight against COVID-19 as it will be taking place as multiple vaccine candidates have been projected to potentially roll out to individuals in the higher risk categories.
Biotechnology company Moderna announced today that data suggests one candidate being tested showed a vaccine efficacy of 94.5 percent, with its CEO Stéphane Bancel describing the results as a "pivotal moment" in the treatment's development.
Bancel said: "This positive interim analysis from our Phase 3 study has given us the first clinical validation that our vaccine can prevent COVID-19 disease."
Earlier this month, Pfizer and BioNTech jointly said their vaccine candidate was found to be more than 90 percent effective in preventing COVID-19 infections, claiming that up to 50 million doses could be produced before the year comes to an end.
Fauci told the Today show it is broadly projected that the candidates from Moderna and Pfizer could be available for use on high-risk people by the end of December, but that is pending regulatory approval from the Food and Drug Administration (FDA).
Despite losing the presidential election to Biden this month, the Trump administration is yet to officially recognize the result and has disputed some states' results via lawsuits.
No Covid time-out
For now, a key government transition process—known as ascertainment—has not been triggered, leaving the changeover of presidential powers in a state of limbo.
Fauci warned that COVID-19 "is not going to stop and call a time-out while things change" and will "keep going" despite any ongoing political wrangling.
"The vaccines are effective. We want to get it approved as quickly as we possibly can. We want to get doses to people starting in December," he said.
"Then we want to really get the ball rolling as we get into January, February and March. We want a smooth process with that. The way you do that is by essentially having the two groups speak to each other and exchange information," Fauci continued.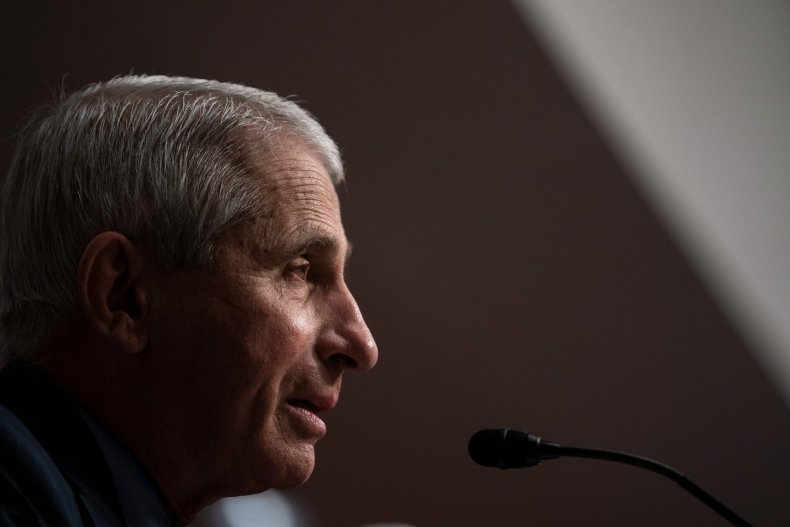 Fauci's comments echoed statements he made to CNN on Sunday, when he said it had been months since Trump met with the coronavirus task force and "it would be better" if experts could start working with the next administration.
As news rolled out today about the promising Moderna candidate, Biden and Trump's public statements posted to social media were starkly different in tone.
Thanking frontline workers, President-elect Biden wrote on Twitter: "Today's news of a second vaccine is further reason to feel hopeful. What was true with the first vaccine remains true with the second: we are still months away. Until then, Americans need to continue to practice social-distancing and mask-wearing to get the virus under control."
In comparison, Trump wrote: "For those great 'historians', please remember that these great discoveries, which will end the China Plague, all took place on my watch!"
The U.S. now has recorded more than 11 million cases of COVID infections and 246,000 COVID deaths, according to Johns Hopkins University data.
The graphic below, produced by Statista, illustrates COVID-19 case counts in countries across the world.