Fauci Counters Kamala Harris on Delta, Omicron: 'We Definitely Saw Variants Coming'
Dr. Anthony Fauci on Sunday said the Biden administration "definitely saw variants coming," in contrast to comments made this week by Vice President Kamala Harris, who said the White House did not anticipate the rise of Delta or Omicron.
In an interview with the Los Angles Times published Friday, Harris appeared to suggest that the administration did not expect the latest coronavirus variants to take the country by storm.
"We didn't see Delta coming. I think most scientists did not—upon whose advice and direction we have relied—didn't see Delta coming," Harris told the news outlet. "We didn't see Omicron coming. And that's the nature of what this, this awful virus has been, which as it turns out, has mutations and variants."
Fauci was pressed by CNN State of the Union host Jake Tapper to clarify whether the administration "generally" anticipated the rise of COVID-19 strains.
"We did Jake, we definitely saw variants coming," Fauci said. "I think we referred to what was not anticipated was the extent of the mutations and the amino acid substitutions in Omicron, which is really unprecedented."
"That's something you would not have anticipated, but we certainly were anticipating that there were going to be variants," he continued. "When you have so much replication going on in the community, if you give a virus enough opportunity to replicate, you know it's going to ultimately mutate. And sometimes those mutations wind up being a new variant. That's exactly what happened with Delta and certainly that's what happened with Omicron."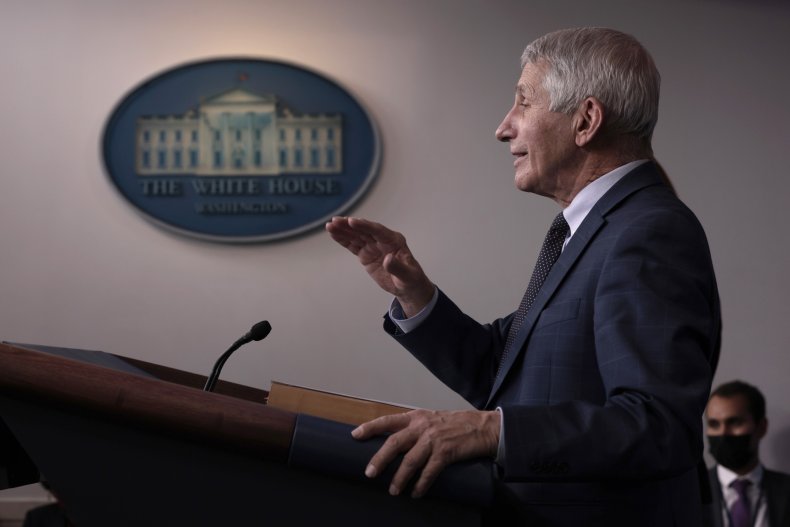 The infectious disease experts' comments come as the U.S. is grappling with a surge in new virus cases.
According to data from Johns Hopkins University, the country is now averaging 40 percent more daily cases than a month ago. In the past week, the U.S. has reported over 888,000 new cases and 9,094 deaths, while New York state has broken its record for most daily cases since the pandemic began on both Friday and Saturday.
"It is going to be a tough few weeks to months as we get deeper into the winter," Fauci added on Sunday, warning that Omicron is expected to strain health-care systems that have already been hammered by the Delta variant.
Also on Sunday, Fancis Collins, the outgoing director of the National Institutes of Health (NIH), warned that Omicron cases could soon reach 1 million infections per day.
"I know people are tired of this," Collins said in an interview with National Public Radio. "I'm tired of it too, believe me. But the virus is not tired of us. It's having a great old time changing its shape every couple of months, coming up with new variants and figuring out ways to be even more contagious."
Scientists are still working to uncover data about the Omicron variant, but studies have so far suggested that it may be more resistant to vaccines and capable of spreading at faster rates than Delta. However, symptoms from the virus have so far appeared to be mild in most patients.
During a briefing on Thursday, President Joe Biden warned that Omicron cases would likely increase in the coming months, while urging Americans to get vaccinated to protect themselves from serious illness.
"We are looking at a winter of severe illness and death for the unvaccinated—for themselves, their families and the hospitals they'll soon overwhelm. But there's good news: If you're vaccinated and you have your booster shot, you're protected from severe illness and death," Biden said.