Fauci and Deborah Birx Warn Atlanta, Baltimore and 7 Other Major Cities of 'Trouble Ahead' Over COVID Positivity Rate
Dr. Anthony Fauci and Dr. Deborah Birx, two key members of the White House coronavirus task force, have warned nine major cities across the country over their high COVID-19 testing positivity rates.
Birx, coordinator of the White House task force, first raised concerns about the high positivity rates in Atlanta; Baltimore; Boston; Chicago; Detroit; Kansas City, Missouri; Portland, Oregon; Omaha, Nebraska; and Washington, D.C.; in a Wednesday call with state and local officials. Fauci, director of the National Institute of Allergy and Infectious Diseases (NIAID), was asked about the remarks in an interview with CNN on Thursday morning, and he explained that the test positivity rate is "a pretty good predictor" or "indicator" that surges in new infections are coming.
"So what Dr. Birx is saying is now is the time to accelerate the fundamental preventive measures that we all talk about," Fauci explained. "Masks, social distancing, avoiding crowds, outdoors greater than indoors, washing hands, etc. Those kind of simple things can actually prevent that uptick from becoming a surge." Fauci emphasized that the heightened positivity rate "is a predictor of trouble ahead."
In her Wednesday remarks to local officials, Birx raised particular concerns about the situations in Atlanta and Baltimore. "We are concerned that both Baltimore and Atlanta remain at a very high level," she said.
"This outbreak is different from the March, April outbreak in that it's in both rural and urban areas," she cautioned.
Newsweek reached out to the NIAID for further comment, but it did not respond by the time of publication.
Increasing rates of positive COVID-19 tests within a specific area generally correlate with an increase in community spread. If community spread rises unchecked, the novel coronavirus outbreak can quickly spiral out of control leading to overwhelmed hospitals and making it difficult to curb the spread of the pandemic.
Fauci warned that younger Americans appear to be behind the spikes in new infections across the country. He said they "understandably and innocently feel that they are really invulnerable to this," but that if they get infected they are "propagating the outbreak."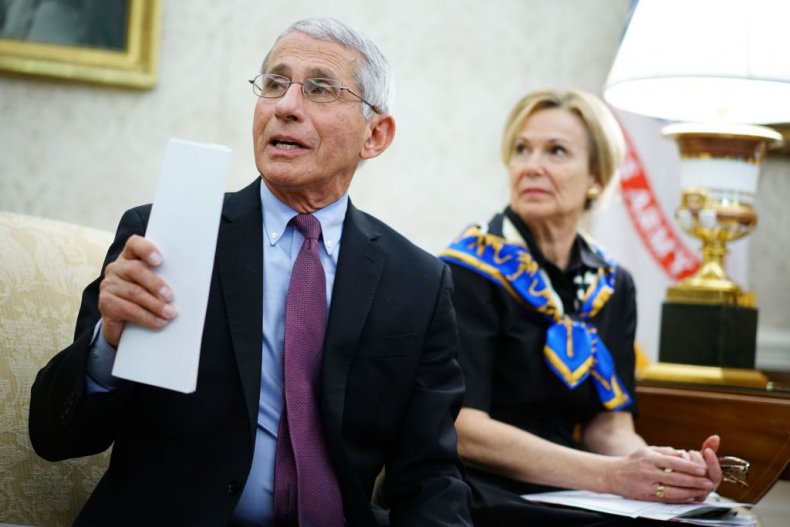 "Even though it may not impact you in a negative way, the chances are you're going to infect someone who will infect someone who then has an underlying condition or is elderly and can really get into trouble," Fauci cautioned.
The U.S. continues to be the country with the highest number of confirmed coronavirus infections and deaths. As of Thursday, the U.S. had reported more than 4.8 million cases and over 158,000 deaths. The seven-day average of new daily infections has fallen somewhat to just over 56,000, while the average of new deaths remains above 1,000 per day.