Fauci Doesn't Think COVID Will Be Eradicated but Hopes U.S. Gets It Under Control by Next 'Cycle'
The coronavirus is likely too easily transmissible to eliminate completely, Dr. Anthony Fauci said Wednesday during an interview with Reuters.
However, the director of the National Institute of Allergy and Infectious Diseases and member of the White House's coronavirus task force said he believes a safe and effective vaccine could be available in 2021 that will allow the U.S. and the rest of the world to bring the virus under control.
Addressing a question on the virus vaccine timeline posed by Reuters interviewer Jeff Mason, Fauci said, "I don't think we're going to eradicate this from the planet, Jeff, because it's such a highly transmissible virus that that seems unlikely." But once federal regulators approve a vaccine, Fauci said, that tool combined with "prudent" public health measures will enable the U.S. to bring the virus to heel.
"I think we can get this behind us," Fauci said. "We may need to go through a season of it—and then by next season if we have a vaccine, it won't be a pandemic, it won't be immobilizing the world, it won't be destroying the economy."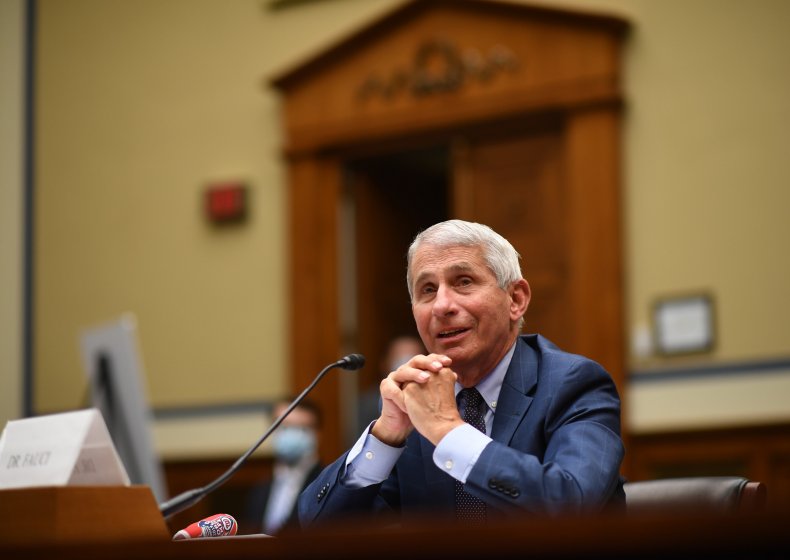 Fauci said it is difficult for him to comment on the projected timeline for a vaccine because there are no guarantees any one candidate will work. Even so, he said some of the early vaccine trials are showing promise, and he is hopeful one of them will prove both safe and effective "by the end of this calendar year."
"I'm cautiously optimistic that we will have a vaccine that's effective enough to get approved," he said. If one is, tens of millions of doses could be ready to distribute by early 2021, and hundreds of millions of doses could be manufactured by the end of next year, he said.
Under ordinary circumstances, it would take years for scientists to develop an effective vaccine and for manufacturers to produce it on a large scale. Given the extent of COVID-19's impact on the world, research teams around the globe are working quickly to find a solution. A project the Department of Health and Human Services launched earlier this year, called Operation Warp Speed, is working with a handful of pharmaceutical companies with vaccine candidates in development to invest in their research and scale up production once a vaccine receives the Food and Drug Administration's (FDA) approval.
Like Fauci, Dr. Peter Marks said that it is difficult for scientists to predict when exactly a vaccine will be ready. "I think the earliest we could be seeing a vaccine is a number of months from now," he said during a podcast interview hosted by the FDA last week. Marks, the director of the agency's Center for Biologics Evaluation and Research, added that he was "certain to be wrong" if he tried to make a more specific estimate.
Once a vaccine is ready to distribute, it will still take time for it to reach everyone who wants its protection. With that extra hurdle in mind, Fauci said, it could be another year before an approved vaccine enables the U.S. to gain real control over the virus.
"I hope, and I feel it's possible, that by the time we get through 2021 and go around for another cycle that we'll have this under control," Fauci said. "Is it conceivable that we won't? Of course. I would be unrealistic to say that. Do I think we're going to have a much, much better control one full year from this winter? I think so."
Newsweek reached out to the FDA for further comment but did not receive a response in time for publication.