Fauci, Left-Wing Media Hurting Vaccine Cause | Opinion
Should we get vaccinated or not?
It's a question that truthfully shouldn't be asked: We know vaccines will not just get us to herd immunity faster, but will also curb the threat of COVID-19 mutations. But it's a question that will continue to be asked, thanks to remarkably dangerous narratives that undercut the very demand that we all get vaccinated as quickly as possible.
The promise of a vaccine isn't just about overcoming the virus—it's about our ability to return to life as we once knew it. Still, public health officials and media members are sending conflicting messages. We continue to hear claims that even when fully vaccinated, we can't ditch masks or return to indoor dining.
Once vaccinated, can we go to restaurants again? Dr. Anthony Fauci tells MSNBC we cannot.
"No, it is still not okay for the simple reason that the level of infection, the dynamics of infection in the community are still really disturbingly high," he said. "If you are vaccinated, please remember that you still have to be careful, and not get involved in crowded situations."
Worse, Fauci maintains you must continue to wear masks, even well after your second vaccine dose.
Why, then, would anyone rush for a vaccine if we can't change our basic day-to-day habits afterwards?
It seems like the best way to encourage the vaccine-hesitant is with a promise to return to normalcy. Instead, our leading putative health experts are conveying the precise opposite.
The nationwide increase in COVID cases appear driven by otherwise-healthy, younger Americans. It's likely why, as of Sunday, death totals were down 26 percent over the previous 14 days. This younger, healthier demographic is returning to a mask-free, social life because of sheer COVID fatigue. Perhaps they'll get COVID, but they are unlikely to die from it.
But instead of encouraging them to get the vaccine so they can return to their social lives more safely, they're effectively told that the vaccine makes no difference. What sense does that make? Why would this demographic rush to the hassle of finding a vaccine appointment, or stand in line for over an hour at a mass vaccination site in the middle of the day, if they're told they can make no meaningful adjustments to COVID-era life even after vaccination?
By all reports, the vaccine efficacy rates for Moderna, Pfizer and Johnson and Johnson are high—much higher than your average flu shot. What poses the greater risk: a vaccinated public being told it's safe to go back to eating at restaurants and ditching a mask, or an unvaccinated public doing the very same thing because they've been isolated for over a year already?
This isn't to say we should withhold freedoms until people get their vaccines. On the contrary, vaccines shouldn't be affirmatively mandated—nor our freedoms contingent on our willingness to get one.
But judging by the numbers of people who get flu vaccines, the public is overwhelmingly willing to get vaccinated due to either personal or societal benefits. Logically, a COVID vaccine would be more quickly and widely embraced if people were told it would protect them. Perversely, explaining that you'll be in a mask and out of restaurants post-vaccine doesn't engender much confidence in the vaccine itself.
More troublesome is an insistence on downplaying the results of the recent "Neanderthal" decision to reopen Texas. Despite critics declaring inevitable mass graves from COVID deaths, the Lone Star State has thus far kept COVID at bay.
Rather than celebrate the news, Fauci dismisses the results, saying he's not sure why Texas is doing so well. He speculates that Texans may be "doing things outdoors." Apparently, there are no scientists in Texas he can reach out to for more sensible explanations.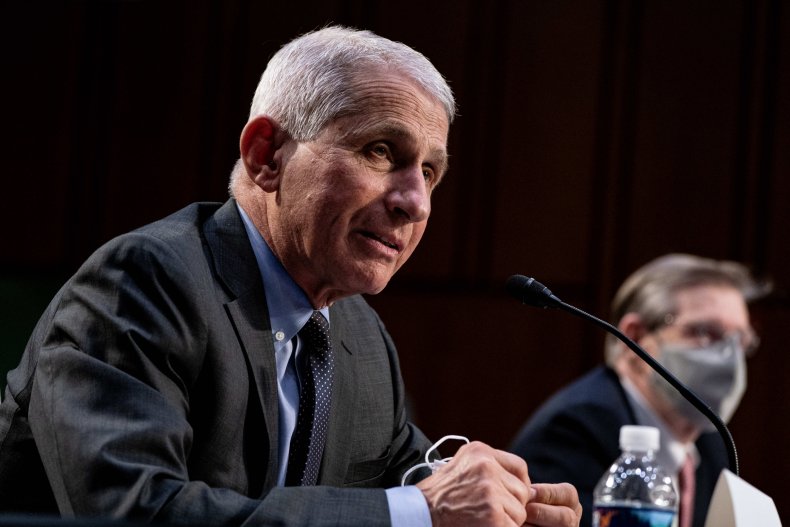 "Often, you have to wait a few weeks before you see the effect of what you're doing right now," he told MSNBC, even though it's been over a month since the state reopened.
"We've been fooled before by situations where people begin to open back up. Nothing happens and then all of a sudden, several weeks later, things explode on you, so we've got to be careful we don't prematurely judge that," he added.
This is certainly true. But equally true is that Fauci has made dire predictions that have simply not come to fruition. He appears to embrace the strategy of scaring the public into submission. But with quick access to information online, it's never been easier to fact-check doomsday predictions against reliable information so that we can make better-informed personal choices.
Maybe the near-20 percent (and growing) vaccination rate, basic personal responsibilities and being closer to herd immunity than the experts realized explains the numbers in Texas? I'm not a scientist and I candidly have no idea. But Fauci isn't providing any answers.
Rather than even hint at these possibilities, he feigns ignorance, further confusing a public not able to make sense of the data and conflicting talking points.
It's not just Fauci who is sending a perplexing message. Members of the media are doing their best to confuse the public, too.
CNN's Brian Stelter focused his unhealthy Fox News obsession on personalities choosing to not publicly get vaccinated, as if it's their duty to share a personal medical decision on national TV. Ladies, if you ever find a man as focused on you as Stelter is on Fox News, you might end up needing a restraining order.
Stelter should turn his attention to his vaccinated liberal media colleague Joy Reid. She is sending the wrong message.
MSNBC's Reid declared on Twitter that "even when I get the second shot, I am too 'scurred' to be out there wildin. No flying and no indoor activities for me. Nope!" She said she was agreeing with a comment apparently made by The Washington Post's Jonathan Capehart.
So why get the vaccine at all if you're going to stay socially isolated afterward? Give your dose instead to someone who wants to return to living a relatively normal life.
One problem with Reid's messaging is that she and her like-minded colleagues are signaling the vaccines aren't particularly effective. Why else would she be irrationally "scurred?" She wasn't scared of losing her job after lying about a hack to cover up her virulently homophobic blog, yet Reid is scared of catching COVID even after a vaccine with an exceptionally high efficacy rate?
We're well over a year into the pandemic and neither Fauci nor his left-wing media sycophants have learned any lessons in communicating. It would behoove them all to get their acts together sooner rather than later.
The one thing that could result in greater eagerness to get shots in arms is to acknowledge that widespread vaccinations means we can ditch the masks and reopen society without the threat of getting COVID. I'm not terrified of COVID, but I also don't want it—much like I don't want the flu or a stomach bug, which are considerably less severe than this virus.
The vaccine is promising to me because it offers protection I otherwise wouldn't have. Why can't Fauci and left-wing media outlets just double down on that straightforward messaging?
Jason Rantz is a frequent guest on Fox News and is the host of the Jason Rantz Show on KTTH Seattle, heard weekday afternoons. You can subscribe to his podcast here and follow him on Twitter: @jasonrantz.
The views expressed in this article are the writer's own.