Fauci 'Liberated' With Biden After Feeling There Were Repercussions for Contradicting Trump
Former President Donald Trump and Dr. Anthony Fauci, director of the National Institute of Allergy and Infectious Diseases, butted heads a number of times and now that there's a new administration in town, Fauci said he feels free to "let the science speak."
Fauci's advised every president since Ronald Reagan and is highly regarded as a staple of America's public health. As president, Trump regularly offered a different narrative than the one Fauci touted, outright dismissed what the infectious disease expert said and the reported tension between the two officials sparked numerous rumors that the former president was looking to oust Fauci.
On Thursday, Fauci told reporters he didn't want to be "going back over history," but said Trump put him in the "uncomfortable" position of having to contradict the president.
"You didn't feel like you could actually say something and there wouldn't be any repercussions for it," Fauci said. "The idea that you can get up here and talk about what you know, what the evidence, what the science is and know that's what it is and let the science speak it is somewhat liberating."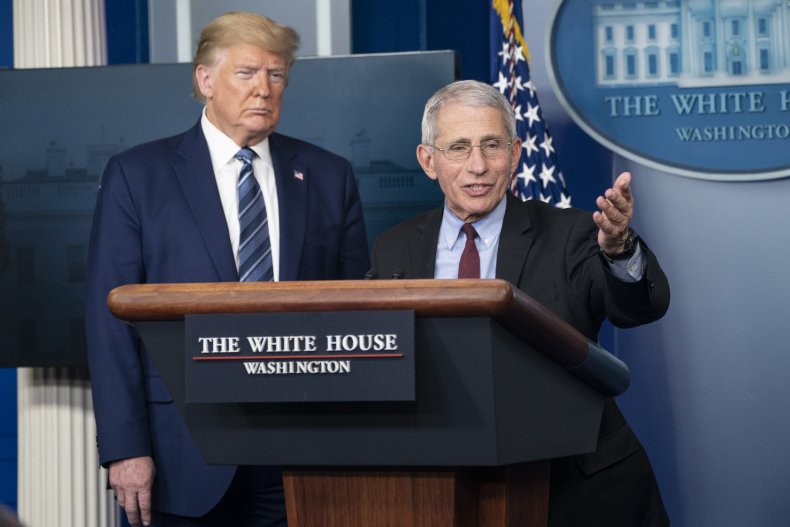 On Tuesday, America passed another grim milestone as the country reported more than 400,000 deaths. In less than a year, the death toll from the new coronavirus surpassed that of service members during World War II and nearly 24.5 million people have tested positive.
As deaths and hospitalizations continue to rise domestically, the world is facing another imminent threat in the form of COVID-19 mutations. A strain from the United Kingdom has been found to be more transmissible, but it's the mutation found in Brazil and South Africa that has Fauci more concerned.
That mutation has been found to have an effect on the efficacy of monoclonal antibodies from other strains, which have been used as part of treatment plans for those in the hospital. It's likely the strain will have a diminutive effect on the vaccine, according to Fauci, but that "doesn't' mean the vaccines won't be effective."
Given that there's a "cushion effect" for the vaccines, a minor diminution in efficacy could still leave the vaccine "well above the line for being effective."
"It is all the more reason why we should be vaccinating as many people as you possibly can because ... viruses don't mutate unless they replicate and if you can suppress that you can actually avoid the diminutive effect by the mutations," Fauci said.
America will be launching a "full scale, wartime" effort to ensure supplies for the fight against COVID-19 are fully stocked. Biden acknowledged that he gets looks when he refers to America's current fight as a "war," but pointed to the number of deaths and reaffirmed, "this is wartime undertaking."
The Trump administration fell short of its goal to have 35 million Americans vaccinated by mid-January, increasing skepticism about Biden's ability to vaccinate 100 million people in 100 days. However, Fauci, who received his second dose of the vaccine on Tuesday, considers Biden's goal to be achievable and told reporters on Thursday 1 million Americans would be vaccinated each day "starting now."
"This will be one of the greatest operational challenges our nation has ever faced," Biden said. "But the truth is it's going to take months to get the majority of Americans vaccinated."
Up to 90 percent of Americans will need to be vaccinated to reach herd immunity, equivalent to about 300 million people. To help expand access to vaccines, Biden said they will pursue an "aggressive, safe and effective vaccination campaign," that includes the creation of 100 community vaccination centers in the next month, making vaccines available at local pharmacies and expanding the pool of medical professionals who can administer the vaccine.
"We'll move heaven and earth to get more people vaccinated for free and create more places for them to get vaccinated," Biden said.