Dr. Anthony Fauci, the U.S. government's top infectious disease specialist, has suggested that Americans could wear masks for "at least" 100 days after Joe Biden is inaugurated as president.
The director of the National Institute of Allergy and Infectious Diseases made the comments in response to a question about what the Biden administration can do in its first days in order to tackle the spread of the novel coronavirus.
Fauci told NPR on Thursday that the new administration will also likely "put a lot of effort" into accelerating the rollout of the vaccine program.
"We want to get it to one million vaccinations per day, as the president-elect has mentioned," Fauci said. "The idea about having everyone for at least 100 days—at least—wear a mask. Everyone uniformly, so we don't have disparities where some people are adhering to public health measures and others are not."
In December, president-elect Joe Biden said be planned to issue a standing order requiring Americans to wear masks in federal buildings and on interstate transportation for the first 100 days of his administration.
"On the first day I'm inaugurated, I'm going to ask the public for 100 days to mask. Just 100 days to mask—not forever, just 100 days. And I think we'll see a significant reduction [of new cases]," Biden told CNN.
Fauci also told NPR that we could also see greater interaction and "cooperation" between the federal government and the states in the early stages of the Biden presidency instead of allowing them to "do their own thing" in some respects.
His comments come as the U.S. reported more than 4,000 COVID-19 deaths on Thursday—a new daily record for the pandemic. The country has now recorded a total of more than 365,000 COVID fatalities, and more than 21.7 million confirmed infections.
In his NPR, Fauci said he thought that "unfortunately" this trend would likely continue in the coming weeks, with a rise in new cases likely, in part, due to increased social interaction over the Christmas and New Year's period.
"As we get into the next couple of weeks in January, that likely will be a reflection of the holiday season travel and the congregate settings that usually take place socially during that period of time," Fauci said. "So we believe things will get worse as we get into January."
"Hopefully, if we really accelerate our public health measures during that period of time, we'll be able to blunt that acceleration," he said. "But that's going to really require people concentrating very, very intensively on doing the kinds of public health measures that we talk about all the time. Now's not the time to pull back on this."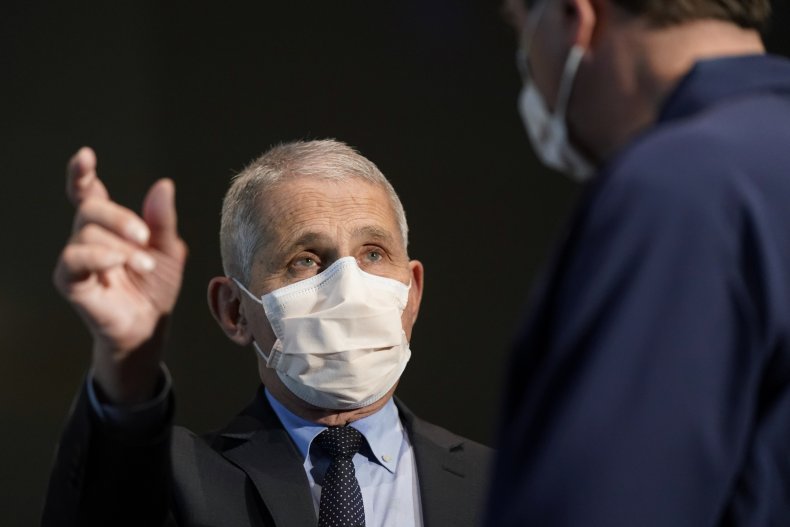 About the writer
Aristos is a Newsweek science reporter with the London, U.K., bureau. He reports on science and health topics, including; animal, mental health, and psychology-related stories. Aristos joined Newsweek in 2018 from IBTimes UK and had previously worked at The World Weekly. He is a graduate of the University of Nottingham and City University, London. Languages: English. You can get in touch with Aristos by emailing a.georgiou@newsweek.com.