Fauci Not Surprised America's Seeing 200,000 New Cases of Coronavirus a Day
Nearly nine months into the pandemic, America's experiencing record highs in daily coronavirus cases and Dr. Anthony Fauci, the director of the National Institute for Allergy and Infectious Diseases, called it a "predictable" spike.
Compared with the summer months when America reported daily increases of about 70,000 cases, the United States is now reporting more than 200,000 cases each day. The spike in cases is pushing hospitals to the brink of their capacity, raising concerns about the ability for people to be treated, and prompting legislators across the country to impose additional restrictions on social gatherings.
In June, when daily cases were around 40,000, Fauci said it was possible the country could reach 100,000 cases each day. Now that the country has reached 200,000 cases or more per day, Fauci told CNN's New Day on Monday that he's "not surprised" by the increase in cases that are being reported.
"All the indicators and parameters pointing in the direction for that happening have occurred," Fauci said. "We had a very high baseline of cases to begin with, even at the time when things seemed to have been calming down, it never got down to a low baseline."
The high starting point for cases combined with the cooler fall and winter weather that pushed people to congregate inside contributed to the rise in cases, according to Fauci. He added that America's just starting to see the impact of people traveling and gathering for Thanksgiving and said it's "going to be challenging" as the Christmas season approaches.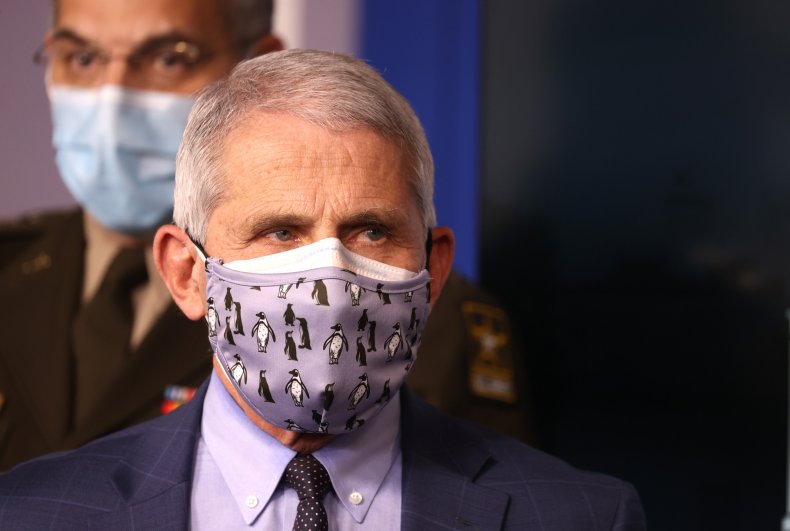 Since March, America's significantly expanded its ability to test people and President Donald Trump has maintained that testing more people will result in more cases. While more tests increases the number of potential positive results, America's also seeing an increase in the percent positive rate, a number that helps inform health officials of the rate of community transmission.
America's peak percent positive rate for a seven-day average was in spring at 21 percent. Although it's not that high again, the percent positive rate began increasing in October, reaching 10.4 percent on Monday, according to Johns Hopkins University, a rate that hasn't been reported in months.
Along with indicating that the coronavirus is still a threat, an increase in cases can present a problem for health care facilities. Fauci pointed to California, where a record number of people are being hospitalized, and said reaching a "critical point of the flexibility of hospital beds" is a "real challenge or even a crisis" for taking care of people.
Governor Gavin Newsom imposed new stay-at-home orders for large swaths of the state, closing bars, salons and indoor restaurants. There's also a ban on gatherings between people who are not in the same household and will remain in place for three weeks.
Ahead of the lockdown announcement on Saturday, Newsom said California was at a "tipping point" in the fight against COVID-19 and called it time to take "decisive action."
When asked about California's restrictions on Money, Fauci said the restrictions "absolutely" made sense to him and said he told officials in the state they "really don't have a choice."
Despite all the bleak news about increases in cases and the continued loss of life, Fauci urged people to not give into despair. Along with having the ability to help the situation by wearing a mask and avoiding social gatherings, Fauci noted that "help is really right around the corner" because the vaccine will start being distributed within a week or two.