Dr. Anthony Fauci, the nation's top infectious disease expert, said he believes a new breakthrough coronavirus vaccine could be available to the most vulnerable populations before the end of the year, if all goes smoothly through the final stages.
"They're going to dot all the I's and cross all the T's, but I believe with the impressive nature of the data that it should go through smoothly that by the time we get into December, we'll be able to have doses available for people who are judged to be at the highest priority to get it first," Fauci said during an appearance on MSNBC on Tuesday.
Pharmaceutical giant Pfizer announced Monday that it and German partner BioNTech have developed a COVID-19 vaccine that is 90 percent effective, based on early test results that must still receive full approval from independent researchers at the Food and Drug Administration (FDA).
Pfizer is expected to apply for emergency approval from the FDA later this month. The Trump administration has promised to fast-track the approval process to expedite efforts to end the pandemic that has killed nearly 240,000 people in the United States so far this year. Cases continue to rise, and experts have warned that cold weather that forces more indoor activities could amplify the infection rate.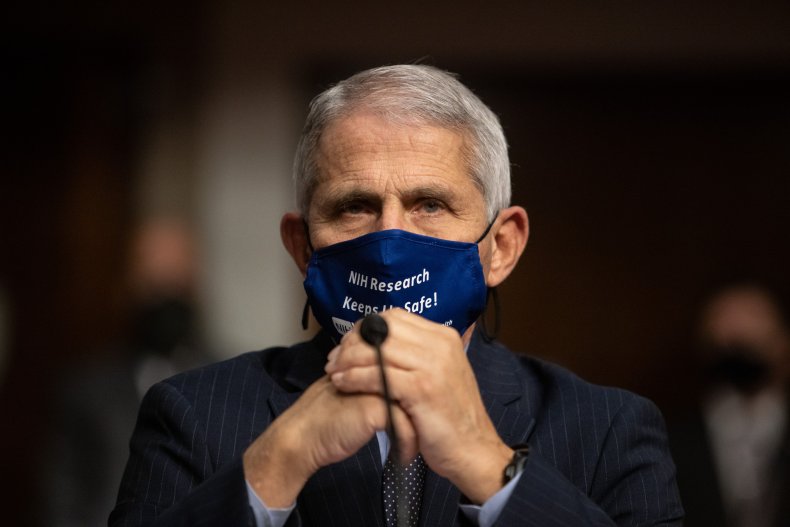 Fauci, a member of the White House Coronavirus Task Force who has been the director of the National Institute of Allergy and Infectious Diseases since 1984, said he will take the vaccine himself and advise his family members to do the same if it receives full approval.
"I trust Pfizer; I trust the FDA," he said. "These are colleagues of mine for decades—the career scientists."
Fauci has frequently been at odds with President Donald Trump during the pandemic, with Trump recently suggesting he push for Fauci's ouster after the election. During a rally in Florida in the final days of the campaign, Trump's supporters shouted "Fire Fauci!" prompting the president to slyly respond: "Don't tell anybody but let me wait until a little bit after the election."
Major news networks and the Associated Press have projected that Democratic rival Joe Biden beat Trump in last week's election, but official results are pending final tallies.
Trump can't directly fire Fauci because he is not a presidential appointee, but the president could put pressure on members of his administration to oust the doctor.
"He's been wrong a lot," Trump told the crowd at the November 2 rally. "He's a nice man though. He's been wrong on a lot."
Biden, meanwhile, has defended Fauci from Trump's attacks. After the Florida rally, Biden tweeted that the country needed "a president who actually listens to experts like Dr. Fauci."
On MSNBC, Fauci said he hopes that he isn't removed from his post.
"I don't think that would be helpful to the common goal of all of us," Fauci said. "We all want this pandemic to end. Every minute of my life right now is devoted to trying to end this pandemic, so I would hope that I'm allowed to continue to do that. I think I do it well. I've been doing it many, many years and I've done it under many different circumstances, including six administrations, so to me, I'm focused like a laser beam on the job I have and ending this epidemic."
As the nation's cases continue to rise, Fauci said cases could continue to spike in the United States in the coming weeks.
"I think it's pretty clear what's happening," Fauci said. "Whenever you have a respiratory-borne illness and you enter into the cooler months of the fall and cold months of winter, you do more things indoors, as opposed to outdoors. That's just another added ingredient to the risk."
Health experts have advised people to wear masks and other face coverings to try to prevent the spread of the disease—a position that has evolved as more research has been conducted on the novel coronavirus.
Fauci said new research out this week makes an even stronger case for masks. Whereas experts have pitched masks as a mitigation effort that protects others, Fauci said it now appears that mask-wearers also protect themselves by using face coverings.
"Recent studies have shown it's both ways now," he said. "It's a two-way street."