Fauci 'Cautiously Optimistic' of COVID-19 Vaccine by 2021 As Clinical Trials Open for Thousands
Dr. Anthony Fauci, the U.S. government's top infectious disease expert, says he is cautiously optimistic a COVID-19 vaccine with some level of effectiveness will be developed by the end of this year or early 2021.
In remarks made during a virtual United Nations event on Wednesday, Fauci said global "collaboration and transparency" would be required to contain the viral disease, which was first identified in Wuhan, China, at the end of last year.
"We've adapted a strategic approach to get multiple candidates to be conducted in trials in a harmonized way... so that you can bridge one study to another," he said in the online session.
Currently, there are 21 candidate vaccines in various states of clinical trials—including advanced Phase 3 trials—and at least 139 other vaccines in pre-clinical evaluation, according to the World Health Organization (WHO.)
Phase 3 clinical trials usually involve testing a drug on between 300 and 3,000 volunteers who have a given disease or condition in order to determine its effectiveness and monitor whether it causes adverse reactions.
Fauci said one of the most promising candidates, being developed by American biotechnology company Moderna, will go into Phase 3 trials some time toward the end of July, with others following in August, September and October.
Having seen early data from the Moderna trial, the expert, who heads the National Institute of Allergy and Infectious Diseases, said this candidate "makes me cautiously optimistic, although you can never, ever predict with any certainty whether a vaccine is going to be safe and effective."
"The early data on these trials have a cautious optimism that we will be successful at least in developing a vaccine with some degree of efficacy by the end of the year, the beginning of 2021," he said.
Other scientists have also said they believe a vaccine could be ready by this year or early next year, which would be a remarkable achievement given that vaccine development usually takes several years, or even decades.
On Tuesday, Andy Slavitt, the former Acting Administrator of the Centers for Medicare and Medicaid Services under president Barack Obama, posted a Twitter thread in which he outlined the views of three scientists who had seen data on ongoing vaccine trials.
The scientists told Slavitt that the first vaccine could arrive as early as this fall, followed by several others, which would be progressively better.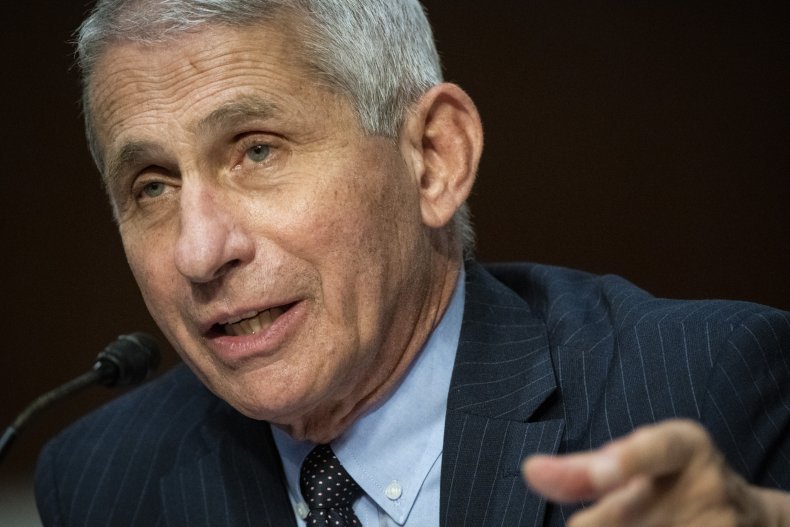 Dr. X.J. Meng, a University Distinguished Professor of Virology at Virginia Tech and a Member of the National Academy of Sciences, told Newsweek he has "no doubt" a vaccine will be ready within the next six to eight months, given the number of trials that are currently taking place.
"Will the subsequent vaccines after the first one get progressively better? They will have to, otherwise I doubt the regulatory agencies would approve a later vaccine that is inferior to the first one."
Meng said the main issue will be how effective and safe these early vaccines are—something that is currently unclear. "In order for the public to participate in a vaccination program, they have to see the benefits of the vaccine," he said.
Major clinical trial recruitment
Fauci's comments come as the National Institute of Allergy and Infectious Diseases (NIAID) announced the establishment of a new network of COVID-19 vaccine clinical trials. Dubbed the COVID-19 Prevention Trials Network (COVPN,) it plans to enrol tens of thousands of volunteers across at least five large-scale trials.
According to the Fred Hutchinson Cancer Research Center in Seattle, which has been named the operating center for COVPN, each trial is expected to enrol between 10,000 and 30,000 individuals at more than 100 sites in the U.S. and abroad. Individuals who are interested in taking part can fill out a survey here, which includes questions regarding your personal information and health status.
"Having a safe and effective medical countermeasure to prevent COVID-19 would enable us to not only save lives but also help end the global pandemic," Fauci said in a statement. "Centralizing our clinical research efforts into a single trials network will expand the resources and expertise needed to efficiently identify safe and effective vaccines and other prevention strategies against COVID-19."
How effective will a vaccine be?
The scientists who Slavitt spoke to said it is likely the first COVID-19 vaccines will be more similar to seasonal flu vaccines in terms of effectiveness. These influenza vaccines usually reduce the risk of illness between 40 and 60 percent, according to the U.S. Centers for Disease Control and Prevention.
"If a COVID-19 vaccine is safe with no major adverse effects, then I can see that the public would want to get vaccinated even if the vaccine only has 40 percent efficacy. The seasonal flu vaccine is such an example: safe but not completely effective," Meng said.
Like other similar viruses, the novel coronavirus, known as SARS-CoV-2, will likely evolve and mutate as it spreads through the global population.
"We do expect that mutations will occur but this does not necessarily mean that the mutations will lead to more virulent strain or vaccine failure," Meng said. "It really depends where the mutations occur." He pointed to one mutation known as G614 that appears to make the virus more infectious, but has little to no impact on disease severity. This mutation, he said, is unlikely to impact how effective a vaccine is.