Fauci Projects U.S. Could Reach COVID Herd Immunity by Mid-2021
Dr. Anthony Fauci shared an updated time line for the U.S. to potentially achieve herd immunity on Monday, assuming the general population can begin to receive COVID-19 vaccines in late March or early April of 2021. Discussing the nation's preliminary vaccine rollout during an MSNBC interview, the leading public health expert suggested the U.S. could reach herd immunity by the end of next spring.
Fauci, who has served as director of the National Institute of Allergy and Infectious Diseases for more than three decades, helped guide the federal COVID-19 response as a member of the White House Coronavirus Task Force this year. He previously estimated that herd immunity, a term used to describe widespread protection from disease when the majority of a population is formally immunized, was possible by the end of next summer.
However, with the first rounds of COVID-19 vaccine deliveries now underway, Fauci said the U.S. could realize large-scale, indirect immunity several months earlier.
"I had been saying, by my calculations, some time by the end of March, the beginning of April, that the normal healthy man and woman in the street who has no underlying conditions would likely get [the vaccine]," he told MSNBC anchor Hallie Jackson, referencing guidelines from the Centers for Disease Control and Prevention (CDC) that recommend states' administer their earliest vaccine doses to residents most at risk of contracting COVID-19. Guidance indicates that health care workers who are frequently exposed, or risk exposure, to COVID-19, as well as residents and staff at long-term care facilities, should receive the first immunizations.
"At the end of the day, the real bottom line is when do you get the majority, the overwhelming majority of the population vaccinated, so you can get that umbrella of herd immunity?" Fauci continued Monday. "And I believe, if we're efficient about it and we convince people to get vaccinated, we can accomplish that by the end of the second quarter of 2021. Namely, by the end of the late spring, early summer."
Authorities at the U.S. Food and Drug Administration (FDA) and CDC approved the country's first COVID-19 vaccine, developed by pharmaceutical corporation Pfizer in partnership with German biotechnology company BioNTech, for emergency use last week and over the weekend. The FDA is scheduled to determine whether a second COVID-19 vaccine candidate, produced by biotech company Moderna in partnership with the National Institutes of Health, will receive similar authorization this week.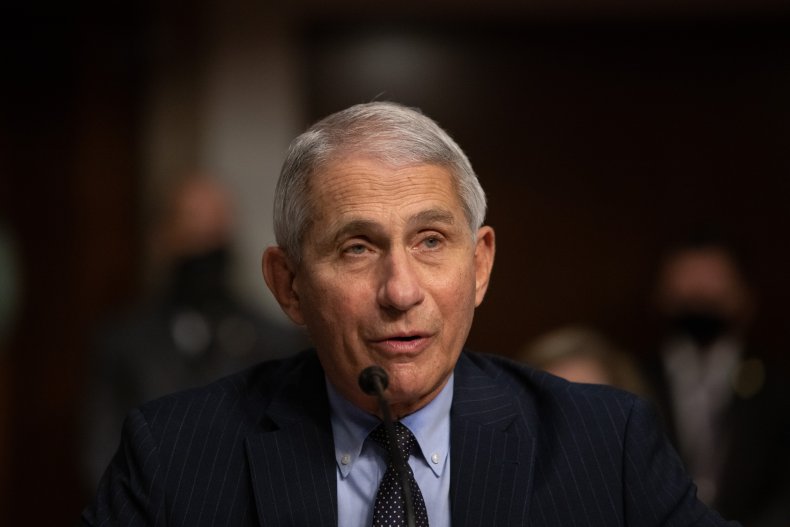 If states' distribution strategies proceed according to plan when lower-risk groups become eligible for a COVID-19 vaccine in the spring, and members of those groups opt to receive them, Fauci said he believes the U.S. "can start, essentially, approaching some form of normality" by next fall. He stressed that ongoing compliance with mitigation measures, including face masks and physical distancing, is paramount even as people start to receive immunizations.
Newsweek reached out to NIAID for additional comment, but it was unable to comment at this time. This story will be updated with any response.