Fauci Says America Allowed Its Local Public Health System to 'Really Go Into Tatters'
Infectious disease expert Dr. Anthony Fauci discussed gaps in the country's pandemic preparedness on Monday, noting how the novel coronavirus outbreak has highlighted longstanding issues related to public health.
"We have let the local public health infrastructure in our country really go into tatters," said Fauci, director of the National Institute of Allergy and Infectious Diseases (NIAID), during a "virtual fireside chat" with Lloyd Minor, dean of the Stanford University School of Medicine.
"It's one of those things where you're a victim of your own success. We were so good at controlling smallpox, polio, tuberculosis...that we let the infrastructure, locally, essentially go unattended," Fauci continued, referencing the U.S. health care system. "And what happened is that it attenuated and attenuated, and now, when we need good, local public health capability, it's not optimal. It's not as good as it should be."
The NIAID director said revitalizing public health capabilities at a local level is critical, both to manage the ongoing spread of COVID-19 and prepare for future outbreaks.
"Because this is not something that's going to go away and never happen again," he warned. "We've had outbreaks before—none as serious as this—but we really need to use this as a lesson to be prepared for the next one. As we learn our way through this one."
Fauci also discussed more immediate virus management strategies. He reiterated previous recommendations for states where COVID-19 cases are spiking, urging them to scale back reopening developments and "then proceed in a very productive way" when determining a timeline to lift restrictions. He pointed out that scaling back does not necessarily mean shutting down businesses.
Some state leaders terminated stay-at-home orders, originally implemented near the onset of the pandemic, as early as late April, with most others following suit throughout May. Since then, a handful of U.S. states have reported soaring outbreak statistics, which increased steadily between June and July. As Fauci noted during Monday's chat, Florida, California, Texas and Arizona are seeing the most serious uptick in infections.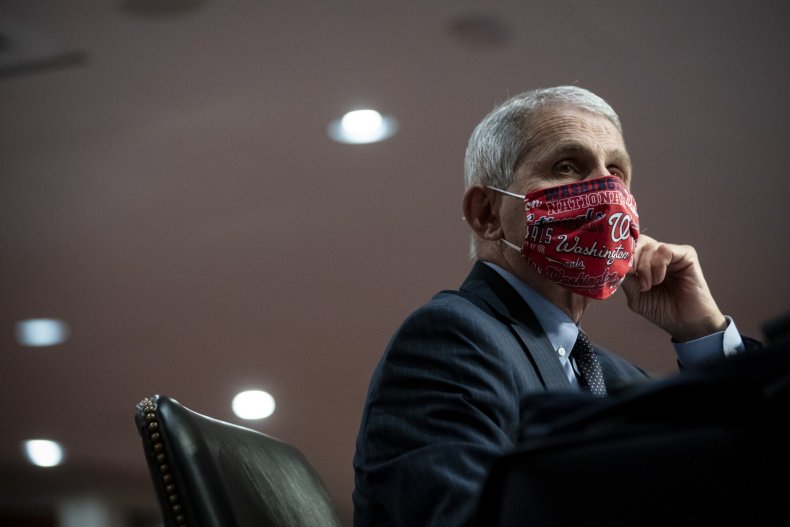 California Governor Gavin Newsom has said the state's public health system is far from reaching capacity, even as it admits new COVID-19 patients in record numbers. Hospitals in Florida, Texas and Arizona have reported considerably fewer available resources. Health care providers across multiple regions in all three states have reported limited availability of intensive care unit beds in recent weeks, and several have initiated surge capacity protocols to manage an influx of virus patients.