Fauci Says Anti-Vax Put U.S. At Risk As CDC Warns Too Much Virus to Control
Dr. Anthony Fauci, a member of the White House coronavirus taskforce and one of the country's top infectious disease experts, has said an "alarmingly large" percentage of the U.S. population is anti-science, anti-authority, and anti-vaccine.
Speaking via video at the Aspen Ideas Festival 2020 on Sunday, Fauci was asked to comment on recent polls suggesting a third of Americans would not get a COVID-19 vaccine if one becomes available. There is currently no vaccine against the coronavirus, but dozens of candidates are under development.
The director of the National Institute of Allergy and Infectious Diseases addressed the question in the context of herd immunity against the coronavirus. Herd immunity is where enough people are immune to an infection that it stops spreading, and vaccinations are one way of achieving this.
Fauci said he does not believe that a coronavirus vaccine would be 100 percent effective, but would "settle" for 70 to 75 percent. This could have the potential to create herd immunity, he said.
However, herd immunity would be "unlikely" if enough people refused to be vaccinated.
"There is a general anti-science, anti-authority, anti-vaccine feeling among some people in this country. An alarmingly large percentage of people, relatively speaking," said Fauci.
Some people "may not like a government person in a suit like me telling them, even though I will tell them [to get vaccinated]. They really need to see people that they can relate to in the community." That may include sports figures and community heroes and others who people "look up to."
Fauci said it will be important for such individuals to help the public understand that scientists are doing all they can to prove vaccine candidates are safe and effective, "and it's for the good of them as individuals, and in society, to take the vaccine."
A lot of work needs to be done on this front, he said.
His comments come as the U.S. deals with a surge in COVID-19 cases, largely in the South and West. According to Johns Hopkins University, almost 2.6 million COVID-19 cases have been confirmed in the U.S., out of a global total of 10.3 million. As the Statista graph below shows, that means the U.S. is the country with the most diagnoses of the disease.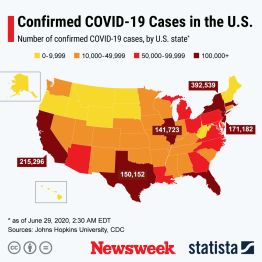 On Monday, Dr. Anne Schuchat, principal deputy director of the U.S. Centers for Disease Control and Prevention, told the JAMA journal in a video interview that the U.S. was failing to control its outbreak.
"We're not in the situation of New Zealand or Singapore or Korea where a new case is rapidly identified and all the contacts are traced and people are isolated who are sick and people who are exposed are quarantined and they can keep things under control," she said.
"We have way too much virus across the country for that right now, so it's very discouraging."