New York City's massive spike in coronavirus cases may not necessarily be the city's fault because, according to Dr. Anthony Fauci, officials weren't focused on where the real threat was.
Fauci, the director of the National Institute of Allergy and Infectious Diseases, told WNYC's Brian Lehrer Show on Tuesday that the first wave of cases from Europe hit New York City. With more than 213,000 cases, the new coronavirus infected more people in the city than in all but 10 countries reporting cases.
However, in a way, the widespread outbreak wasn't the city's fault, Fauci told Lehrer. Back in March, when the city started seeing a rise in cases, "everybody was looking at China and it came from Europe," he said.
China, where the virus originated, was seeing a rapid rise in cases, and to limit infections in the United States, President Donald Trump restricted travel from the Asian nation on February 2. But as China seemingly started to control its outbreak, cases in Italy and Spain ballooned, moving the hot spot from China to Europe.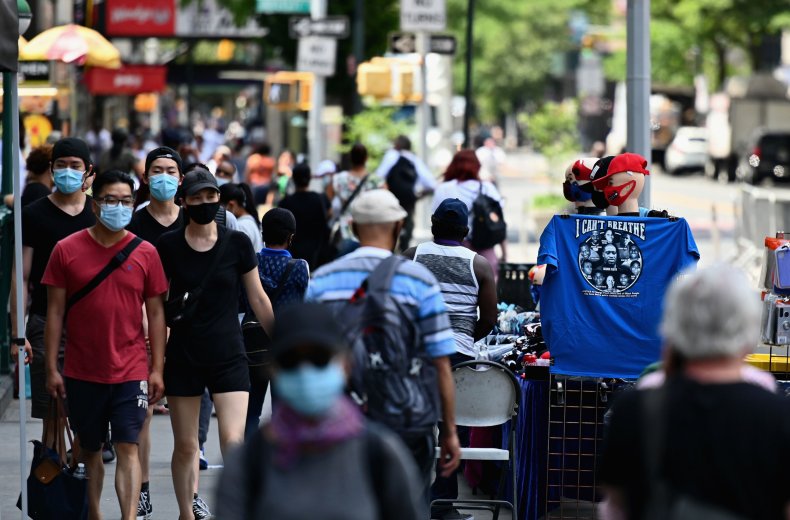 On March 10, Dr. Robert Redfield, the director of the Centers for Disease Control and Prevention, called Europe the "new China" during his testimony before a House subcommittee. He noted that "a lot" of people who were coming to America from Europe were "starting to seed" communities in the U.S.
At the time, Redfield said, officials were "moving quickly" to understand how to address the problem in Europe, and on March 13 Trump added travel restrictions for certain European countries. A week after the ban was enacted, New York went from 421 cases to more than 8,000.
In dealing with the massive outbreak, Fauci told WNYC that New York Governor Andrew Cuomo and New York City Mayor Bill de Blasio did a "great job" flattening the curve and reducing infections. He praised them for being two people who "clearly wanted to do it right" by listening to experts and not moving into the next phase of reopening until the federal guidelines dictated they were able to.
New York City didn't enter Phase 2 of its reopening plan until June 22, but it didn't stop people from gathering outside bars to socialize. The sight of people gathering before being given the go-ahead led Cuomo to issue a stern warning to local governments to enforce compliance. During a June 15 press briefing, the governor told local officials to "do your job" and make sure people were following social distancing guidelines, because if cases increased, the area would have to "take a step back" in the reopening plan.
Fauci applauded Cuomo for telling people that if reopening wasn't done right the area wouldn't advance to the next stage, adding that it's a tactic other states should consider.
Newsweek reached out to Cuomo for comment but did not hear back before publication.