Fauci Says Coronavirus May Disappear Like SARS, But 'Spreads Too Efficiently'
Director of the National Institute of Allergy and Infectious Disease Dr. Anthony Fauci said during a Thursday interview with Facebook founder Mark Zuckerberg that he hopes that coronavirus will respond to social suppression like Severe Acute Respiratory Syndrome (SARS) did, but warned that coronavirus transmits in a different fashion.
SARS, a virus in the same family as the current novel coronavirus, was primarily spread from person to person. In 2003, a SARS epidemic spread through 26 countries, resulting in over 8,000 cases.
Although there were only eight reported cases and no deaths in the U.S. attributable to SARS, the virus was blamed for 774 deaths worldwide. After the affected areas were placed under quarantine, SARS subsided. There has not been a recorded case of SARS since 2004, according to CDC.
"What I certainly would like to see is what happened with SARS," Fauci said, addressing how the coronavirus pandemic may finally come to an end. "When public health measures essentially suppressed it, it disappeared and never came back."
However, Fauci warned that this strain of coronavirus was different than SARS.
"Even though it's the same category of a coronavirus, it spreads too efficiently," Fauci said.
Since coronavirus is a new disease, it is unknown precisely how the virus is transmitted. "It may be possible that a person can get COVID-19 by touching a surface or object that has the virus on it and then touching their own mouth, nose, or possibly their eyes, but this is not thought to be the main way the virus spreads," said the CDC on its website.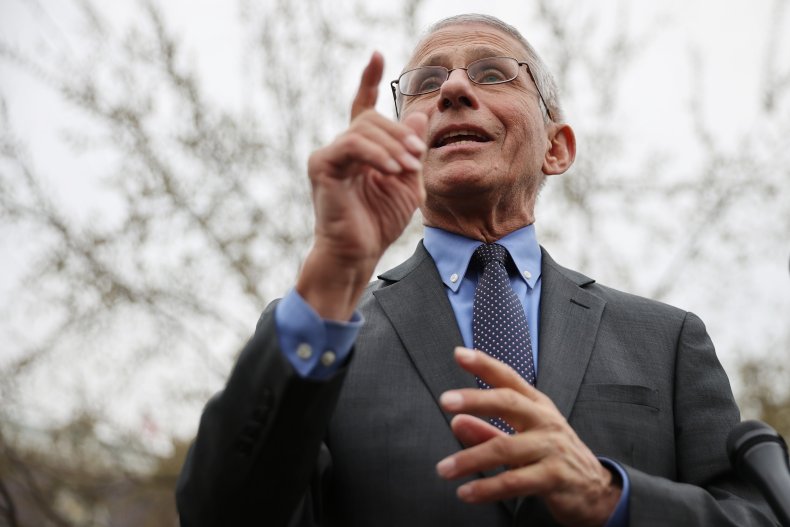 Claims that warmer weather would kill off the coronavirus were also placed into doubt by Fauci. President Donald Trump has made claims to this effect in the past, telling a New Hampshire rally crowd in February that the coronavirus would no longer be a threat because "by April, in theory when it gets a little warmer, it miraculously goes away."
"Viruses tend to like cold dry weather versus warm moist weather," Fauci said. "That is a fact but we have no idea, since this is a brand new virus, if this virus is going to follow that paradigm. We cannot absolutely expect that it's going to go down although most of the time with other viruses it does. The fact is you've really got to be careful because you're dealing with a unique virus whose characteristics and behavior are unclear to us right now."
Fauci also said that even after the initial coronavirus pandemic passes, the virus could still return but the medical response to it would be "different."
"Because a certain percentage of the population will already have been immune—a bit of what we call 'herd immunity'—we likely by that time will have tested a number of drugs," Fauci said. "Hopefully, some of them will be effective in treatment. And as I mentioned just a couple of days ago, we started a vaccine trial and hopefully within a year to a year and a half would have a vaccine. So although we're preparing and expecting for it to come back, it's not going to come back in the same circumstances as it first came."
Newsweek reached out to the World Health Organization for comment but did not receive a response in time for publication.