Fauci Says COVID-19 Vaccine Could End the Pandemic With 'Veil of Immunity'
Dr. Anthony Fauci, a leading immunologist and member of the White House coronavirus task force, has said the COVID-19 pandemic could be brought to an end if enough people receive a vaccine if and when one is created.
The director of the National Institute of Allergy and Infectious Diseases (NIAID) made the comments the day that pharmaceutical companies Moderna and Pfizer announced their respective COVID-19 experimental vaccines were entering their next phases. Moderna is working with the NIAID, and Pfizer with biopharmaceutical company BioNTech.
Fauci told CNN's Wolf Blitzer: "If we get a widespread uptake of vaccine, we can put an end to the pandemic and we can create a veil of immunity that would prevent the infection coming back."
The top infectious disease expert said the safety information coming out of Moderna's research so far "looks good," but added "now it's crunch time."
Moderna's Phase 3 trial that launched on Monday aims to collect further information on safety, and to show if the vaccine works, he said. Of the 30,000 volunteers taking part across 85 sites, 15,000 will receive the vaccine and 15,000 a placebo.
Fauci sad the trial was designed so it reflected society, with one group consisting of people aged 18 to 65 years old, and another of those 65 and over. 19 to 20 percent of participants are African American, and the same proportion Latinx, according to Fauci, who said it is hoped the fraction will rise so those most at risk of adverse consequences are represented. Evidence suggests BAME individuals are at greater risk of complications from the disease.
The NIAID director said the research had been performed in "record time," but said this was thanks to the technology available, and not because safety or scientific integrity had been compromised.
The graph below by Statista shows the progress of different COVID-19 vaccine candidates.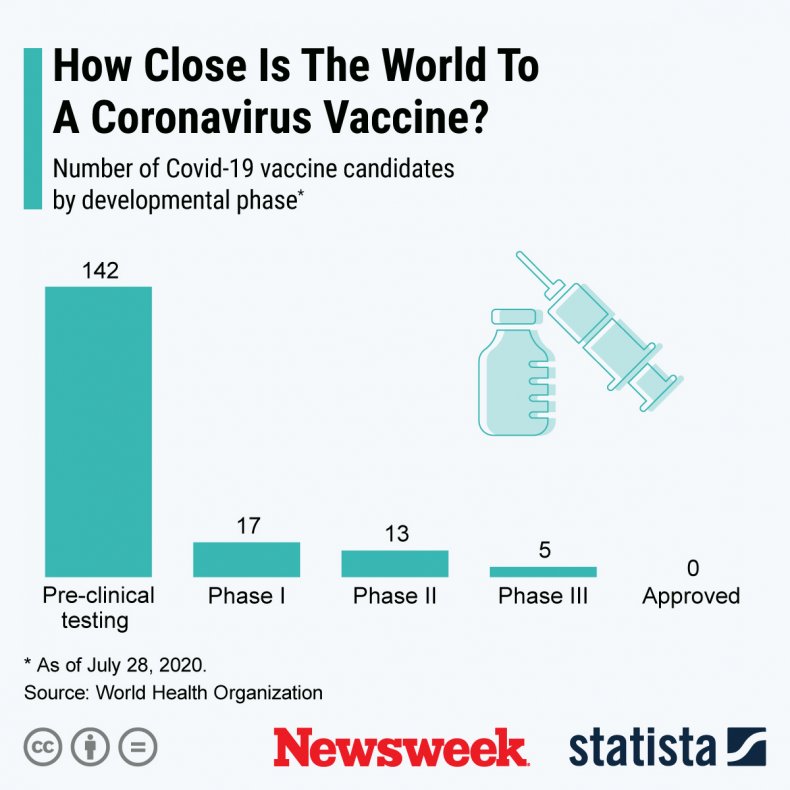 Pfizer and BioNTech said in a statement the Phase 2 / 3 study on the BNT162b2 vaccine candidate will involve up to 30,000 people aged 18 to 85 in the U.S. and is due to including approximately 120 sites globally.
Echoing past comments, Fauci said he was "cautiously optimistic" the Moderna vaccine would work, and hoped it would be more than 60 percent effective.
Asked who will be prioritized when a vaccine is ready, Fauci said there is an advisory committee at the CDC supplemented by the National Academy of Medicine tasked with deciding. Generally, such committees recommend those who will benefit most go first, such as healthcare providers, the elderly, and those with underlying conditions that put them at risk of serious disease.
Addressing a poll from May showing only half of Americans would get a COVID-19 vaccine, Fauci said low uptake is concerning, and that community engagement and outreach is needed to encourage the public to get vaccinated, rather than a dictum from Washington.