Fauci Says He Lacks Power to Get Trump to Discourage Holiday Travel, Warns of Surge Upon COVID Surge
Dr. Anthony Fauci, a key member of the White House Coronavirus Task Force, said that he doesn't have any "power" to urge President Donald Trump to discourage holiday travel, warning of a new "surge superimposed" on the current rapid increase in new infections.
The U.S. continues to have the highest number of infections and deaths due to COVID-19 of any country in the world. As of Sunday morning, the country has reported more than 13.3 million infections and well over 265,000 deaths, according to The New York Times' tracker. The U.S. has also averaged more than 162,000 new infections and over 1,400 new deaths per day over the past week.
Meanwhile, millions of Americans traveled over the past week to celebrate Thanksgiving with their families. Public health experts, including Fauci, repeatedly warned Americans to take precautions and avoid holding large family gatherings as the pandemic surges nationwide.
During an interview with NBC News' Meet the Press on Sunday, Fauci was asked whether he and other health officials could get Trump to discourage holiday travel and urge Americans to wear masks when going out in public.
"You know, I don't know, I mean it certainly is possible," Fauci, who serves as director of the National Institute of Allergy and Infectious Diseases, said. "I don't think I have any power in that regard. I mean, so what I'm doing is the best that I can do, and thank you for giving me the opportunity to speak to the nation on a national program to talk about the importance of those kinds of things that can have an impact."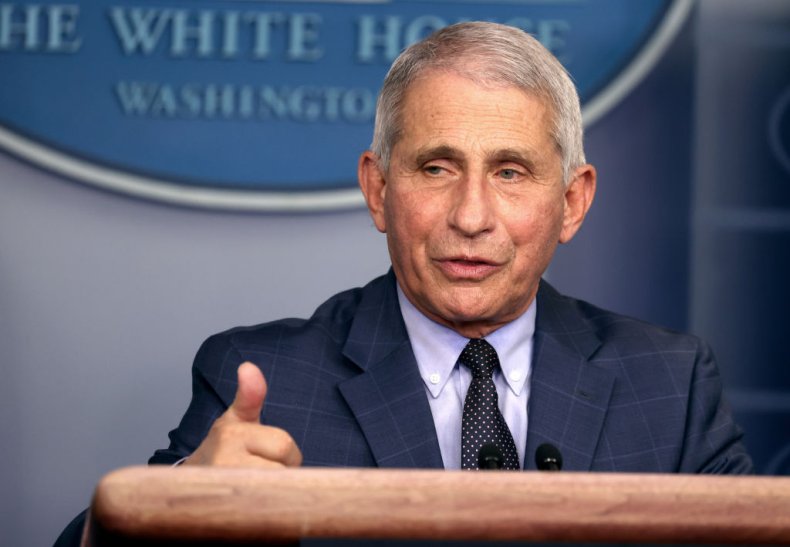 Fauci warned that the U.S. could "see a surge superimposed upon that surge that we're already in."
In a separate interview with ABC News' This Week, Fauci said "there almost certainly is going to be an uptick because of what's happened with the travel" over Thanksgiving.
"We may see a surge upon a surge. We don't want to frighten people, but that's just the reality," he said.
Newsweek reached out to the White House for comment, but did not immediately receive a response.
Nearly 1,071,000 Americans were screened at airports across the country the day before Thanksgiving, according to the Transportation Security Administration (TSA). That's the highest number since the early days of the pandemic back in March. However, the number was still well below half of the more than 2.6 million people screened at airports ahead of Thanksgiving in 2019. On the Sunday ahead of the holiday this year, over 1 million were screened by airport security across the country.
Throughout the pandemic, Trump has voiced support for Americans disregarding lockdown measures and social distancing restrictions implemented by various local leaders and governors across the country. The president has also been dismissive of masks, although he has worn them and encouraged his supporters to do the same after significant criticism from public health officials.
"To every American, this is the moment to protect yourself and your family," Dr. Deborah Birx, the White House Coronavirus Response Coordinator, told CBS' Face the Nation on Sunday. She urged Americans to take appropriate precautions even if "your governor or your mayor isn't doing the policies that we know are critical."