Fauci Says He's 'Not Pleased' With the Coronavirus Response in the U.S.
Director of the National Institute of Allergy and Infectious Diseases Dr. Anthony Fauci said he is "not pleased" with the country's response to the coronavirus pandemic.
"We certainly are not where I hoped we would be," he said during a National Geographic panel on Thursday.
"Bottom line is, I'm not pleased with how things are going," Fauci added.
He pointed to the divergence of handling the spread of the virus between states and the lack of unified approach to the outbreak to be the reason why COVID-19 cases surged across the nation in June and July.
"When you look at other parts of the country—this is the thing that's disturbing to me—is that we're starting to see the inkling of the upticks in the percent of the tests that are positive," Fauci said. "We know now, from sad past experience, that that's a predictor that you're going to have more surges."
He called the rise in positive cases in states like California, Florida, Texas and Arizona "disturbing."
Fauci reemphasized the importance of wearing face masks, socially distancing, avoiding crowds, being outdoors instead of indoors and washing hands. He said if everyone followed these recommendations, the surge of infections can be turned around.
The doctor also said that he sees no reason Americans should be unable to vote in person, as long as they follow the guidelines recommended by the Centers for Disease Control and Prevention.
Likewise, he said schools should also reopen and that children should return to in-person classes, but added that the primary consideration in these reopening plans should be the health and safety of students and teachers.
Fauci said that a permanent lockdown is not the solution but that reopening businesses and schools needs to be done safely.
"Because of the divisiveness that we've seen in this country, we're having—maybe understandable because of the differences—but unfortunate divergence where people say 'lock down completely' or 'let it rip,'" he said.
"That shouldn't be that way. There is a golden mean in there, based on the guidelines that we carefully put together on how you can open the country safely," Fauci added.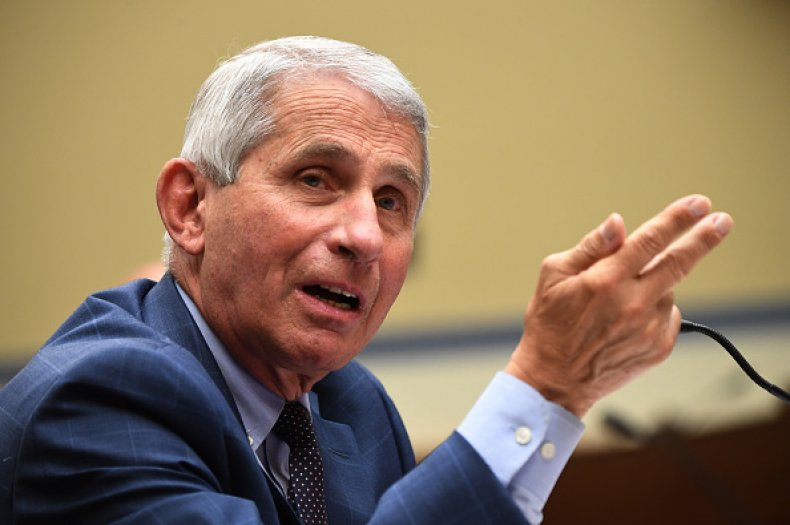 When asked about Russia's claims of a vaccine, Fauci said he "seriously doubts" it has been proven to be both safe and effective. He said that the clinical trials in the U.S. have begun but they cannot be administer without testing how safe and effective the vaccines are.
"If we wanted to take the chance of hurting a lot of people, we could start doing this next week," he said.
As of Thursday, August 13, the U.S. has reported over 5 million confirmed cases of COVID-19 and 166,483 deaths, according to data from a Johns Hopkins University tracker.