Dr. Anthony Fauci, director of the National Institute of Allergy and Infectious Diseases (NIAD), said a coronavirus vaccine won't be available by the time school terms usually resume in the fall.
Fauci told members of the Senate Health Committee on Tuesday that researchers were studying multiple vaccines for a new coronavirus that has infected more than 1.3 million people in the United States. While having a vaccine would ease minds about reopening schools in fall, it's unrealistic to base decisions on an inoculation.
"In terms of this case the idea of having treatments available or a vaccine to facilitate the reentry of students into the fall term would be something that would be a bit of a bridge too far," Fauci said.
Fauci clarified later in the briefing that he didn't mean to imply that school shouldn't resume in the fall without a vaccine or treatment. He added that the decision to reopen should be based on the dynamics of the outbreak in that area.
Governors have cited a successful vaccine as the end point for the outbreak and the point when life can truly return to normal. Developing vaccines is a time-consuming process, however, and the NIAID director has continuously stated that it would take about a year to a year and a half for a vaccine to be available for widespread use.
Vaccine development for a new coronavirus has occurred at unprecedented speeds, according to officials and a phase 1 clinical trial is already underway. Phases two and three will begin in late spring and early summer and by late fall or early winter, Fauci said officials should know if the trials were successful.
"We have many candidates and hope to have many winners. In other words, it's multiple shots on goal," Fauci said.
Having several candidates not only increases the possibility that at least one will be successful, but Fauci noted that having more than one vaccine is "good for global availability." This will be important because this will be good for global availability if we have more than one successful candidate.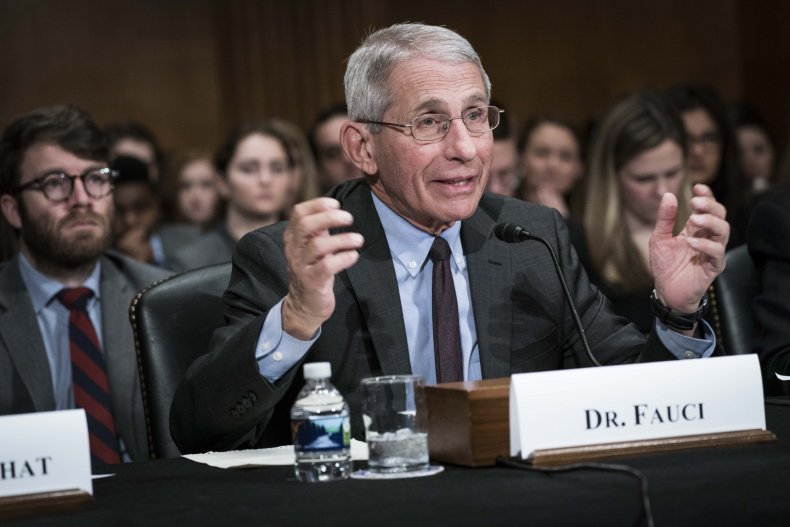 To prevent problems in supply and demand, officials aren't going to wait until a vaccine proves to be successful to start stocking up on it. Fauci told senators on Tuesday that they're going to produce the vaccine "at risk," meaning they'll start manufacturing it if the Phase I trial shows it's a viable option.
Proactively producing a vaccine or vaccines before results from the Phase II trial are in requires investing "considerable resources" and there's a possibility that the candidates won't pan out. They may even cause negative consequences, according to Fauci.
Part of the reason a vaccine takes a long time to produce is that participants aren't already sick with the virus so the safety issues are different. It's an advantage therapeutics have, making it likely that a treatment will be available before a vaccine.
Remdesivir, a drug produced by Gilead, has shown to be a promising therapeutic in early trials, and the Food & Drug Administration approved it for use on May 5. The company has donated 1.5 million vials of the drug for distribution, which will be managed by Dr. Deborah Birx, a member of the White House Coronavirus Task Force.
While Fauci championed the results of a remdesivir studies as "opening the door to the fact that we now have the capability of treating" the virus, he cautioned against overhyping it. During Tuesday's hearing, he noted the drug exhibited "modest" efficacy among hospitalized patients so it can't yet provide comfort to young people going back to school.
This article has been updated to reflect Fauci's clarification that he wasn't implying resuming in-person classes depended on a vaccine or treatment.