Fauci Says 'Mood of the Country' Makes Shutting Down 'Very Difficult' Amid Rising Cases
Dr. Anthony Fauci, director of the National Institute of Allergy and Infectious Diseases (NIAID) recently said he believed the pandemic would have to get much worse for lawmakers to be able to successfully reinstate shut down measures.
Omicron, a highly-infectious variant, is fueling massive spikes in COVID-19 cases, sparking concerns about the possibility for an increased strain on health care systems. Despite the rise in cases and expectations infections will continue to rise, lawmakers at varying levels, including the White House, have bucked the idea of shutting down.
Fauci told News Nation Now on Thursday that it would be "very, very difficult" to shut down given the "mood of the country." He noted that people in the United States are "exhausted with restrictions," so the outbreak would have to get significantly worse for them to accept a return to the early months of the pandemic.
While restrictions can be necessary to preserve health, Fauci said President Joe Biden made a decision not to advocate for more shutdowns because the medical team believes there are other ways to mitigate the threat of COVID-19.
Days before America identified its first case of the Omicron variant, Biden unveiled a new strategy to fight COVID-19. He denied lockdowns were coming, saying that they were off the table, and instead focused his strategy on increased testing access and vaccines in the hopes of increasing the number of people starting their vaccination series and getting their booster dose.
"We're in a very different place as we enter the month of December compared to where we were last Christmas," Biden said at the time.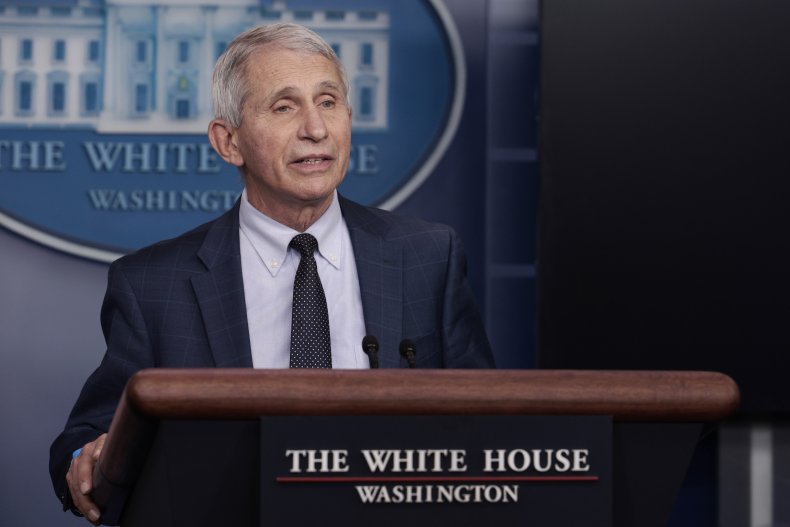 While making his remarks, Biden noted that this time last year, very few people had received their first dose of a vaccine and no one had been fully vaccinated. In the year since, more than 70 percent of America's adult population has been fully vaccinated and officials believe that vaccines, especially booster doses, will provide at least some protection against seriously ill from the Omicron variant.
Fauci told News Nation Now that a "major factor" in the outbreak continuing is the millions of people who have decided not to get vaccinated despite being eligible.
"If we had the overwhelming proportion of those people vaccinated, not only would it be good for their own health and that of their families, but there's a communal responsibility that you have as being part of the effort to contain the outbreak, you don't live in a vacuum by yourself," Fauci said. "You've got to realize there's a responsibility as a nation to pull together to get us out of this outbreak."
Fauci's previously suspected that 70 to 95 percent of people would have to be vaccinated to achieve herd immunity, but he told News Nation Now there's no "magic number." He added that the more people, including children, who are vaccinated, the better society could control the outbreak.
While Fauci acknowledged that it's "maybe understandable" that parents have reservations about getting their children vaccinated against COVID-19, he said not vaccinating children "doesn't make any sense." Fauci noted that children are vaccinated against a number of childhood diseases that have a mortality rate that's lower than COVID-19.
He acknowledged the likelihood of a child dying of COVID-19 is "very low," but added that when it's a person's child, it doesn't seem insignificant.
Just as there is no magic number for vaccinations, Fauci said the same is true for the number of cases America needs to stop seeing to declare us out of the pandemic. He said to be out of the woods, vaccinations need to be high and cases low to the point that it "doesn't interfere with our function." It's also important that hospitalizations are significantly lower than they are now.