Fauci Says People in Some States 'Didn't Listen, and Threw Caution to the Wind'
The U.S. is seeing an "exponential growth" in COVID-19 cases, according to Dr. Anthony Fauci, a member of the White House coronavirus taskforce and one of the country's top infectious disease experts.
Fauci made the remarks after the U.S. set a new record of more than 60,000 new coronavirus cases in a day, with states in the south and west hardest hit. The U.S. continues to be the country with the most confirmed COVID-19 cases, according to Johns Hopkins University, at over 3 million of more than 12 million global cases. It also leads in deaths, and over 132,000 of the 549,508 worldwide.
In an interview with The Wall Street Journal's The Journal podcast, Fauci said: "What we're seeing is exponential growth, it went from an average of about 20,000 to 40,000 and 50,000. That's doubling. If you continue doubling, two times 50 is 100."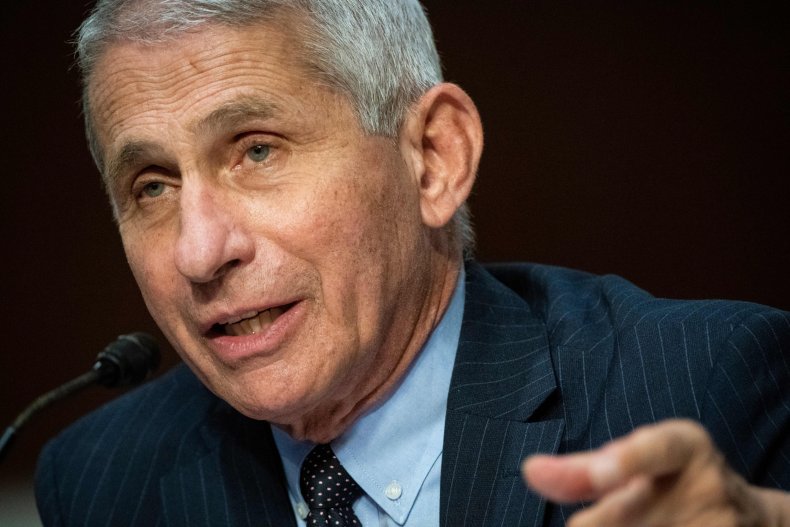 Fauci made similar comments at a Senate Health, Education, Labor and Pensions Committee hearing last week, where he said: "I would not be surprised if we go up to 100,000 a day if this does not turn around."
Speaking to the Wall Street Journal, Fauci said the U.S. has "got to just tighten things up," and suggested that bars close and restaurants have no or "very good" seating, while people should wear masks, avoid gathering in crowds, and socially distance.
"If you do those simple public health measures, guarantee you're going to see that curve come down. It's happened time and again in virtually every country that's done that," he said.
Fauci said some cities and states opening and considering re-opening their economies should "take a really good look at the guidelines and in your quest to get things open quickly don't jump over the guideposts." This would make the chances of getting a surge "much, much less."
He went on: "So it's take care of and control what's surging now in the southern states, and the other states be mindful of what happens when you open up and throw caution to the wind, because it could happen to you."
Asked whether he thought states like Florida, Texas, and Arizona, threw caution to the wind, he replied "no."
He said: "Among the states, and there's admission from within, some states went too fast, some states went according to what the timetable was, but the people in the state didn't listen, and just threw caution to the wind."
Without naming locations, Fauci said there were examples where leaders were approaching the situation in a measured way but photos emerged of people crowded at bars and not wearing masks.
"It's a complicated issue," he said. "You don't want to be blaming people. Once you start blaming people you get off the message of what are you going to do about it to correct it?"
Fauci also said "any state that is having a serious problem, that state should seriously look at shutting down" like New York did. "And it worked," he said.
As the graph by Statista below shows, New York and New Jersey appear to have flattened the curve of new cases, while states including California, Texas, and Florida are trending upwards.
States are battling the spikes in cases at a time where there is no vaccine against COVID-19, and no drugs specifically designed to treat it, although some have been repurposed.
On Wednesday, Fauci told a U.N. event he "was cautiously optimistic" a vaccine could be ready by 2021, the Associated Press reported.