Fauci Says Public Should Avoid 'Political Nonsense,' Trust 'Medical Authorities' on Pandemic
The nation's top infectious disease expert has advice for America's next generation of college graduates: Listen to the health experts when it comes to a pandemic, not politicians.
"You can trust respected medical authorities. I believe I'm one of them. So, I think you can trust me," Dr. Anthony Fauci said. "I would stick with respected medical authorities who have a track record of telling the truth, who have a track record of giving information and policy and recommendations based on scientific evidence and good data."
Indirectly rebuking President Donald Trump's repeated—and inaccurate—claims that the United States' surge in coronavirus infections was at the hands of increased testing, Dr. Fauci told Georgetown University students during an online forum Tuesday that it was "entirely understandable how the public can get mixed messages and then get a bit confused about what they should do."
The remarks from the National Institutes of Health official came amid a coordinated campaign by the White House to undercut the credibility of the coronavirus task force member.
"Don't get involved in any of the political nonsense," he said of the politicized rhetoric that so is so often aired from elected officials unqualified to be speaking about medical issues. "That's a waste of time and a distraction."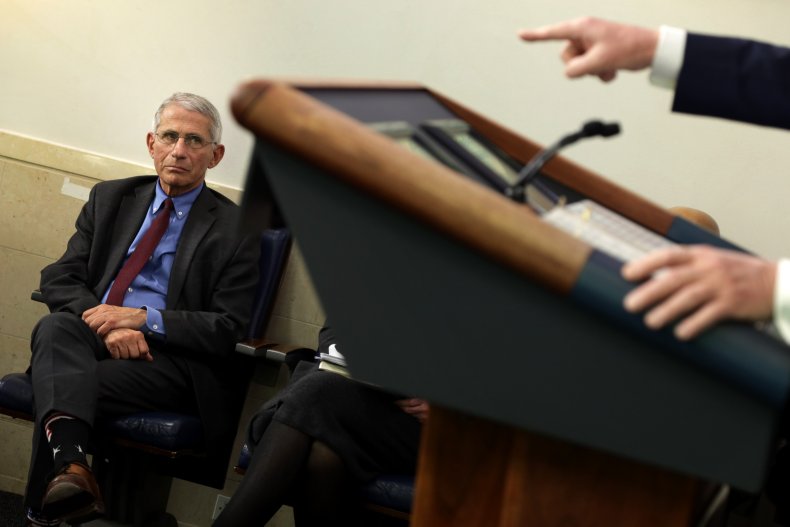 Dr. Fauci dispelled the narrative parroted by Trump and Republicans that testing was the sole reason for more cases—a strategy that seeks to downplay the virus' surge since states began reopening—noting that the positivity rate among those who are tested has increased at a far higher rate than the number of tests administered.
"Therefore, unequivocally, you're seeing truly more new cases," Dr. Fauci said. "In addition, we're seeing now more hospitalizations, which lag behind infections, and we're starting and will see—though not as much as we've seen—very likely more deaths. So, clearly, there are more infections."
Dr. Fauci's comments came just one day after he returned to the White House, ending a more than two-month streak without personally speaking with the commander in chief, to address the public in his official capacity as a coronavirus task force member. His return to the White House came in the immediate wake of officials from Trump's press team trying to anonymously—and publicly—smear the civil public servant by distributing a list of previous advice given by Dr. Fauci that has since been found to be incorrect thanks to new information unearthed about coronavirus.
The talking points were reminiscent of opposition research typically conducted by political campaigns against their opponents. But White House press secretary Kayleigh McEnany denied the notion they were attempting to sideline Dr. Fauci, who has a history of contradicting the president's misleading and false claims about health matters since the onset of the global crisis.
"There is no opposition research being dumped to reporters," McEnany told reporters, saying they provided "a direct answer to what was a direct question" for a Washington Post story.
"To the notion that there's opposition research and that there's Fauci versus the president couldn't be further from the truth," McEnany continued. "Dr. Fauci and the president have always had a very good working relationship."
One of Trump's closest allies on Capitol Hill, Senator Lindsey Graham, gave the president some unsolicited advice on Tuesday, telling reporters in his home state of South Carolina that "any effort to undermine [Dr. Fauci] is not going to be productive, quite frankly."
"He's one of the smartest people I know. Is he right all the time? No," Graham continued, speaking of Dr. Fauci. "We don't have a Dr. Fauci problem. We need to be focusing on doing things that get us to where we need to go. So, I have all the respect in the world for Dr. Fauci."