Fauci Says Smallpox Eradication Would've Been Unlikely With Today's Vaccine Misinformation
Dr. Anthony Fauci, director of the National Institute of Allergy and Infectious Diseases, on Saturday said that smallpox and polio eradication would have been unlikely in the U.S. with today's vaccine misinformation.
"If we had had the pushback for vaccines that we're seeing in certain media ... we probably would still have smallpox and we'd probably still have polio in this country if we had the false information that's being spread now," Fauci told CNN's Jim Acosta in an interview.
"If we had that back decades ago, I would be certain that we'd still have polio in this country."
Fauci's remarks came as the White House strengthened its rhetoric against false information on social media about the coronavirus vaccine.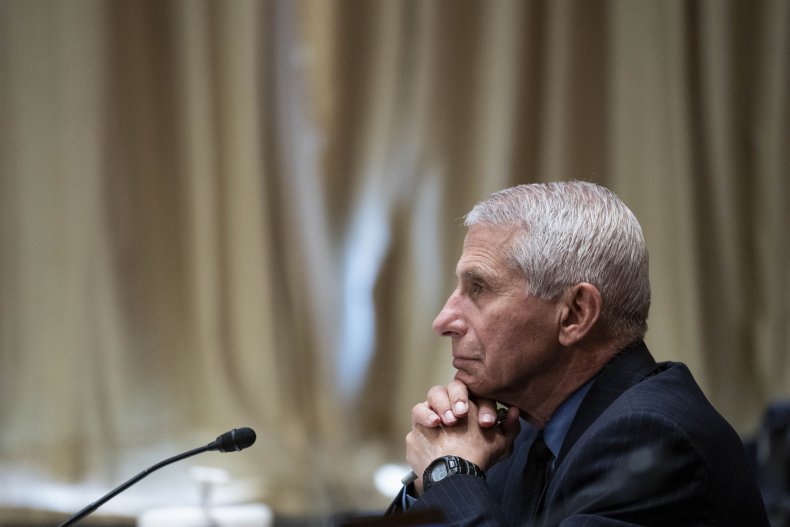 U.S. Surgeon General on Thursday warned that misinformation had become a "serious threat to public health," calling out Facebook for failing to adequately prevent the spread of COVID-19 falsehoods.
President Joe Biden said Friday that social media platforms like Facebook are "killing people" by hosting the spread of vaccine misinformation. "They're killing people—I mean they're really, look, the only pandemic we have is among the unvaccinated," the president told reporters.
White House press secretary Jen Psaki also criticized social media platforms for not doing enough to address misinformation. "Why don't we all participate in a process that will help provide accurate information out there?" she said.
Facebook rebuffed the Biden administration's allegations in a statement on Saturday. "President Biden's goal was for 70% of Americans to be vaccinated by July 4. Facebook is not the reason this goal was missed," Guy Rose, the company's vice president of integrity, wrote in a blog post.
He also noted that data suggests vaccine hesitancy has decreased by 50 percent among U.S. users of Facebook, with 85 percent saying they have been vaccinated or want to get vaccinated against COVID-19. "These and other facts tell a very different story to the one promoted by the administration in recent days," said Rose.
The more-virulent Delta variant of the coronavirus has caused cases and deaths to rise again after six months of steady decline. The Centers for Disease Control and Prevention (CDC) on Friday reported a nearly 70 percent surge in new cases and 36 percent increase in hospitalizations over the past week.
Health officials have ramped up efforts to encourage vaccinations as surges appear worse in areas with low vaccination rates. However, new cases have also increased in New York and Los Angeles, two states that reportedly met Biden's Fourth of July goal of vaccinating 70 percent or more of adults with at least one shot of the vaccine.
"This is becoming a pandemic of the unvaccinated," said CDC Director Dr. Rochelle Walensky Friday. "If you remain unvaccinated, you are at risk."
Newsweek reached out to the White House for comment.