Fauci Says 'Terrible' if Trump Ads Use Him Again, Protests Misleading One Running Now
Infectious diseases expert Dr. Anthony Fauci attempted to distance himself during a Monday interview with CNN from an advertisement prepared by President Donald Trump's re-election campaign. The video spot appears to show Fauci voicing his support for Trump's coronavirus response program.
In the campaign advertisement released by Trump's camp on Saturday, an off-screen narrator says, "President Trump tackled the virus head-on as leaders should." After that statement, a small clip of Fauci can be seen in which he says, "I can't imagine that anybody could be doing more." Fauci told CNN's Jake Tapper on Monday that his words were taken out of context.
"I think it's really unfortunate and really disappointing that they did that," Fauci said. "It's so clear that I'm not a political person and I have never, either directly or indirectly, endorsed a political candidate. And to take a completely out of context statement and put it in which is obviously a political campaign ad, I thought was really very disappointing."
When Tapper said the Trump re-election campaign could use Fauci's words in a different advertisement, Fauci said that would be "terrible."
"That would be outrageous if they do that," Fauci added. "In fact, that might actually come back to backfire on them. I hope they don't do that because that would kind of playing a game that we don't want to play so I hope they would reconsider that if they are indeed considering doing that."
Newsweek reached out to Trump's re-election campaign for comment.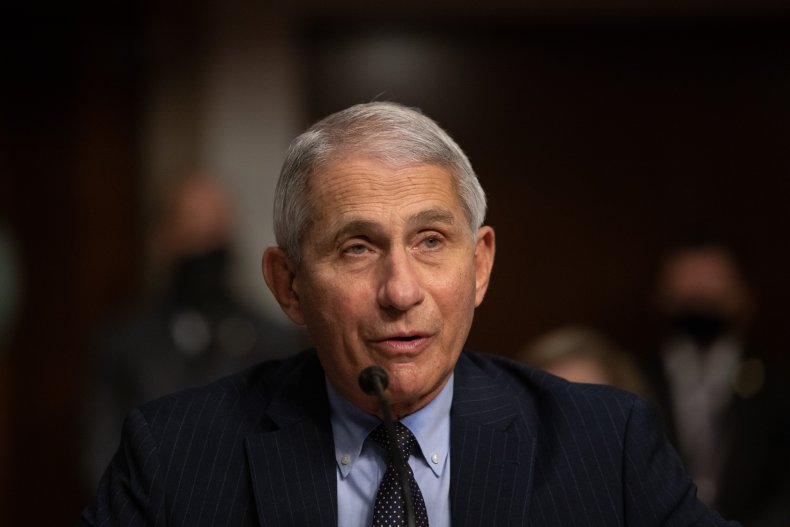 Tim Murtaugh, the communications director for Trump's re-election campaign, defended the advertisement in a Sunday statement, saying that Fauci's comments were "accurate, and directly from Dr. Fauci's mouth."
In October, Trump tested positive for coronavirus, which led to a hospital stay at Walter Reed National Military Medical Center. Upon his release, Trump said that he was greatly helped by a monoclonal antibody cocktail manufactured by the pharmaceutical firm, Regeneron. Trump encouraged Americans not to be afraid of the coronavirus and said he would be sending COVID-19 medication to U.S. hospitals as soon as it was approved.
In a Monday statement, White House physician Dr. Sean Conley said that Trump had tested negative for COVID-19 "on consecutive days." Conley also wrote that Trump is no longer "infectious to others."
Some critics have called Trump's coronavirus response plan insufficient, noting that over 200,000 Americans have died as a result of the virus. Trump has also received criticism for his hesitation to wear face masks. Guidance from the Centers for Disease Control and Prevention recommends wearing face masks "in public and when around people who don't live in your household."
Although Trump has been observed wearing face masks in public, he said during an April briefing at the White House that face masks could be "great, and maybe they're just good. Maybe they're not so good."