Fauci Says Trump's Attention Span Is a 'Minus Number,' Only Cares About Getting Re-elected: Woodward Book
Washington Post journalist Bob Woodward's new book Rage says Dr. Anthony Fauci, director of National Institute of Allergy and Infectious Diseases, told some other members of the Trump administration that President Donald Trump's "attention span is like a minus number. His sole purpose is to get re-elected."
The book details Trump's handling of the coronavirus pandemic and assesses his presidency based on 18 on-the-record interviews with Trump.
Fauci, a member of the White House coronavirus task force, is described by Woodward as being disappointed in senior adviser Jared Kushner, Trump's son-in-law, for acting as though the administration was effectively handling the virus's spread as cases rose uncontrollably across the nation.
The infectious diseases expert told others that Trump "is on a separate channel" and called his leadership "rudderless."
Newsweek reached out to Fauci for comment but did not hear back before publication.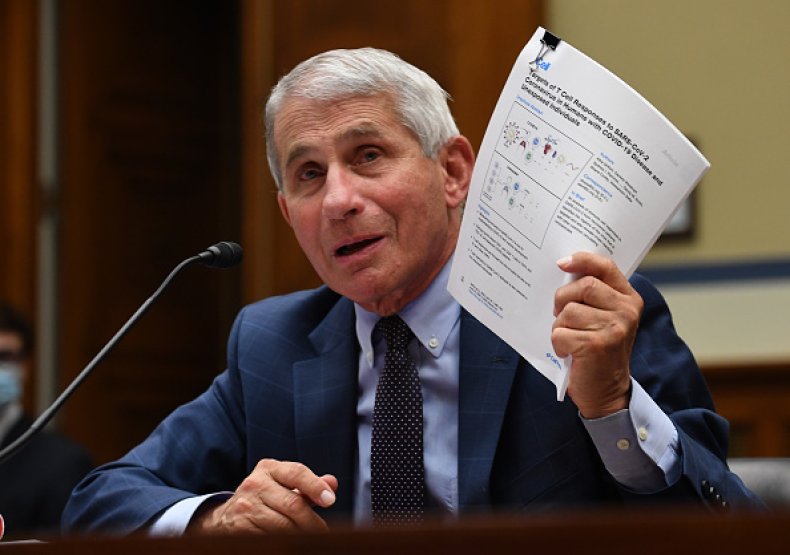 In the book, Trump reveals to Woodward that the spread of the virus was much worse than he had told the American public in his daily briefings.
"You just breathe the air and that's how it's passed," Trump said in during a call with Woodward. "And so that's a very tricky one. That's a very delicate one. It's also more deadly than even your strenuous flu."
The president added, "This is deadly stuff."
At the time, Trump had publicly compared the virus to the seasonal flu and reassured the nation that his administration had the outbreak under control.
A month later, the president admitted to Woodward that he had purposely downplayed the severity and gravity of the global health crisis, saying, "I wanted to always play it down."
Woodward also reveals that South Carolina Senator Lindsey Graham, one of the president's major allies, suggested former President George W. Bush speak with Trump about vaccine efforts but Bush refused to do so.
Bush told Graham that Trump would "misconstrue anything I said," Woodward wrote.
In Woodward's final interview with Trump on July 21, the president told him, "The virus has nothing to do with me. It's not my fault."
Woodward also writes about Trump's response to the national protests against racial injustice. The president admitted he believes racism in the U.S. is prevalent to the point that it affects people's lives, but he didn't empathize with the injustices Black people face.
Asked whether he felt a duty to try to "understand the anger and pain" of Black Americans as a white male with a privileged upbringing, Trump told Woodward, "You really drank the Kool-Aid, didn't you? Just listen to you. Wow. No, I don't feel that at all."
The president also told Woodward about his plans to send federal troops to cities where months-long protests have called for an end to police brutality.
"We're going to get ready to send in the military slash National Guard to some of these poor bastards that don't know what they're doing, these poor radical lefts," Trump said, according to Woodward.
This story has been updated with additional information and background.