Fauci Says U.S. Will Have Coronavirus in the Fall After Trump Says It Might Not Come Back
Dr. Anthony Fauci, a key member of the White House Coronavirus Task Force, on Wednesday appeared to contradict President Donald Trump's claim that the coronavirus may not come back in the fall.
Trump attempted to downplay the Covid-19 threat in the fall and winter during today's White House coronavirus press conference. The president expressed confidence that a second wave of the novel disease "might not happen."
His remarks came amid a heated discussion with reporters over whether a recent Washington Post headline accurately reflects the Center for Disease Control and Prevention's (CDC) advice that another wave of Covid-19 could come amid flu season. "It may not come back at all," Trump said. "He's talking about a worst-case scenario where you have a big flu and you have some [coronavirus]."
"If we have pockets, a little pocket here or there, we're going to have it put out," the president continued. "It goes out, and it's going to go out fast. We're going to be watching for it. But it's also possible it doesn't come back at all."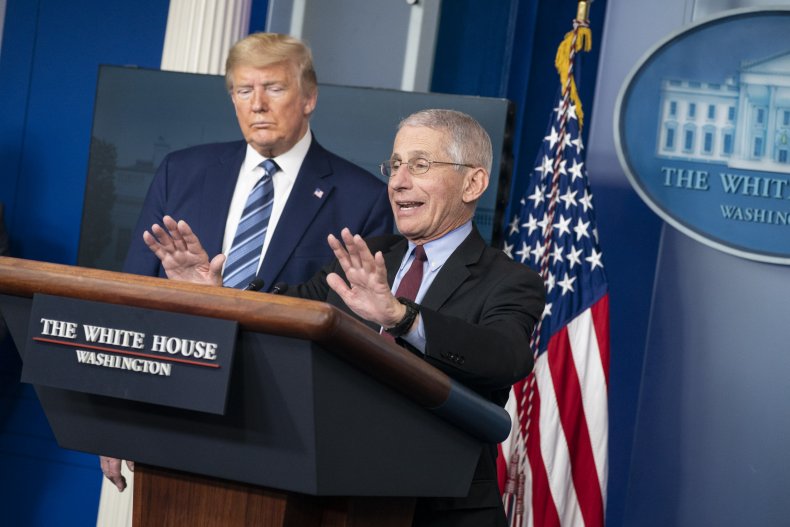 When asked by reporters to explain how he can be sure the virus would disappear in the fall, Trump denied that he said it and asserted that if it does return "it's not going to come back at anything near what we went through."
Trump has faced immense backlash from Democrats and his critics for repeatedly downplaying the severity of the virus threat in January and February, before states began enforcing stay-at-home measures to contain the outbreak. On February 2, the president touted his administration's move to temporarily limit entry into America from China. "We pretty much shut it down coming in from China," he said. Less than two weeks later, he claimed that "in April, supposedly [the coronavirus] dies with the hotter weather."
During the White House briefing on Wednesday, Fauci said he is "convinced" that the U.S. "will have coronavirus in the fall." He added that "what happens with that will depend on how we're able to contain it when it occurs."
Trump asked White House coronavirus response coordinator Deborah Birx about whether the virus could be gone by the fall. "We're not only preparing for today and tomorrow," Birx said, "but we are preparing for six months from now, three months from now and making sure that all of these pieces are in place."
"Wouldn't you say there's a good chance that COVID will not come back?" the president pressed, to which Birx responded: "We don't know."
Newsweek reached out to the White House for comment.
As of April 22, more than 842,100 individuals had tested positive for coronavirus in the U.S, with over 47,100 deaths caused by the new disease and 83,600 recoveries.