Fauci Says White House Coronavirus Task Force Briefings Are 'Really Draining' Because They're So Long
Dr. Anthony Fauci has described his appearances the White House coronavirus task force briefings as "really draining."
In an interview with the Associated Press on Tuesday, Fauci said that he believes the briefings are important and he understands his role in speaking as the administration's leading public health official. However, the briefings often require lengthy preparation and can last for hours, time the doctor could spend on his work directing research on the virus.
"I have to go by the Fauci mantra: 'I'm always honest,'" Fauci said. "Being there to be able to answer the questions of the media I think is really important, because we're going through a real public health crisis in our country. The downtime that we have there is really draining."
"If I had been able to just make a few comments and then go to work, that would have really been much better," he added. "It's the downtime. It isn't the idea of being there and answering questions, which I really think is important for the American public. It's the amount of time."
Monday's briefing lasted about two and half hours and Fauci spent a considerable amount of that time waiting and watching as President Donald Trump spoke disparagingly about the media and his political opponents.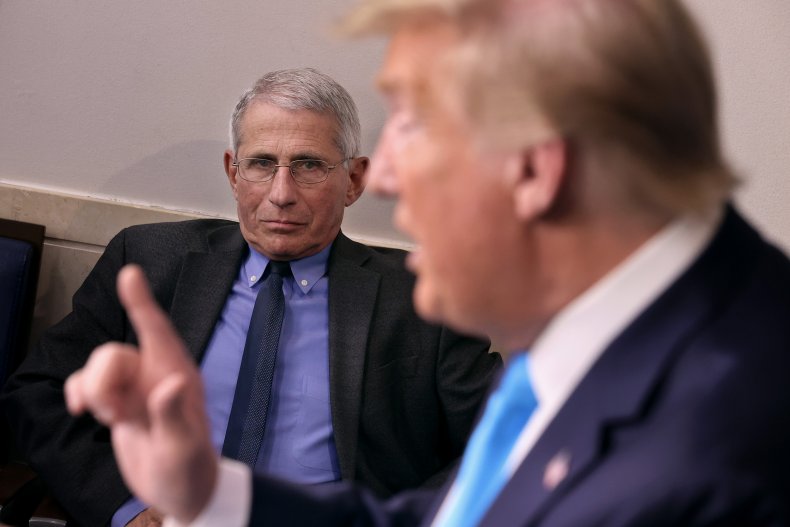 Although the briefing was somewhat focused on efforts to reopen the country, Fauci took a less than optimistic view on the prospect of that happening quickly during Tuesday's interview. He explained that a strategy to do so should realistically consider public health and warned against moving before the virus was properly contained.
"I think if we are assuming that two weeks from now, that all the curves are going to be down, I think that's a bit overly optimistic," said Fauci. "We have to have something in place that is efficient and that we can rely on, and we're not there yet," he said.
Differences of opinion between Fauci and Trump have sparked political controversy and a great deal of attention in the media, but both men have insisted that there is no conflict between them.
During an appearance on CNN over the weekend, Fauci agreed that lives could have been saved if his recommendations to begin mitigation efforts had been followed in February. Not long after, Trump retweeted a message responding to the comments with the hashtag #FireFauci.
At Monday's briefing, Fauci downplayed any conflict with the president and insisted that he had been responding to a "hypothetical question." Trump also denied any friction and said he had not considered firing the doctor, who he called "a wonderful guy."
Newsweek reached out to Fauci for comment but did not receive a response in time for publication.