'Fauci Should Go:' Rand Paul Accuses the NIAID Director of Obfuscation on the Wuhan Lab
Sen. Rand Paul (R-Ky.) has demanded that Dr. Anthony Fauci, President Joe Biden's chief medical adviser, should be fired for allegedly "obfuscating the truth" about U.S. funding of research at China's Wuhan Institute of Virology just before the emergence of COVID-19.
"The nicest way to say this, I think he's obfuscating the truth," Paul told the Christian Broadcasting Network on Tuesday. "The people who supported funding for gain-of-function, the creation of super viruses, who supported funding for the Wuhan institute, should immediately be relieved of their responsibilities... Dr. Fauci should go."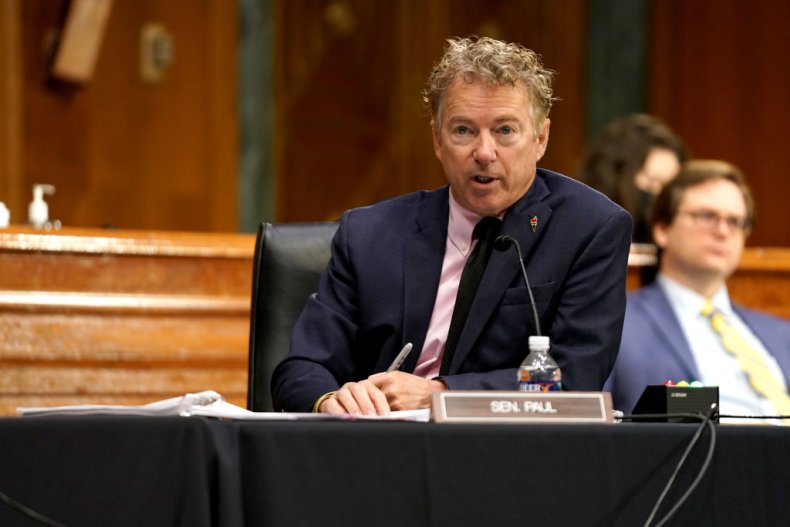 Fauci has denied that funding he helped approve as the longstanding director of the National Institute of Allergy and Infectious Diseases (NIAID) went to "gain-of-function" experiments that could make viruses more deadly or transmissible, calling Paul's claims "entirely and completely incorrect" during a heated round of questioning during a Senate hearing earlier this month.
Fauci cited the early 2000s SARS outbreak, also caused by a coronavirus, in explaining the reasoning behind NIAID and the National Institutes for Health (NIH) funding research at the lab. He said that "it would have been irresponsible" to not research other coronaviruses in bats before they potentially jumped into the human population.
Paul then asked him if he could rule out that SARS-CoV-2, the coronavirus that causes COVID-19, may have been created in the lab. Fauci, who has indicated multiple times that he believes it is more likely that the virus evolved naturally without ruling out a lab escape, said that he could not be certain of what Chinese researchers did.
"I do not have any accounting of what the Chinese may have done and I'm fully in favor of any further investigation of what went on in China," said Fauci. "However, I will repeat again: The NIH and NIAID categorically has not funded gain-of-function research to be conducted in the Wuhan Institute of Virology."
Paul insisted that the Chinese researchers were engineering a "super virus" on Tuesday. He said that Fauci "downplays" his own role in the supposed research and suggested that he was trying to hide the truth over concerns that it may be determined that SARS-CoV-2 was created with lab manipulation.
"Scientists from other places have said, 'Yes, it was gain-of-function. They were making a super virus,'" Paul said. "And so then you have Dr. Fauci saying, 'Oh no, it didn't happen.' I think he's concerned that if it's discovered that it ultimately came from the Wuhan lab it will boomerang and come back to him."
On Wednesday, President Joe Biden ordered the U.S. intelligence community to ramp up investigations into the origins of SARS-CoV-2. Although it has not yet been determined whether the virus emerged from human contact with an animal in the wild or due to it escaping from a lab, a lab escape scenario does not necessarily indicate that the virus was engineered.
Newsweek reached out to NIAID for comment.