Director of the National Institute of Allergy and Infectious Diseases (NIAID) Dr. Anthony Fauci reiterated that schools should open this fall at a congressional hearing on Friday.
Fauci said that a "default position" would be to try "as best as we possibly can in the context of the safety of the children and the teachers" to get students back into classrooms.
He cited the "downstream unintended consequences on families" as an important reason to aim for the reopening of schools.
Earlier in the hearing, Dr. Robert Redfield, director of the Centers for Disease Control and Prevention, said school closures will prevent 7.1 million kids from accessing mental health services and nutritional support provided from schools.
"It's really important to realize it's not public health versus the economy about school opening, it's public health versus public health of the K-through-12 to get the schools open. We've got to do it safely and we have to be able to accommodate," Redfield added.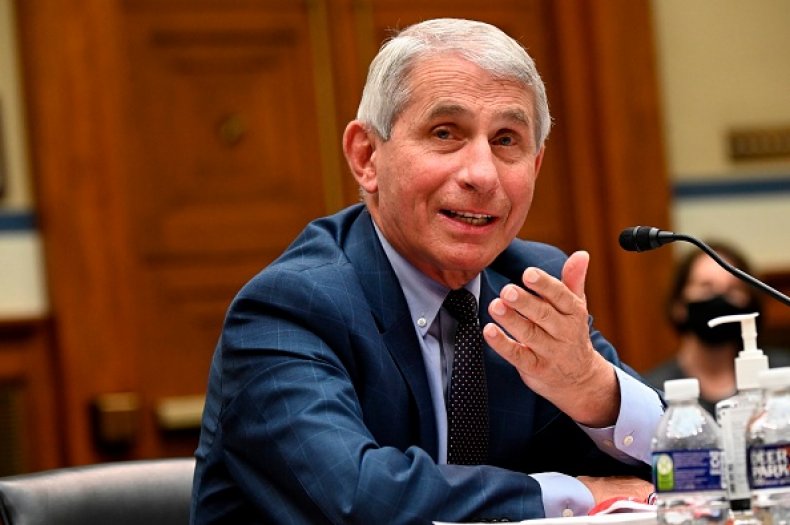 Although Fauci and President Donald Trump have had conflicting opinions throughout the coronavirus pandemic and the federal government's response to it, Fauci sided with Trump on reopening schools.
At a virtual town hall on Tuesday, Fauci told educators that because little remains known about the virus, they will be "part of the experiment of the learning curve of what we need to know."
"As you try to get back to school, we're going to be learning about that. In many respects, unfortunately, though this may sound a little scary and harsh—I don't mean it to be that way—is that you're going to actually be part of the experiment of the learning curve of what we need to know," he said. "Remember, early on when we shut down the country as it were, the schools were shut down, so we don't know the full impact, we don't have the total database of knowing what there is to expect."
Fauci said it is still unclear as to how quickly children younger than 10 spread the virus and how frequently children are infected or asymptomatic, although he noted research has shown children older than 10 can spread COVID-19 as fast as adults can.
Newsweek reached out to the NIAID for comment but did not hear back before publication.
On Tuesday, the nation's second-largest teachers' union, the American Federation of Teachers, authorized its chapters to strike in the case their districts fail to take precautions prior to the return of in-classroom learning. In Florida, the state's largest teachers' union sued Governor Ron DeSantis on July 20 for requiring schools to offer in-person classes.
About the writer
Katherine Fung is a Newsweek reporter based in New York City. Her focus is reporting on U.S. and world politics. She has covered the Republican primary elections and the American education system extensively. Katherine joined Newsweek in 2020 and had previously worked at Good Housekeeping and Marie Claire. She is a graduate of the University of Western Ontario and obtained her Master's degree from New York University. You can get in touch with Katherine by emailing k.fung@newsweek.com. Languages: English.