Fauci Thought COVID Lab Leak Theory Was 'Shiny Object' That Would Go Away in Time
Dr. Anthony Fauci, director of the National Institute of Allergy and Infectious Diseases, advised against squelching the theory that the coronavirus originated in a lab because he believed the hypothesis would eventually go away.
House Republicans are requesting an interview with Fauci regarding the origin of the virus, a contentious topic between GOP members and the nation's top infectious disease expert. Republican Representatives James Comer and Jim Jordan accused the National Institutes of Health (NIH) of "hiding information" about the pandemic's origin, and top public health officials have dismissed the lab theory as the least likely scenario.
In an April 2020 email, Dr. Francis Collins, then director of the NIH, asked Fauci if there was "something NIH can do to help put down this very destructive conspiracy," according to redacted emails the Republicans released. Collins cited a Mediaite article about Fox News anchor Bret Bair telling Fox News host Sean Hannity that "multiple sources" believe the pandemic originated in a Chinese lab.
Fauci responded that he would "not do anything about this right now." He called it a "shiny object that will go away" in time, according to the released emails.
Newsweek reached out to Fauci for comment but did not receive a response in time for publication.
In a letter to Health and Human Services Secretary Xavier Becerra, the Republicans said seven questions need to be answered, including what led public health experts to dismiss the lab leak theory. The Republicans wrote that during a February 1, 2020, conference call, Fauci and Collins were warned that the virus could have originated at China's Wuhan Institute of Virology.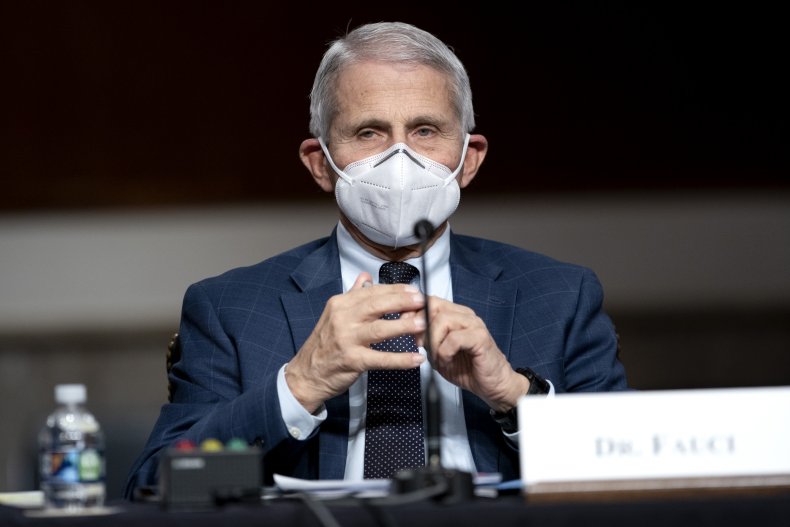 "Did Drs. Fauci or Collins warn anyone at the White House about the potential COVID-19 originated in a lab and could be intentionally genetically manipulated?" the Republicans asked in their letter. "If these concerns were not shared, why was the decision to keep them quiet."
Collins allegedly told Jeremy Farrar, a British medical researcher, on February 2 that he was "coming around to the view that a natural origin is more likely." Fauci and Lawrence Tabak, former principal deputy director and the deputy ethics counselor at the NIH, were copied on the email.
Fauci has come under fierce criticism from Republicans for favoring the natural origin theory over the lab leak theory. He called the mutations of the virus "totally consistent" with what researchers would expect to see in species that jumped from animals to humans and said he doesn't spend "a lot of time" in the "circular argument" that SARS-CoV-2 originated in a lab.
Both Collins and Fauci have backed investigations into the origin of the coronavirus. At a contentious Senate committee hearing last May, Fauci said it's possible the pandemic resulted from a lab leak.
"I don't know if we're ever going to be able to prove that, but you always need to open up and leave all possibilities, which is why I and so many of my colleagues are in favor of what the WHO said, that they want to go back and take another look in there and see what was going on in that lab," he said.
An international team of experts convened by the World Health Organization didn't rule out the laboratory leak hypothesis. However, the team found it was less likely to have been the cause of the pandemic than the possibility it occurred naturally.
The Republicans called for Fauci to sit for a transcribed interview "immediately" to answer their questions, which they called "vital to understanding" the current pandemic and future ones.