Former President Donald Trump issued a statement on Thursday attacking Dr. Anthony Fauci over emails released from the early stages of the pandemic.
Trump criticized the country's top infectious disease expert on a number of things, including "being totally against masks even when I thought they would at least be helpful." The former commander-in-chief also asked, "What did Dr. Fauci know about 'gain of function' research, and when did he know it?"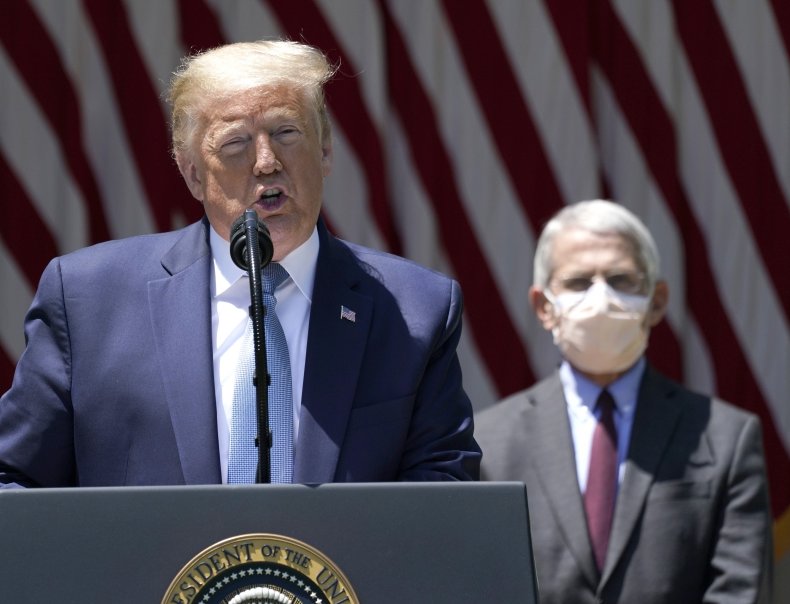 "After seeing the emails, our Country is fortunate I didn't do what Dr. Fauci wanted me to do. For instance, I closed our Borders to China very early despite his not wanting them closed. The Democrats and the Fake News Media even called me a 'xenophobe,'" Trump wrote in the statement. "In the end, we saw this was a life-saving decision, and likewise with closing our borders to Europe, specifically to certain heavily infected countries. I was later given credit, even by 'Tony,' for saving hundreds of thousands of lives. Dr. Fauci also didn't put an emphasis on speed of vaccine production because he thought it would take 3, 4, or maybe even 5 years to create. I got it done in less than 9 months with Operation Warp Speed."
Trump took further credit for the vaccine's development and its success. He wrote that without his decisions while in office, "[n]o one would've had the shot that has now saved the world and millions of lives!"
In the emails released to The Washington Post and BuzzFeed, Fauci told some colleagues that he questioned the effectiveness of store-bought masks in preventing COVID-19 infections, speculating the virus was small enough to be transmitted through many materials being used to cover faces.
"Fauci was totally against masks when even I thought they would at least be helpful," Trump claimed. "He then changed his mind completely and became a radical masker!"
His statement concluded by questioning Fauci's knowledge about whether Chinese scientists used U.S. funding for "gain of function" research, something China has denied. Fauci has repeatedly defended the scientists as well, saying he trusted them.
"There are a lot of questions that must be answered by Dr. Fauci. The funding of Wuhan by the U.S. was foolishly started by the Obama Administration in 2014 but ended under the Trump Administration," Trump wrote. "When I heard about it, I said 'no way.' What did Dr. Fauci know about 'gain of function' research, and when did he know it?"
Newsweek contacted Trump advisor Jason Miller for comment but has not heard back as of press time.
Newsweek, in partnership with NewsGuard, is dedicated to providing accurate and verifiable vaccine and health information. With NewsGuard's HealthGuard browser extension, users can verify if a website is a trustworthy source of health information. Visit the Newsweek VaxFacts website to learn more and to download the HealthGuard browser extension.