The scientific expert who has become the face of the U.S. government's response to the coronavirus has said he is powerless to stop President Donald Trump's statements about the pandemic.
Anthony Fauci, director of the National Institute for Allergy and Infectious Diseases, has become a public figure due to the media briefings which have seen him at times contradict Trump's pronouncements.
His facial reactions when the president speaks about the White House response to the crisis have been pored over by many on social media. On Friday, Fauci played down Trump's statement that an antimalarial drug could be a treatment for the coronavirus, saying that its success was only "anecdotal."
But in a phone interview with Science, Fauci, 79, said that despite those disagreements with Trump, he believes that on "substantive issues, he does listen to what I say."
Fauci also said that he agrees with the substance of what is said in the briefings, but that sometimes "it is expressed in a way that I would not express it, because it could lead to some misunderstanding."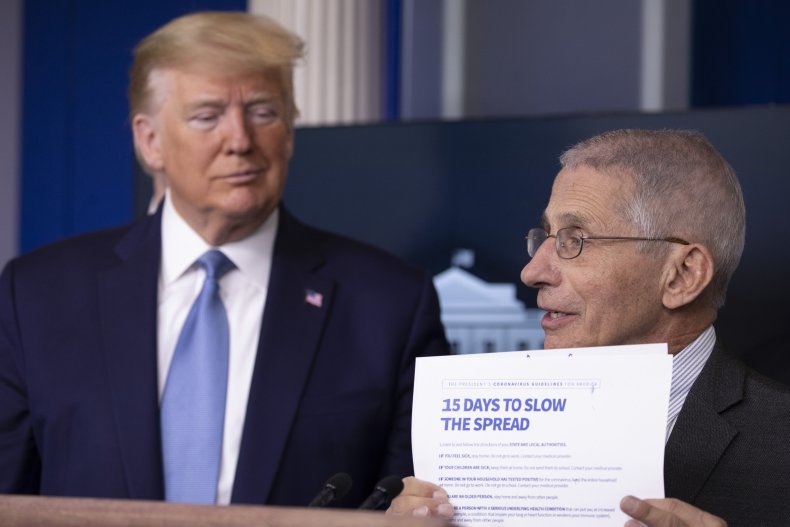 When asked about Trump's assertion that China should have been more open about the coronavirus up to three months earlier, Fauci told the publication, "What do you want me to do?"
"The way it happened is that after he made that statement, I told the appropriate people, it doesn't comport, because two or three months earlier would have been September," he said.
"The next time they sit down with him and talk about what he's going to say, they will say, 'By the way, Mr. President, be careful about this and don't say that.' But I can't jump in front of the microphone and push him down. OK, he said it. Let's try and get it corrected for the next time."
Regarding whether he would follow Trump in ever describing it as a "Chinese virus", which has sparked accusations of racism, Fauci succinctly replied, "No."
Fauci believed that in an era of social distancing, the televised press conferences are too crowded and that he has asked for virtual briefings to take place instead, "but when you're dealing with the White House, sometimes you have to say things one, two, three, four times, and then it happens. So I'm going to keep pushing."
As of Monday, the U.S. has more than 35,000 cases of COVID-19, the world's third highest, with 471 fatalities according to figures compiled by Johns Hopkins University.
On Sunday, Trump said he had activated the National Guard in New York, California and Washington state, saying "we're fighting an invisible enemy."
Fauci said it would be difficult to assess the efficacy of the White House response until afterwards.
"I think we'll have to wait until it is over and we look back before we can answer that. It's almost like the fog of war. After the war is over, you then look back and say, 'Wow, this plan, as great as it was, didn't quite work once they started throwing hand grenades at us.'
"It really is similar to that. Obviously, testing is one clear issue that needs to be relooked at. Why were we not able to mobilize on a broader scale? But I don't think we can do that right now," he told Science.
Newsweek has contacted the White House for comment.
World Health Organization advice for avoiding spread of coronavirus disease (COVID-19)
Hygiene advice
Clean hands frequently with soap and water, or alcohol-based hand rub.
Wash hands after coughing or sneezing; when caring for the sick; before; during and after food preparation; before eating; after using the toilet; when hands are visibly dirty; and after handling animals or waste.
Maintain at least 1 meter (3 feet) distance from anyone who is coughing or sneezing.Avoid touching your hands, nose and mouth. Do not spit in public.
Cover your mouth and nose with a tissue or bent elbow when coughing or sneezing. Discard the tissue immediately and clean your hands.
Medical advice
If you feel unwell (fever, cough, difficulty breathing) seek medical care early and call local health authorities in advance.
Stay up to date on COVID-19 developments issued by health authorities and follow their guidance.
Mask usage
Healthy individuals only need to wear a mask if taking care of a sick person.
Wear a mask if you are coughing or sneezing. Masks are effective when used in combination with frequent hand cleaning.
Do not touch the mask while wearing it. Clean hands if you touch the mask.
Learn how to properly put on, remove and dispose of masks. Clean hands after disposing of the mask.
Do not reuse single-use masks.