Fauci Urges Americans to Take 1st Available COVID Vaccine, Forget Shopping Around
Dr. Anthony Fauci, the U.S. government's top expert on infectious diseases, appeared on the Sunday TV news programs, including CNN, ABC and NBC, with one clear message: take whichever of the three COVID-19 vaccines becomes available first.
His remarks come as the Food and Drug Administration (FDA) granted emergency use authorization to Johnson & Johnson's single-dose coronavirus vaccine Saturday, the first one-shot vaccination of its kind. With three separate COVID-19 vaccines now available as many areas of the country are struggling to distribute the doses, Fauci told Americans all three are "highly efficacious vaccines, that's the bottom line."
Perhaps pushing back on social media comparisons and Saturday Night Live's "So You Think You Can Get a Vaccine" skit overnight, Fauci reiterated that all three vaccinations should help Americans equally.
The infectious diseases expert said he understands that many Americans are hung up on asking which vaccine may be better than another or whether a variant strain could make all three useless in the near future. But he said those fears are not rooted in the science and the sooner people get vaccinated, the less likely it will be that variant strains of the virus develop.
He told people not to "despair" about new COVID-19 variants, and to push ahead with the vaccination process
"We want to get as many people vaccinated as quickly and as expeditiously as possible," Fauci told CNN while addressing the Johnson & Johnson FDA authorization. "This is good news, because we have a new very good vaccine in the mix."
"People should take the vaccine that's most available to them," he also told NBC News' Meet the Press on Sunday. If I go to a place where they had Johnson & Johnson vaccine, I would have no hesitancy whatsoever to take it. All three are really quite good."
Johnson & Johnson announced their expectation of having 20 million doses available in just a matter of days. Documents released by the FDA last week found J&J's single-shot vaccination is 86 percent effective at preventing serious disease overall, but was low as 64 percent in South Africa tests. Although that percentage is much lower compared to Moderna and Pfizer's two-shot vaccines, Fauci said those efficacy numbers were never measured side-by-side.
"It's not the weaker vaccine, they are all three really good vaccines," he said.
During his appearance on CNN Sunday, Fauci added: "You can understand the type of concern [to shop around], but in order to really compare vaccines you have to compare them head-to-head and these were not compared head-to-head,"
"The message that needs to be prevailed is that these are three highly efficacious vaccines. I have been fully vaccinated with one that was available, it was the Moderna. If I were not vaccinated now, and I had a choice of getting a J&J vaccine now or waiting, I would take whatever vaccine is available to me as soon as possible."
Fauci was not alone in commending the rollout of Johnson & Johnson's latest coronavirus vaccine. Eric Toner, senior scholar at Johns Hopkins Center for Health Security, remarked to The Washington Post Sunday that "[a third vaccine] is very good news."
Newsweek reached out to representatives for Fauci and the White House Sunday afternoon.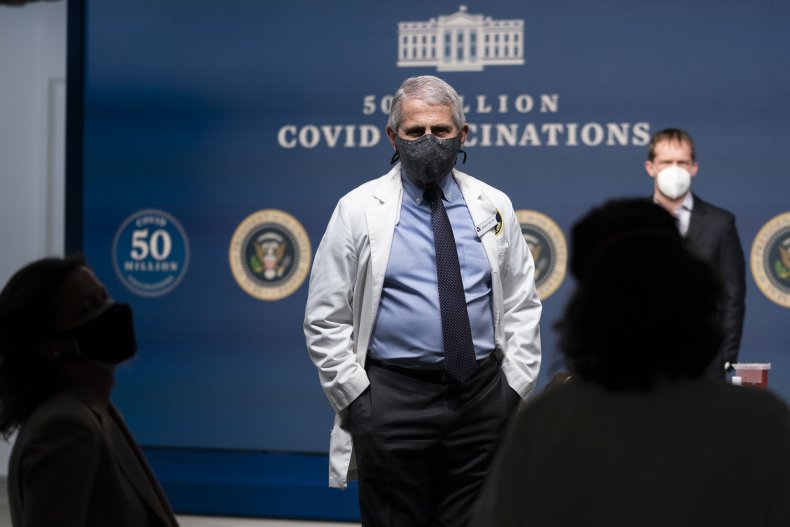 Newsweek, in partnership with NewsGuard, is dedicated to providing accurate and verifiable vaccine and health information. With NewsGuard's HealthGuard browser extension, users can verify if a website is a trustworthy source of health information. Visit the Newsweek VaxFacts website to learn more and to download the HealthGuard browser extension.