Dr. Anthony Fauci, director of the National Institute of Allergy and Infectious Disease, on Friday, said that he would urge state leaders across the U.S. to be "forceful" in enforcing citizens to wear protective face masks.
During a virtual interview with the U.S. Chamber of Commerce, Fauci was asked about the recent decision in France to impose a nationwide mask mandate and if he could see something similar happening in the U.S.
"As we all know, our society, from the beginning of the Founding Fathers, is a federalist society, in which the states have certain prerogatives and powers and responsibilities," Fauci said during the interview. "I can say as a public health official that I would urge the leaders, the local, political and other leaders, in states and cities and towns, to be as forceful as possible in getting your citizenry to wear masks."
Fauci continued, "masks are important, as part of the physical distancing. Physical distancing is the most important part; but practically, when you're living your life and trying to open up the country, you are going to come into contact with people. And for that reason, we know that masks are really important and we should be using them, everyone."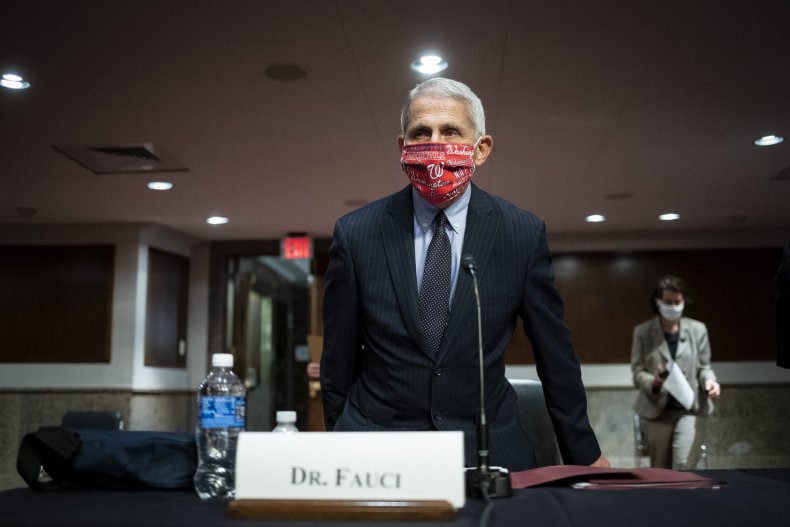 Fauci's comments on mask wearing across the U.S. come amid a quarrel over a mask mandate in Georgia.
Georgia Governor Brian Kemp recently signed an executive order, prohibiting local municipalities in the state from imposing their own mask requirements. The order, called "Empowering a Healthy Georgia Act," urges the state's residents to wear masks while in public, but does not allow a local mandate to be put in place, requiring residents to wear masks.
Shortly after signing the executive order, Kemp received criticism from others across the state, as cases of the coronavirus continue to surge throughout Georgia.
On Wednesday, Savannah Mayor Van Johnson, took to Twitter to criticize Kemp's recent executive order.
"It is officially official. Governor Kemp does not give a damn about us. Every man and woman for himself/herself. Ignore the science and survive the best you can," Mayor Johnson wrote. "In #Savannah, we will continue to keep the faith and follow the sciences. Masks will continue to be available."
Prior to signing his executive order, Atlanta Mayor Keisha Lance Bottoms, had already imposed a citywide mask mandate, which recently promoted Kemp to file a lawsuit against her, claiming that her preventive measures violate his executive order.
"This lawsuit is on behalf of the Atlanta business owners and their hardworking employees who are struggling to survive during these difficult times," Kemp wrote on his Twitter.
Shortly after, Bottoms responded with her own tweet, writing, "3,104 Georgians have died and I and my family are amongst the 106K who have tested positive for COVID-19. Meanwhile, I have been sued by @GovKemp for a mask mandate."
"A better use of taxpayer money would be to expand testing and contact tracing #ATLStrong," Bottoms continued in her tweet.
Newsweek reached out to the Department of Health and Human Services for comment but did not receive a response in time for publication.