Fauci Warns Premature Reopening Could Trigger an Uncontrollable Outbreak Leading to 'Suffering and Death'
Dr. Anthony Fauci, the country's top infectious disease expert at the National Institute of Health, on Tuesday cautioned that states which circumvent the White House's criteria to relax social distancing guidelines could result in a second outbreak that overwhelms society.
"I feel if that occurs, there is a real risk you will trigger an outbreak you may not be able to control, which paradoxically will set you back, not only leading to some suffering and death that could be avoided, but set you back on the road to economic recovery and almost turn the clock back rather than turning forward," Fauci warned senators.
His grim testimony to members of the Senate Health, Education, Labor and Pensions Committee marked the first time he's spoken to lawmakers in a public setting since he warned the country on March 12—the day before President Donald Trump declared a national emergency—of the bleak months ahead.
Fauci's remarks come as almost all states are beginning to reopen, many against the guidelines outlined by the White House that set benchmarks for a decline in new cases and testing capabilities, among other things. He said that while the country is "going in the right direction" in slowing the spread of the pandemic, the coronavirus has not yet been contained.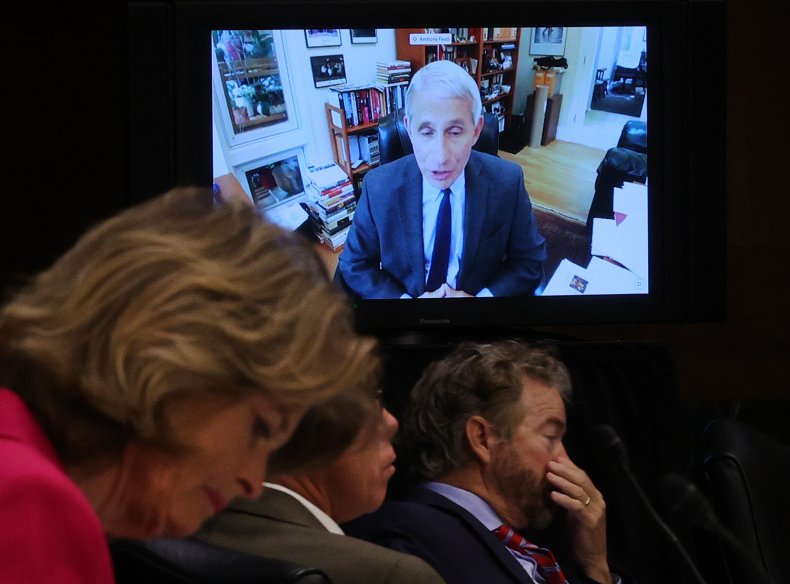 Fauci also provided his bleak assessment that while there are several candidates for vaccines and treatments, they will likely not be ready for the fall, when schools return to session and another wave of coronavirus is anticipated. There are "no guarantees the vaccine will be effective," Fauci said, but he added that he's "cautiously optimistic" one will give "some degree" of efficacy.
Further, Fauci testified that the death toll is "likely higher" than the more than 80,000 people who have died as of Tuesday.
Testifying virtually with Fauci were Drs. Robert Redfield, Brett Giroir and Stephen Hahn of the Centers for Disease Control and Prevention, Department of Health and Human Services and the Food and Drug Administration, respectively.
Trump has touted his administration's response to the pandemic amid fierce criticism from Democrats and a climbing death toll. Flanked by large posters highlighting that "America leads the world in testing" on Monday, the president praised the country's "testing capacity unmatched and unrivaled anywhere in the world."
Against the advisement of his own guidelines, Trump has pushed states and region to reopen their economies. In light of this, Senator Chris Murphy (D-Conn.) said the testifying doctors were attempting to "have it both ways."
"You say [states] shouldn't open too early. But you don't give us the resources to succeed," Murphy said. "You work for a president who is, frankly, undermining our efforts to comply with guidelines that you have given us. The guidance that you provided is criminally vague."