Fauci Will 'Feel Good' About Using Coronavirus Vaccine If It's 50% Effective
A number of coronavirus vaccines are in the last phase of clinical trials and if any of them prove to have an efficacy of even 50 percent, Dr. Anthony Fauci, the nation's top infectious disease expert, will support its widespread use.
Speaking to Bloomberg's Balance of Power on Wednesday, Fauci, the director of the National Institute of Allergy and Infectious Diseases said he hopes a vaccine will be more than 70 percent effective. However, if its efficacy is slightly lower, at 50 or 60 percent, he'll consider it "totally value added" if it's coupled with public health measures.
"I'd love to have an 80, 90 percent effective [vaccine]," Fauci said. "But, I'll feel good about [one that's 50 or 60 percent]."
On the other side of the vaccine coin is durability, meaning how long the vaccine will protect someone. It's likely the vaccine will protect a person for at least a few months to get them through the season, according to Fauci. If protections last longer than that it's "all the better," Fauci said, but if it doesn't, that's "okay too" because people can get boosters.
An effective vaccine is key to safely returning to normal life and delays in the inoculation reaching the public mean continuing economic hardship. To mitigate holdups in production, the Trump administration is proactively manufacturing hundreds of millions of doses of potential vaccines before they're proven viable.
The administration signed a deal with Johnson & Johnson's Janssen Pharmaceutical Companies on Wednesday, the latest struck with companies manfacturing vaccines. Under the deal between Health and Human Services, the Department of Defense and the pharmaceutical arm of Johnson & Johnson, the federal government will own 100 million doses of the company's vaccine candidate.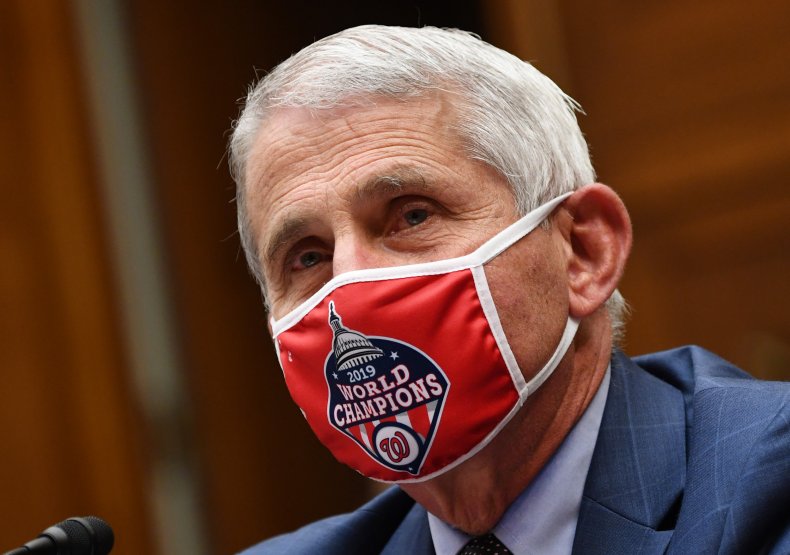 If the Food and Drug Administration authorizes the use of the vaccine, it will be distributed as part of the COVID-19 vaccination campaign at no cost to the American people.
"With the portfolio of vaccines being assembled for Operation Warp Speed, the Trump Administration is increasing the likelihood that the United States will have at least one safe, effective vaccine by 2021," HHS Secretary Alex Azar said in a statement.
HHS entered a similar agreement with Pfizer and BioNTech and Novavax for 100 million doses of each company's vaccines. Under the agreement with Johnson & Johnson, the government has the ability to acquire enough doses to vaccinate 300 million people, equivalent to about 90 percent of the United States' population, according to the Census Bureau.
Trump officials are optimistic that an effective vaccine could be identified by the end of the year or early 2021, but the "unprecedented" speed at which it's being developed has left some weary about inoculation. However, Fauci told Balance of Power that speed is not indicative of corners being cut or that standards were lowered.
"When we talk about speed it doesn't mean sacrificing safety considerations nor does it mean sacrificing scientific integrity," Fauci said. "The rapidity with which we are moving relates more to technological advances in how you can make a vaccine even before you start testing it."
The vaccine moved forward at a rapid speed because of the financial risks the federal government took, Fauci said, pointing to the proactive manufacturing of products. Preparing sites for clinical trials and producing a vaccine before it's proven to work can save months and if not "the only thing you've lost is money."
Five or six companies have started or are starting Phase III clinical trials and Fauci said he hopes all of the candidates are equally good because "we need vaccines not only for the United States but for the whole world."
Newsweek reached out to Health and Human Services for comment but did not receive a response in time for publication.