#FauciLiedDogsDied Trends As Bipartisan Lawmakers Seek Answers on Alleged Puppy Experiments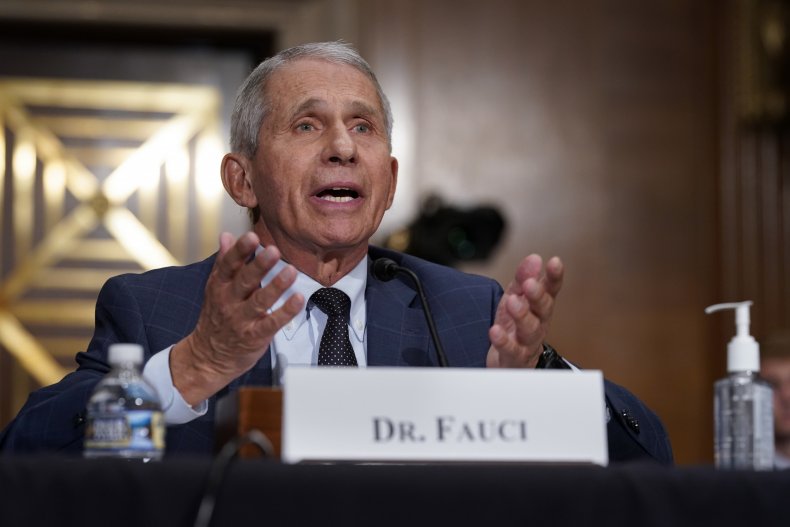 The hashtag #FauciLiedDogsDied trended on Twitter following bipartisan calls for answers over allegations that Dr. Anthony Fauci signed off on controversial dog experiments.
Fauci, the longtime director of the National Institute of Allergy and Infectious Diseases (NIAID) and President Joe Biden's chief medical adviser, came under fire late last week after the nonprofit group White Coat Waste Project released documents that appeared to show that NIAID funded experiments on beagle dogs in Tunisia. A group of bipartisan lawmakers wrote Fauci a letter on Friday to express "grave concerns about reports of costly, cruel, and unnecessary taxpayer-funded experiments on dogs."
On Monday afternoon, #FauciLiedDogsDied became the top trending hashtag on Twitter after alt-right activist Jack Posobiec urged followers to "trend it" earlier in the day. Although the alleged funding of dog experiments prompted outrage from both sides of the political aisle, the #FauciLiedDogsDied hashtag was mostly used by Republican supporters of former President Donald Trump who had also opposed Fauci on issues related to the COVID-19 pandemic.
"The pups are safe with me," Rep. Paul Gosar (R-Ariz.) tweeted alongside two pictures of himself with a beagle. "#FauciLiedDogsDied #FIREFAUCI"
"A better name for the NIH is the National Institute of Horrors," tweeted Rep. Lauren Boebert (R-Colo.). "#FauciLiedDogsDied"
"Dr. Fauci lied repeatedly about the NIH funding gain-of-function research in China," tweeted Rep. Mary Miller (R-Ill.) "His agency ALSO spent millions of tax dollars on animal testing that involved the brutal abuse and murder of puppies Yet, he's still our government's highest paid employee #FauciLiedDogsDied"
"Fauci lied, people and puppies died," tweeted Republican Texas Lieutenant Governor Dan Patrick. "#ArrestFauci #FauciLiedDogsDied"
"Understatement of the year, but between this and Wuhan lab gain-of-function research, Americans have had enough of sick experiments Fauci funded with our taxpayer dollars. #FauciLiedDogsDied #FireFauci," Rep. Dan Bishop (R-N.C.) tweeted.
"You'll have to pry my rescue dog Sparky from my cold, dead hands, Dr. Fauci," Rep. Claudia Tenney (R-N.Y.) tweeted. "#FauciLiedDogsDied"
"Interesting. It took animal torture to wake up Americans to the evils of Fauci," tweeted Errol Webber, a cinematographer who ran failed Republican campaigns for Congress and governor of California. "#FauciLiedDogsDied #FauciDogTorturer #ArrestFauci"
A small number of responses came from those using the hashtag to criticize the Republicans who were promoting it.
"Don Jr kills endangered elephants for entertainment," comedian and commentator John Fugelsang tweeted. "The #FauciLiedDogsDied folks care about these dogs the way they care about Benghazi or Halyna Hutchins - they don't. They'd rather exploit suffering for political gain than use politics to prevent suffering."
In a statement obtained by Newsweek, NIAID said that images circulating of beagles during an experiment it purportedly funded were taken from a journal article that mistakenly attributed its involvement. The institute acknowledged that it "funded a separate project involving the study of a vaccine to prevent leishmaniasis, a serious parasitic disease transmitted by sand flies that poses a threat in particular to US troops and other personnel, as well as US military dogs, in areas where the disease is endemic."
"Dogs were the necessary animal model for the research, and the researchers ensured that the dogs experienced no discomfort," NIAID said. "They represent an appropriate model for testing this investigational vaccine prior to evaluation in humans."
The Twitter campaign and trending hashtag recalled a previous Twitter campaign that resulted in the hashtag #FauciLiedPeopleDied trending earlier this year following an allegation that the National Institutes of Health (NIH) and NIAID funded so-called "gain-of-function" research on the coronavirus that causes COVID-19 in Wuhan, China, despite Fauci's denial.
NIH Director Francis Collins has also denied that funding was provided for gain-of- function research on the virus. The allegation was renewed last week following news of an NIH-funded mouse experiment that involved a different coronavirus. Fauci said that neither he nor Collins "lied or misled" about research during an ABC News interview on Sunday, while insisting that it was "molecularly impossible for those viruses that were worked on to turn into SARS-CoV-2."
Update 10/25, 9:57 p.m.: This article has been updated to include a statement from the National Institute of Allergy and Infectious Diseases .