Dr. Anthony Fauci's current stance on masking against COVID-19 may surprise some, as he has been portrayed by many as a promoter of widespread mask mandates amid claims that such a mandate could return as cases increase.
During a conversation with The Washington Post earlier this month, Fauci, the former chief medical adviser to the White House during the pandemic, was asked about the different pandemic protocols he followed over the past summer including how often he wore a face mask in certain settings.
"Since the level of SARS-CoV-2 virus was low in the community this summer, I did not mask, and I have eaten indoors on occasion," Fauci told The Washington Post. "However, I preferred eating outdoors when possible. This could change if cases markedly increase for the remainder of the summer."
The remarks by Fauci come as many have discussed the possible return of widespread mask mandates in the United States following the discovery of two new COVID-19 variants and a slight increase in hospitalizations. Data from the U.S. Centers for Disease Control and Prevention (CDC) shows an 8.7 percent increase in COVID-19 hospitalizations from August 29 to September 2, compared to the week earlier. The data also shows that from September 3 to September 9, there was a 4.5 percent increase in COVID-19 deaths, when compared to the week prior.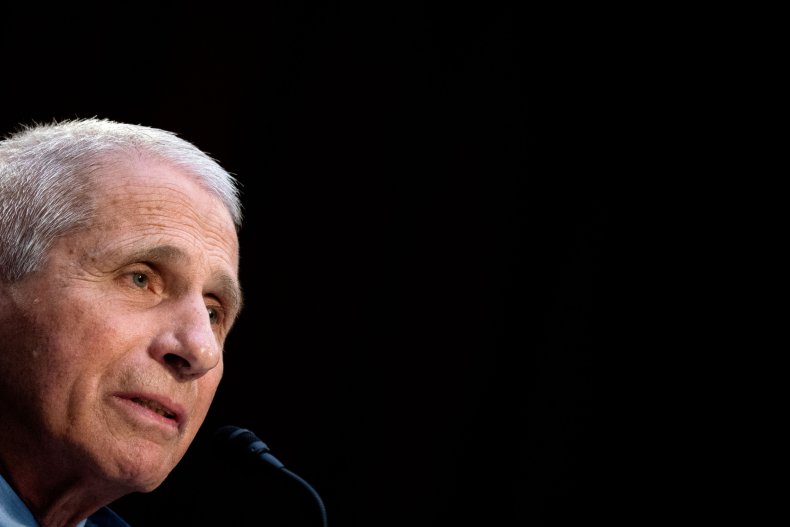 On Sunday, Fauci was asked on ABC News' This Week about a study published by Cochrane Library in 2020 and updated in 2023, that researched how well mask wearing combats COVID-19. In the study, the authors wrote that "compared with wearing no mask in the community studies only, wearing a mask may make little to no difference in how many people caught a flu‐like illness/COVID‐like illness (9 studies; 276,917 people)."
Shortly after the study was published, the editor-in-chief of the Cochrane Library, Karla Soares-Weiser, issued a statement saying that the research was "widely misinterpreted," after many claimed that it showed mask wearing had no effect on contracting COVID-19.
In response to the study, Fauci said on Sunday, "People have commented on that study saying, 'Absolutely masks don't work,' which is absolutely not the case. There are a number of studies that show that masks actually do work."
Over the past several months, Fauci has faced criticism for changing his stance on mask wearing to combat COVID-19. In February 2020, the early stages of the pandemic, Fauci told former health and human services secretary, Sylvia Burwell that "masks are really for infected people to prevent them from spreading infection to people who are not infected rather than protecting uninfected people from acquiring infection," according to an email obtained by Buzzfeed News.
On March 8, 2020, Fauci said that there was "no reason to be walking around with a mask," according to Reuters. He later said that he was worried about health care workers not having enough protective equipment.
A month later in April 2020, the CDC announced new guidance to curb the spread of COVID-19 recommending mask wearing "in public settings when around people outside their household, especially when social distancing measures are difficult to maintain."
The changes were made as more information about COVID-19 became available during the pandemic. Fauci has since encouraged mask-wearing in line with the CDC advice.
While speaking with CNN in September 2020, Fauci discussed his change on mask mandates and said, "We were not aware that 40 to 45 percent of people were asymptomatic, nor were we aware that a substantial proportion of people who get infected get infected from people who are without symptoms. That makes it overwhelmingly important for everyone to wear a mask."
He continued: "So when people say, 'Well, why did you change your stance? And why are you emphasizing masks so much now when back then you didn't—and in fact you even said you shouldn't because there was a shortage of masks?' Well the data now are very, very clear."
More recently, many Republican governors like Greg Abbott of Texas and Sarah Huckabee Sanders of Arkansas have publicly expressed opposition to a return to widespread mask mandates, while some hospitals have announced new masking requirements for patients, visitors and staff members in response to increasing COVID-19 cases.
Meanwhile, Fauci also told ABC News' This Week on Sunday that he would be "extremely surprised" to see a widespread mask mandate implemented throughout the U.S, but noted that masks may be recommended in certain places if cases and hospitalizations continue to increase.
Additionally on September 2, Fauci told CNN that "the CDC does not mandate anything," but noted that if the CDC recommends widespread mask wearing, he would hope that "that people abide by that recommendation and take into account the risks to themselves and their families."
Newsweek reached out to the CDC via email for comment.