The Faults in our Stories: The Year in Retractions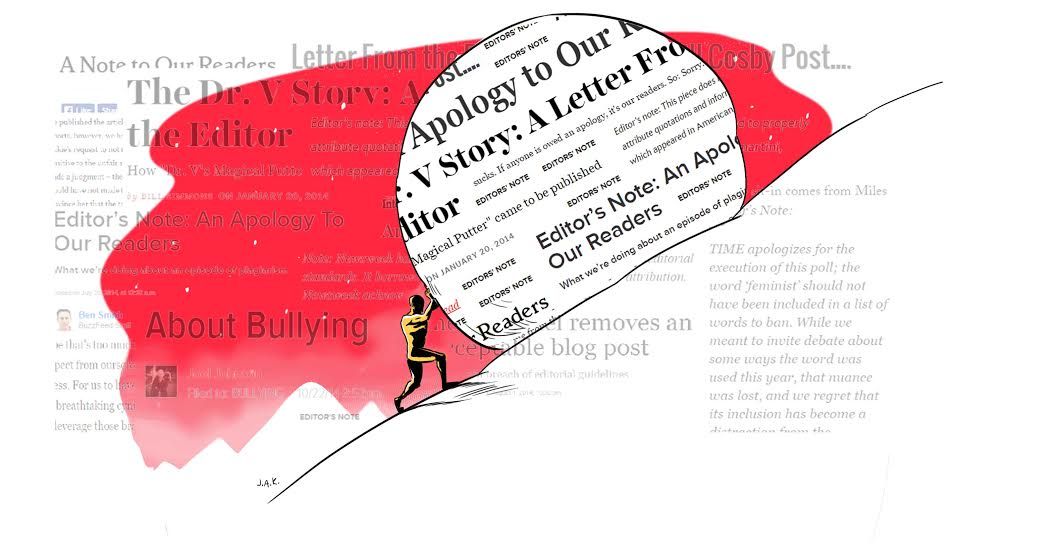 If you were a media reporter in 2014 and didn't have the phrase "A Note to Our Readers"—or its more direct cousin, "An Apology to Our Readers"—flagged on Google Alert, what were you doing? For every journalistic feat in 2014, it seemed, there emerged an equal and opposite fuck-up, and when we in the media weren't pontificating from our standing desks about the future of longform, we were usually sniffing out schadenfreude like vultures after a slaughter.
These things, yes, occur every year. But to an observer of media scandal, 2014 made for an especially rich offering. We've been familiarized and re-familiarized with an endless vocabulary of media apologies, retractions and solemn notes from the editor. What we've learned is this: You can never really unpublish, however you might try.
Let's revisit a small but significant sampling of the concessions.
* * *
In January, the first significant media blow-up of the year proved to be one of the more tragic: a 7,700-word Grantland profile of a golf-club inventor who, the story revealed, was a transgender woman—and had committed suicide shortly before publication. The story's sad unraveling was not a case of familiar journalistic misdeeds, like fabrication or plagiarism. Most of the criticism centered around the piece's lack of empathy for the late Dr. Essay Ann Vanderbilt, whom author Caleb Hannan outed to an investor, and its sweeping misunderstanding of transgender issues. In fact, as editor Bill Simmons explained in a subsequent Letter from the Editor, the piece was never read by someone familiar with the transgender community. That may have been the most glaring blunder of all.
At 2,720 words, Simmons' note is almost certainly the longest and probably most tortured editor's note of the year. "We just didn't see the other side," Simmons wrote, to quote a tiny excerpt. "We weren't educated, we failed to ask the right questions, we made mistakes, and we're going to learn from them." Then he tried to direct outrage away from Hannan and toward the site as an entity—and himself: "I failed the most because it's my site, and it was my call."
Read it. All of it. And some of the outside responses. Here is a reporting scandal worth not repeating in 2015, or ever.
* * *
Then there were the plagiarists, the alleged plagiarists, the borrowers, and—as Brian Stelter termed them—the "small number" of "attribution mistakes" owing to a "perception problem." Oh, and those who exposed them. This year will probably go down as the one in which "crushingbort" and "blippoblappo" entered the mainstream media lexicon. The pseudonymous watchdogs, armed with Twitter accounts and a Wordpress blog, spent the latter half of 2014 carving out a presence in media from the outside in: by identifying apparent plagiarists and documenting their sloppy (or lack of) attribution. Their first target, BuzzFeed "viral politics" editor Benny Johnson, came tumbling down fast. Initially defending him as "one of the web's deeply original writers," BuzzFeed conducted its own review of Johnson's work, which turned into an editorial apology from editor Ben Smith, which turned into a long list of URLs, which directed the reader to other listicles, mostly, which had been taken from places like Wikipedia and Yahoo! Answers.
This was one of the year's few retractions that involved a quick and transparent firing. "Benny is a friend, colleague, and, at his best, a creative force," Smith emphasized, "but we had no choice other than letting him go." This was also an opportunity to reassert BuzzFeed's editorial standards, to promise to "be more vigilant in the future, and to earn your trust." But it wasn't a death knell for Johnson's career. The fallen editor resurfaced a month later as National Review's social media director.
Fareed Zakaria proved a trickier target. The CNN host's misdeeds spanned several publications (including this one), none of which responded in quite the same way. CNN defended Zakaria, though correspondent Brian Stelter referred on air to Zakaria's "perception problem." Newsweek (Zakaria worked as an editor here for 10 years) placed a note on Zakaria's archives warning readers that "some of his articles have been the subject of complaints claiming that they contain material that should have been attributed to others." (We later reviewed his work at greater length and shifted the warning to seven specific articles.) Slate editor Jacob Weisberg aggressively defended Zakaria on Twitter, though his site eventually placed an editor's note over a 1998 column that "does not meet Slate's editorial standards, having failed to properly attribute quotations and information drawn from Max Rudin's history of the martini." The Washington Post eventually did the same to five columns by Zakaria.
Editorial notes aside, Zakaria has kept his journalism jobs, and so has Our Bad Media's third target: longtime New Yorker writer Malcolm Gladwell. Though New Yorker editor David Remnick acknowledged that the magazine "should have credited Miles Wolff's 1970 book about Greensboro" in a 2010 piece, Gladwell had the most meta comeback to any media misdeed in 2014. He responded to cries of plagiarism by linking to an essay he wrote in 2004 on the subject of—yes—plagiarism allegations. Well played?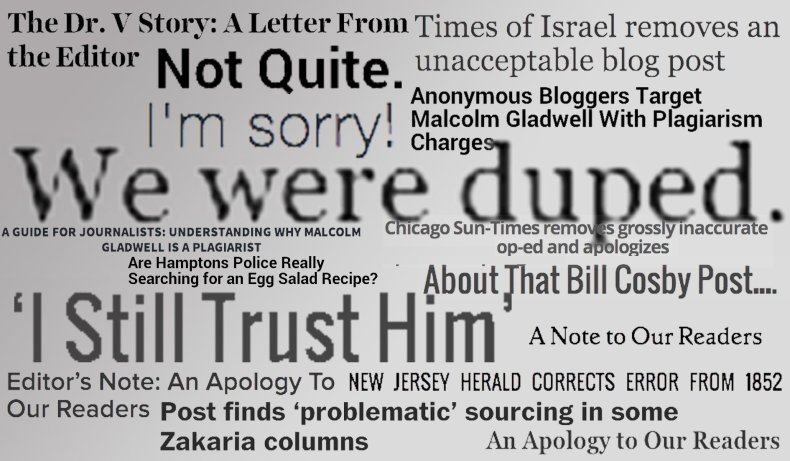 December saw the strange story of the Stuyvesant High School senior who made $72 million on stocks, except no he made "millions," except no, wait, he made nothing more than a very alluring story that spread quickly from the halls of Stuyvesant to the pages of New York Magazine (and, later, the New York Post). New York first tweaked its headline, and then, when the bluff unraveled, offered a straightforward apology. "We were duped," the magazine conceded in an unbylined note. (Hot take: The word duped should appear in more editorial apologies.) "Our fact-checking process was obviously inadequate; we take full responsibility and we should have known better."
However inadequate the fact-checking apparatus had been, the story was not without some attempt at verification. The apology revealed that the student had gone so far as to present a document "that appeared to be a Chase bank statement attesting to an eight-figure bank account." That's some Ferris Bueller–level pranking. New York is not the only publication that would have been duped.
* * *
There was my personal favorite retraction or correction or whatever-it-was of 2014. In October, The New Jersey Herald issued a correction for a 162-year-old story about a fatal bear attack. The 1852 attack had occurred in Arkansas and not in New Jersey, as the original report had implied. That's all.
(Oh: second place goes to The New York Times' failure to reckon with Kel from Good Burger.)
* * *
There were the regrettable op-eds, the racist garbage, the victim-blaming tirades. Remember those? This Forbes.com column railing against "drunk female guests" at fraternities? (It's gone.) The Times of Israel blog post headlined "When Genocide Is Permissible"? (Removed, though with an editorial note acknowledging the "damnable and ignorant" breach in editorial guidelines.) The Wrap's op-ed about "The Rape of Bill Cosby"? (Headline tweaked, with an editorial apology that nonetheless defends Richard Stellar's "valid point of view.") The Chicago Sun-Times republishing of an op-ed titled "Laverne Cox Is Not a Woman"? (Yep: "We have taken the post down and we apologize for the oversight.") The Time.com poll proposing to ban the word feminist? (Still up, though with a note from editor Nancy Gibbs conceding that "the word feminist should not have been included in a list of words to ban.")
You've probably forgotten them. Barring a gold prize in the Bad Take Olympics, it's what the publications would have wanted.
* * *
There was the most ingenious mass retraction of all: the curious case of the disappearing BuzzFeed posts, which turned out to number in the thousands, each scrubbed purposely clean in the interest of "editorial standards" that have been tweaked and tightened since the site's startup days. "We want all content our readers see to meet our current policies and practices," a BuzzFeed representative told Gawker in August, though this particular policy and practice struck much of the journalism establishment as foreign and strange.
For those of us who have ever hit publish on a Very Bad Take (and who hasn't?), it is also a brilliant solution: Wait several years, then unpublish at will. Expunge the damn thing from your personal brand. Someday, this could be a monetization strategy for undiscriminating publishers, who might charge their ex-writers a small fee to have their most unflattering bylines erased.
* * *
There were the heartwarming retractions, except no, not really, there was just one of those, but for an Australian tabloid newspaper retraction it really did make the rounds, didn't it? (You can read about it here or here or here or here or here or here or—you see the point.) The retraction did not deal with any particular journalistic misdeed, but was published so a mother could correct a 1995 birth announcement after her son came out as transgender. (The announcement had celebrated the arrival of a daughter. The correction identified him as a son.)
Anyway:
* * *
There was the editorial apology apologizing for a prior editorial apology that wasn't really an apology to begin with but rather a vague clarification regarding a tweet about bullying that had already been apologized for with a subsequent tweet:
This—Gawker Media's surreal embroilment in the Gamergate sweepstakes—was hardly an editorial retraction, because there was nothing much to retract, aside from a bad tweet. Still, the bizarre affair prompted an apology for an apology. Ironically, for a blog post responding to one of the Internet's thoroughly loathsome movements, it was one of 2014's more lyrical editorial apologies, too.
"For us to have apologized for a joke—to have even clarified—in the face of such breathtaking cynicism and dishonesty…feels like an utter abdication of those responsibilities," editor Max Read wrote. "Frankly, that sucks. If anyone is owed an apology, it's our readers. So: Sorry."
* * *
There were the retractions for stories that inadvertently "killed" world leaders. Well, okay, no, there was just one of those, and that was on us: In September, quoting a "well-placed source at the U.N.," Newsweek prematurely reported the death of Zambia President Michael Sata. (He died about a month later.) Oops. Turns out being right really is better than being first—a lesson Boston.com similarly learned when it followed up its viral Harvard professor hit with a post on a racist email that appeared to come from Professor Ben Edelman. "We cannot verify that Edelman, in fact, sent the email," the site conceded in a brief note that soured its successful scoop. "We have taken the story down."
* * *
There were—of course—the rest of the viral hoaxes. You know. The social network for drunk people. (Nope.) The stolen egg salad recipe worth $4,000. (Naaah.) The wolves roaming hotels during the Sochi olympics. (No!) The law banning French people from checking work emails after 6 p.m. (Not really.) The three-boobed woman. (Fake.) The guy stranded at an airport when his son drew on his passport. (Not true.) The Iggy Azalea tweet claiming to be the queen of rap. (Okay, no publication besides Vox took the Azalea fan account to be real.)
I'm cheating, I suppose, because many of these stories did not garner retractions from the sites that had posted them, or if they did, it was little more than a terse "Whoops, this is a hoax!" update above the copy. (A Daily Mail item about that drunk social network, for instance, looks entirely unchanged.) Anyway, you can't retract traffic.
* * *
And just as the year began with the sad, slow undoing of a longform investigative piece from a pop culture publication, so it ended. We wanted Rolling Stone's chilling exposé of a gang-rape at the University of Virginia to be false until we realized just what was at stake, and then—when pieces of the narrative came undone by a Washington Post investigation—our shock turned to another sort of revulsion: What sort of ideological ammunition would this provide rape deniers?
The details of the story didn't quite add up. Rolling Stone had not interviewed the accused students, nor friends of UVA victim "Jackie" who appear in the piece. On December 5, Managing Editor Will Dana issued a four-paragraph retraction. "In the face of new information reported by the Washington Post and other news outlets, there now appear to be discrepancies in Jackie's account," he wrote, "and we have come to the conclusion that our trust in her was misplaced." Then Rolling Stone became probably the only publication to retract part of a retraction in 2014. Criticized for its victim-blaming tone, that last clause—about trust "misplaced"—no longer appears in the note.
As the year comes to a close, both the veracity and the consequences of the "Jackie" story are still uncertain. Author Sabrina Rubin Erdely has kept silent all month. Rolling Stone has enlisted Columbia Journalism School to figure out what went wrong. And Camille Cosby has provided us with an ugly preview of how Rolling Stone's piece might be used to discredit rape survivors. In journalism terms: More TK.
* * *
Then there were the things we thought and hoped would be hoaxes, though they were not: the chilling beheading videos and downed plane of AIDS researchers and Robin Williams death report and all the rest. They checked out. These were real. That, it seems now, is the cruelest hoax of all.