Faulty Elevator Suddenly Bolts up 30 Floors, Killing Teenage Girl Inside
Officials in southern China are investigating the tragic death of a teenage girl who was killed when a suspected faulty elevator shot up 30 floors and struck the top of her apartment building last weekend.
The victim, whose exact age was not given, was a high school student who was one week away from taking her national college exams, Shanghai news portal The Paper reported Wednesday.
A statement released by the office for industry and commerce in Zhanjiang, a coastal city in the province of Guangdong, said the passenger became trapped inside the elevator when it stopped between the first floor and basement level 1 at 7:39 p.m. local time on Sunday.
The teenager called a family member, and a maintenance worker was dispatched to the Jinhai Bay residential neighborhood in Chikan District. However, as the worker began manually opening the elevator doors, the car suddenly shot upward, traveling at speed until it struck the top of the elevator shaft, according to Monday's government statement.
She was pronounced dead after being taken to a local hospital, the notice added. Her precise cause of death had not been disclosed at the time of publication. The Paper said it took rescuers one hour to free the victim from the 30th floor.
The government office said a task force was formed to investigate the incident, which is believed to have occurred following a malfunction of the elevator's braking mechanism.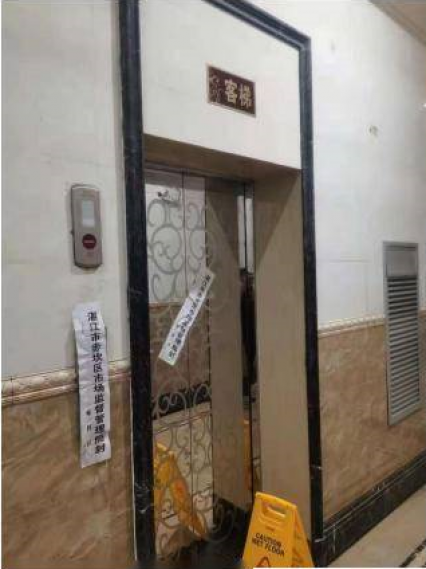 Its statement named Shenyang Brilliant Elevator Co. Ltd. (BLT) as the supplier that provided the equipment to the developer of Jinhai Bay. The maintenance worker was employed by a third party, and his attempts to open the elevators doors are not believed to have triggered the brake failure.
The Paper's report said there were 24 BLT lifts throughout the residential area. The equipment has been in use since 2014 and is considered new.
Local residents told the website that repeated malfunctions had occurred with the lifts, including unexplained stalling, but a serious incident had never been reported.
The maintenance company that took over monthly inspections from BLT said it had to rectify many faults in the system. BLT did not comment on the frequency of similar stalling incidents since 2014.
Wang Libin, an engineer with the Hangzhou Special Equipment Inspection and Research Institute, told The Paper: "Incidents where elevators shoot to the top floor are quite common, but it is not often that they result in injury or death."
With the elevator in question, the broken braking mechanism meant the counterbalance would have dropped into the shaft, causing the car to rise up rapidly, Wang explained.