FaZe Barker Removed from Organization After Sexual Misconduct Allegations
Tom Barker, also known as FaZe Barker, has been fired from the organization after allegations that he harassed women online and asked a minor for nude photographs surfaced online.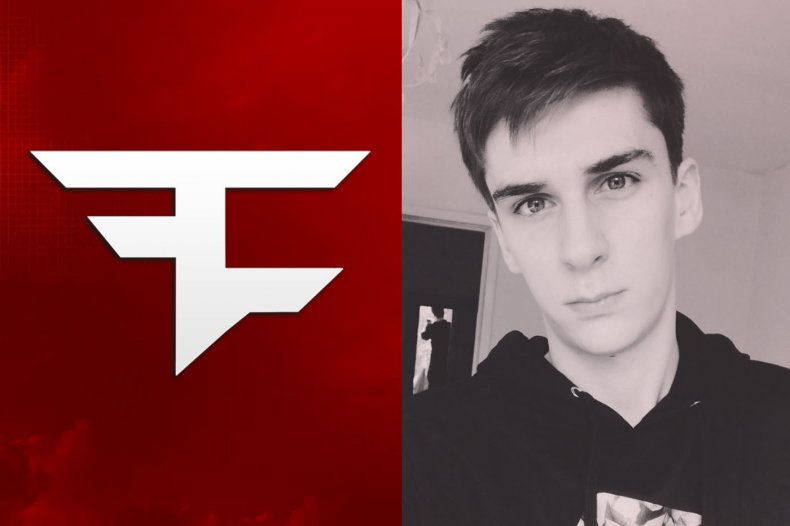 Barker started uploading edits to his YouTube channel in 2011 before joining the FaZe gaming organization in 2013. His in-house editing, where he created high skill montages featuring the organization's members for games like Counter Strike, Call of Duty, Fortnite and Destiny, helped grow the brand in its early days. Barker, a freelance editor, was never an official member of FaZe or "talent."
(FaZe Clan pointed to their Twitter statement when Newsweek asked them for comment.)
On June 4, Barker tweeted "people you thought were your friends = (snake emoji)." Emilie, who goes by @purranii on Twitter, responded to Barker with a series of screenshots claiming that the editor asked for "nudes" from an underage girl on Snapchat and would send videos of him "self harming self as well as unsolicited photos of (Barker) after being told no multiple times."
Over the next few days, other women started to share their conversations with Barker on Snapchat and Twitter.
Emilie told Newsweek that she has known Barker since she was 18 and the two started talking on Twitter with their private accounts. She alleges that over the past year and a half Barker would send her "unsolicited nude photos of himself" in addition to sexually explicit messages, one of which she shared with Newsweek.
In early June, Emilie and a group of her friends decided to block Barker on social media, which she has speculated caused his initial snake tweet.
"(Barker) began to weirdly flirt with me rather quickly and I found it odd, but did not think much of it at the time and dismissed when he would and wouldn't give it much attention," Emilie said. "Then eventually my friends and i began to talk about our experiences with him together and noticed how oddly sexual he was with all of us, even if we were in relationships."
Sunny, who goes by @choboogi on Twitter, claims she was the one sent the message about the "razor coming out to play" seen in Emilie's original tweet by Barker. She alleges that she asked him to stop, but that he continued bouncing between "flirty and aggressive."
"He knew we had pretty bad relationships with our parents and it felt like he was kind of reaching to get us to emotionally confide in someone who could relate to our pain," Sunny told Newsweek. "That was always his strategy. DM us when we were going through something particularly difficult in our lives to take advantage of us when we were emotionally vulnerable and more likely to seek comfort from others."
Sunny had known Barker since she was 17 and was dating another editor. After she broke up with the other editor, she claims that Barker "immediately started hitting on" her. "There was one night when i was at work he dm'd me about it for like 2 hours straight and sent a dick pic," she recalled.
Sunny doesn't think that the other members of FaZe or the organization knew what Barker was doing over. "He only really showed this side of himself to girls, other than that he would be all professional around everyone else," Sunny added.
One of the largest allegations comes from Cassie, who goes by FeralFiore on Twitter. She alleges that Barker asked her for "explicit photos when (she) was sixteen."
Cassie said to Newsweek that she started talking to Barker in July of 2019 after someone tagged him under one of her tweets. She claims that she and Barker had "quite a few conversations over the phone" though she can't recall how many.
"We talked about a lot of things, not many inappropriate things, just strange things he played off as jokes," Cassie said. "He asked for nude photos twice."
Once Emile came forward with her testimony, Cassie, Sunny and the rest of the women who were messaged in similar ways by Barker decided it was time to come forward with their stories.
"I decided to come forward because it was finally being recognized, and I felt it wouldn't be swept under the rug again," Cassie said.
"I don't think Barker necessarily seeked [sic] out minors but he just didn't give a shit about their ages," Camille said. "Whoever he found attractive and emotionally damaged enough was good enough for him to manipulate."
"The amount of victims on his list is [sic] honestly unknown," Sunny said. "I definitely think he used his FaZe status as a way to get girls to talk to him and establish a sort of power dynamic to be able to prey on so many girls."
Barker did not return Newsweek's request for comment at time of publication.